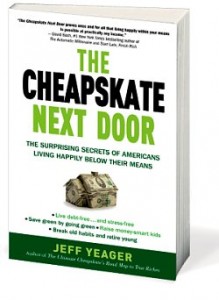 When I was charged to conduct a review of The Cheapskate Next Door by Jeff Yeager, author of The Ultimate Cheapskate's Road Map to True Riches, I was eager to learn the tricks of the Cheapskate trade in hopes of growing my own savings account.
However, while this frugal piece of literature provides ample recommendations on how cheapskates around the nation get by on living below their means, it also offered surprisingly fresh insight into the minds, values and lifestyles of our thrifty neighbors as well.
Contrary to my preconceptions about what this book was about–scraping money here, cutting costs there–I instead gained perspective about the overwhelming number of Americans living by the Yeager way of life who have found contentment by freeing themselves of superfluous wants.
Lessons from The Cheapskate Next Door
The Ultimate Cheapskate makes saving money seem as natural as breathing, but many households have developed a dangerous habit of succumbing to excess and generating financial waste. The Cheapskate Next Door lends its share of prudent financial tips, in addition to sharing the core life principles of some of the most successful cheapskates during Yeager's travels.
In only 225 pages, Jeff Yeager brings to light the admirable advice he gathers from fellow misers along the way. Some tips, like sleeping underneath a bridge to save money on travel lodging, may be a bit extreme for most, but there are some valid points to the cheapskate way of life that resonated to me as a reader.
Relinquish Dependency on Things
While it may sound Thoreauvian, this book notes modern society's addiction to excessive shopping, especially on things like clothing. Frugal-minded families are spending 75 percent less on apparel than the national average.
Reading through this chapter, I was reminded that decades ago, the first impulse Americans had upon seeing a torn garment was to mend it, not toss it and purchase something new with a credit card.
"Because [cheapskates] consume things sparingly, thoughtfully, and fully, things do not consume us." – Jeff Yeager
I scanned my walk-in closet after reading this section of The Cheapskate Next Door, and my collection of jeans, tops and endless supply of shoes and handbags literally looked like they were closing in on me. As a take-away, I've resolved to clean out my wardrobe and donate damaged or unused items to my local Goodwill for a tax deduction.
Setting Up a Discretionary Account
Instead of constantly dipping into a savings or checking account for personal spending and allowing your budget to go awry, the book recommends dedicated discretionary accounts. Not only does this plan encourage people to make wiser spending decisions, as there is a set amount of money made accessible, but it also helps make buyer's remorse a thing of the past.
This course of action can prove beneficial for married couples or partners who share financial obligations, as it doesn't trespass on accounts intended for joint responsibilities like bills, mortgage payments, etc.
Child Rearing Doesn't Mean Sacrificing Your Finances
The Cheapskate Next Door advocates an "Oxygen Mask Approach" when it comes to raising kids. In airplane emergency procedures, parents are encouraged to put on their oxygen masks before helping their children put on their masks. In a personal finance context, cheapskates are advised to secure their finances and futures first, rather than sacrificing their financial livelihood for their children.
For example, the book discourages parents against dipping into retirement accounts in order to fund college educations. Instead, planning ahead with a dedicated college savings account and choosing a low-cost alternative to a traditional 4-year education (e.g. community college and transferring later on) can lessen a child's dependency on parental support.
Coming from a  hyper-nurturing culture where children are, in fact, expected to stay at home with their parents until they have kids of their own, this approach seems like tough-love. However, parents can gleam some valuable cheapskate wisdom by keeping in mind that the oxygen mask approach benefits everyone in the family in the long-run.
The Cheapskate Next Door: The Surprising Secrets of Americans Living Happily Below Their Means
Jeff Yeager's Money Mantra
Whether or not you're a fan of Jeff Yeager, the views on money, life and family shared throughout The Cheapskate Next Door present an interesting perspective of how we can learn to simply enjoy experiences with family and friends, rather than dedicating our lives to over-spending. Not only does the book offer helpful tips on saving money like how to shop for groceries, it helps readers sift through the daily haze of modern consumerism and boils it down to what's most important: Happiness.