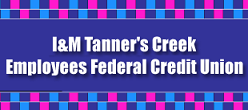 If you're looking for a great savings interest rate, you might consider opening an account with I & M Tanners Creek Employees Credit Union. The credit union is currently offering 1.51% APY on its Membership Share Savings Account.
This Share Savings Account is open to all members of the credit union. In order to become a member, you must pay a one-time joining fee of $25. Afterward, you can open your account with a minimum opening deposit of $5.00. This gives you access to a great savings account rate along with the option of a secondary share savings account. Dividends on any accounts you open are declared and paid on a quarterly basis based on your average daily balance for the quarter.
I & M Tanners Creek Employees Credit Union is open only to employees/retirees of American Electric Power Company based at the Tanners Creek Plant in Lawrenceburg, Indiana, as well as their immediate family. The credit union currently has 615 members and over $3 million in assets. To learn more about how to become a member, contact a branch today!
Other Terms and Conditions may apply. Additionally, rates may have changed since this offer was posted. Please contact the financial institution for the most recent rate updates and to review the terms of the offer.