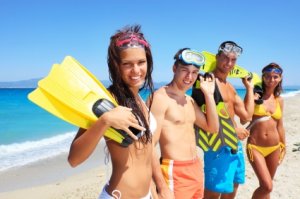 When it comes to taking a vacation with family or friends, there's almost nothing that can break the excitement of fun times to come — except knowing that you don't have enough money saved to actually enjoy yourself on the trip.
We all deserve a getaway from time to time, but we can't always afford the trip, or if we can, the money spent on travel and lodging makes it difficult to take advantage of fun adventures and great food while away.
A number of companies, including Sears, are trying to remedy the problem by making it easier to pay for vacations. With the emergence of layaway vacation packages, you may finally have the chance to enjoy some time away from home at a cost you can afford.
What Are Layaway Vacation Packages?
Layaway vacation packages are very similar to traditional layaway options offered by your local retailer. They provide the consumer an opportunity to pay for an item they want by having them make payments until it that item is paid in full.
The difference between a layaway plan and other payment options like credit cards is that the buyer is unable to have the item they're buying until it's actually paid off. This buying strategy was first offered after the Great Depression and is still used by some consumers who don't want, or cannot qualify for, a credit card.
In the case of layaway vacations, the buyer can pay for their travel under an installment plan, so when the time comes to take a trip, they not only will have covered the cost of their vacation, but will also have money built up for fun while away.
In 2011, a Marist poll revealed that only 45 percent of people planned to take a vacation that summer, which was the lowest number in the survey's 11-year history. The reason was because they simply felt they couldn't afford the costs. Instead of traveling, many people began opting for staycations, meaning they found ways to enjoy their time off right in their own cities.
Coming off the heels of the worst recession since the Great Depression, many people are too concerned about their finances to travel. The layaway option is emerging at a time when people need assurance that they can travel on their own financial terms.
How Does Layaway Work for Vacations?
The process of signing of for a layaway plan is relatively simple when working with retailers like Wal-Mart or Best Buy. You pick out the item you want, set up a layaway payment plan and begin making your payments until the item is paid in full.
So how does layaway work for vacations? The layaway for vacations option isn't significantly different. You choose the vacation package you want, sign up for a payment option then begin making payments.
In June, Sears unveiled its vacation website that allows customers to book hotels, cruises, car rentals and flights. On the site, it mentions its own layaway plan and Flexible Payment option that allows customers to book a cruise in the moment then schedule the remaining payments.
Through the Sears vacation layaway plan, customers are able to put down at least 10 percent on their vacation package to get started, then choose payments that will be made until the package is paid in full — before the trip, of course.
Now here's where the layaway plan differs from the layaway traditional plan: Unlike retailers that set their own policies on contract terms, like the exact payment deadline and refund policy, through Sears vacations, the contract terms will vary depending on the company offering the trip. This is not a bad thing, but definitely something to note.
There are a few other websites offering layaway vacation plans, such as Gate 1 Travel, eLayaway and Apple Core Hotels. The plans they offer seem to follow similar guidelines as Sears, by requesting a specific down payment, then following a payment plan until the vacation item is paid in full.
But, of course, as with any other online transaction, you don't want to dish out your money for a layaway plan unless you know the company offering the plan is legitimate. So before diving in, be sure to check business ratings and customer reviews.
Layaway Travel Pros and Cons
With any purchase you make comes the possibility of both pros and cons; the same goes for layaway travel. So what are some pros and cons to consider before purchasing a layaway package?
Pros of Layaway Travel
Little or no interest: Most layaway travel programs don't charge interest on payments. However, it's good to note that service fees will likely apply.
Installment payments: Rather than worry about paying for a trip in full, you have the option of paying in installments, which allows you room to also save money for the extras on your trip.
Payment options without credit cards: If you don't want, or can't qualify for, a credit card, the layaway plan could provide you with a way to pay for a vacation without paying in full at the time of booking the trip.
Avoid debt: If you do have a credit card, you could avoid the option many people choose of paying for the vacation after the fact, and making only minimum payments that result in tons of interest and debt.
Cons of Layaway Travel
Price fluctuations: One downside to layaway travel is the possibility of the cost of your trip dropping while you're still making payments. Because your price is locked-in at booking — and you've already started making payments — you can't opt into a cheaper plan.
Service fees can be costly: Depending on the plan you choose, a service fee and down payment for the layaway travel plan could be more costly than simply paying for the trip on your credit card and swallowing the interest — if you pay the trip off quickly.
Savings accounts are cheaper: Rather than use a layaway plan, which requires fees, you could save your money in a savings account by depositing the same increments each paycheck, earn interest on your savings then pay for the trip in full when you're ready. This option could also be beneficial if the price of the trip drops after you begin saving money.
If you want to buy a layaway vacation, take time to examine all of the options available and carefully choose the one that suits you — and your wallet — the most.