12 Highest-Rated Bank and Credit Union Apps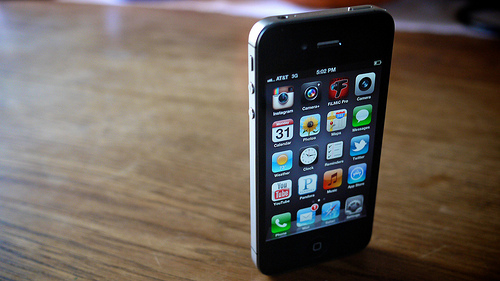 Mobile banking is becoming an increasingly common and trusted way to manage personal finances. Not only does mobile banking come with a lot of benefits that make money management more convenient, it can also help depositors maintain an active role over their finances, rather than letting payments post and settle without a glance.
Having banking information at your fingertips is becoming so important to consumers these days that many are seeking to bank with institutions that offer user-friendly and highly rated mobile banking apps. If you value mobile technology, here are 12 top-rated banking and credit union apps to help you decide where to put your money.
Related: 8 Mobile Banking Services That Will Help You Manage Your Money
BancFirst Mobile

This local bank from Oklahoma offers a clear, easy-to-read format to transfer money and track account activity. The app has an average five-star rating on iTunes and is free for bank customers to download. Although users noted an inability to deposit checks and update their payment information through the app, that didn't prevent them from giving it five stars on iTunes. Available for Android phones, as well, the app has a 4.7 star rating on Google Play.
ESL Federal Credit Union Mobile Banking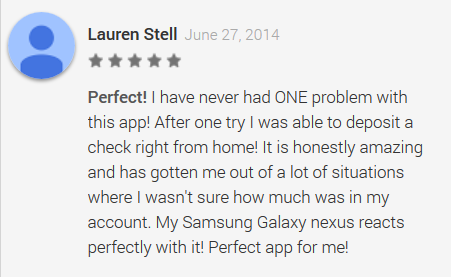 For those who value a user-friendly interface but desire added features like mobile deposits, ESL Federal Credit Union's app fits the bill. This free app also has a five-star rating on iTunes and a 4.7 on Google Play. Sensitive banking information is protected, as the app uses industry-standard technology and security certificates, according to Google Play. One common complaint, however, is the app's difficulty rendering mobile deposits. Membership with this credit union is available to those who live, work, worship or attend school in Rochester, N.Y., and for employees and retirees of Select Employer Groups.
MACU Mobile Banking

Those who prioritize mobile banking security should look into Mountain America Credit Union's mobile app. With 128-bit encryption security, those anxious to start storing their bank account information on their phones can take advantage of the many perks of mobile banking without stressing over security. This app has a five-star rating on iTunes and a 4.2 rating on Google Play. The app features a branch locator and allows users to make loan payments from their smartphones. Residents of Salt Lake, Duchesne, Wasatch and Uintah counties can become members of Mountain America Credit Union, as can those who work for its Select Employer Groups.
Republic Bank Mobile Banking App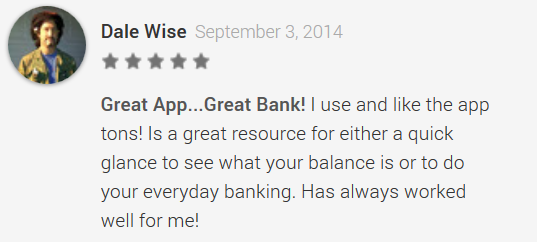 Because of its large field of membership, those residing in Kentucky, Indiana, Tennessee, Florida and Ohio can all take advantage of Republic Bank's mobile banking app. The app is free for both Android and iPhone users, and offers all the mobile banking features one would expect. Customers can even view and activate their cash-back offers from the app, though users must already be enrolled in the bank's internet banking service to take advantage of the tool. The five-star iTunes app has a 4.5 star rating on Google Play, though some users have complained about accidental overdrafts and issues with the app's mobile deposit function.
Capital One Mobile

A big-name bank boasts an average 4.5 rating on iTunes and 4.1 stars on Google Play. That's not surprising, as this app is packed with utility. Users can schedule upcoming account payments, redeem rewards, send Person2Person payments and activate their debit cards and checkbooks through the app, which works on Apple or Android devices. Some users have noted automatic payment issues, but overall consensus is that the app is user-friendly.
Chase Mobile
Another major bank with a highly rated mobile app, Chase Mobile offers users a lot of functionality, from sending wire transfers, to requesting money with Chase QuickPay. Users can even make changes to pending transactions with the touch of a button while enjoying all the basic mobile banking features offered by most competitors' apps.
The app has a four-star rating overall on iTunes; however, the newest version — updated on Sept. 4 — has received an average rating of just 2.5 stars. Android users are a bit happier with the app, giving it a 4.3-star rating.
Related: What Is Chase QuickPay and How Do You Use It?
Simple – Better Banking

Simple is an online bank, so you can be sure it knows what it's doing in terms of remote banking capabilities. The app has a 4.7-star rating on Google Play and a 4.5-star rating on iTunes. The newest 2.0 version of the app features a complete redesign with improved functionality. Those who use Simple can send money to one another instantly through the Simple Instant function on the app. Simple is free to download and comes with budgeting tools that make mobile access even more helpful for those trying to stay on top of their spending.
Teachers Credit Union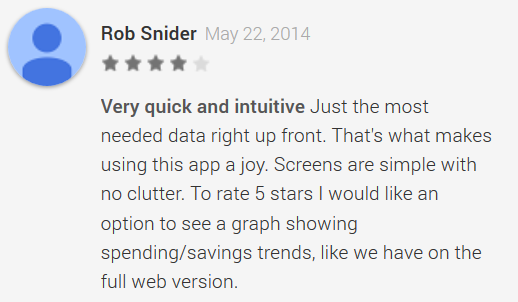 Indiana's biggest financial cooperative, Teachers Credit Union, has a mobile app that meets the demands of its large member base throughout Indiana and Southwest Michigan. With 4.7 stars on Google Play and 4.5 on iTunes, the app comes with all the basic functionality one would expect, from account balances, to transfers and bill pay, as well as less common features like check deposit and cash-back rewards activation.
Navy Federal Credit Union

Government and military personnel are among this highly rated credit union's field of membership. Those who can join this credit union benefit from an app with high reviews of 4.5 and four stars on Google Play and iTunes, respectively. Great for those deployed overseas, as the app works internationally, as well, it features a four-digit passcode for quick access, the ability to apply for products like credit cards via smartphone, mobile deposit and the ability to view and track interest rates.
Citizens Bank Mobile Banking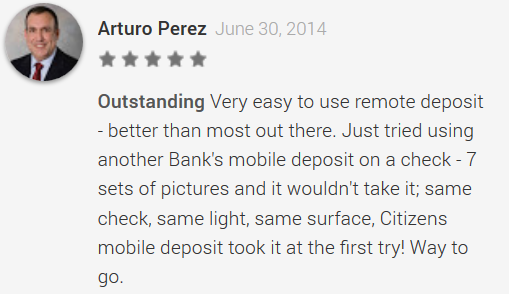 It might be a locally focused bank, but with 1,350 branches spanning 12 states, those who turn to Citizens Bank for their banking needs can take advantage of both accessibility and a highly rated app. With four stars on iTunes and 4.4 on Google Play, users appreciate the convenience that mobile check deposit and mobile transfers have given them. Although some users were pleased with the mobile deposit feature, some Google Play users reported glitches uploading their checks successfully. The bank does, however, offer a 100 percent online guarantee that protects app users against unauthorized online and mobile transactions, a strong selling point for the app.
USAA Mobile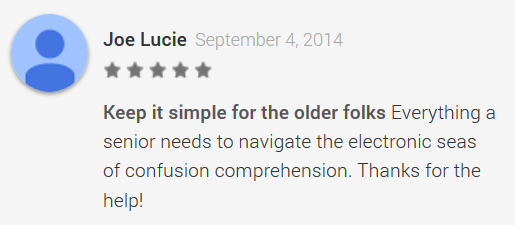 Another military bank ranks among the top for highly rated mobile apps. USAA's mobile app features an investment center, to trade, get quotes and research stocks, as well as the ability to make insurance claims and check their status from your phone. This is in addition to typical mobile banking features and added bonuses, like a loan calculator, ATM and rental car locator, and insurance card access.
Not surprisingly, the app boasts a four-star rating on iTunes and a 4.6 rating on Google Play.
U.S. Bank

Another major bank rounds out our list with a 3.5 iTunes rating and a 4.1-star rating on Google Play. U.S. Bank's mobile app offers a peer-to-peer payment system called Pay a Person and the ability to schedule payments in advance through the app. With the U.S. Bank Risk-Free Guarantee, app users can rest assured that they're protected from any financial loss due to fraud, making mobile banking a convenient, worry-free alternative to frequent branch visits.
Photo credit: Matthew Pearce