The Results Are In: Americans Still Prefer Banks Over Credit Unions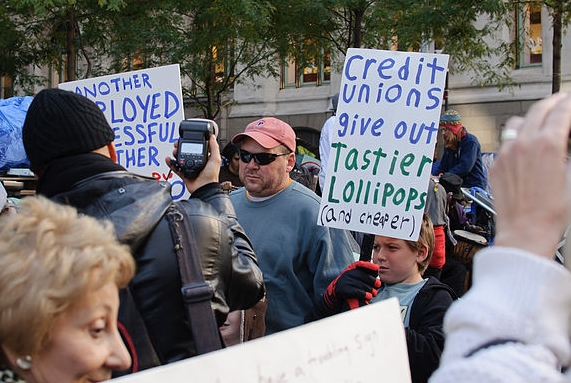 Credit unions may be gaining the attention and membership of Americans at a rapid pace, but according to the newly released results of our American Banking Preference Poll, they're still a long way from becoming the average person's primary financial institution.
Since 2011, there has been a heightened awareness surrounding banking practices and fees, prompting many consumers to reevaluate their current relationships with financial institutions and often, make the move from a national institution to a community bank or credit union. In fact, Space City Credit Union told us that its membership base has doubled since 2011, noting, "Growth like that speaks for itself."
However, the impassioned focus on local banking that sparked following movements like Bank Transfer Day has become noticeably subdued, which is why we launched a month-long poll to determine where Americans are really choosing to bank today. We found that while credit unions are indeed popular, banks still hold a majority of consumers' money.
Poll Details
The American Banking Preference Poll — by no means "scientific," but rather an informal snapshot of which direction consumers are leaning — asked respondents to identify which type of financial institution they prefer to bank with: National banks, community banks, or credit unions. The poll ran across a number of general news, arts & entertainment and reference websites from from June 12 to July 11, 2013.
Additionally, we partnered with a handful of major outlets in order to gather a subset of data belonging to respondents who are particularly interested in business and finance news:
The results between the general poll and subset were strikingly different with a much stronger inclination toward credit unions among respondents who are visitors to GoBankingRates.com and our partner sites above.
Community Banks Are America's Preference
Overall, community banks were the top choice among poll respondents, with 41.2 percent stating they prefer local banks over national banks and credit unions. Financial not-for-profits came in second place, however, with 34.4 percent of votes, while national banks ranked third with 22.9 percent (1.5 percent chose "other").
"It is no surprise to me that community banks would chosen as the most popular type of financial institution," commented Andrew Howard, publisher and managing editor of CBInsight.com. "Community banks typically always have a strong leadership presence in their communities, along with local decision-making authority. There will always be a strong demand for community banks within our financial system, and the results from this survey show that," he explained.
Credit Unions Favored Among the Financially-Savvy
Among GoBankingRates.com and partner sites, however, poll respondents overwhelmingly choose credit unions as their preferred institutions. Results are as follows:
Credit union: 73.76%
Local community bank: 14.18%
National bank: 9.93%
Other: 2.13%
While much more data will need to be collected in order to make a determination, I suspect the preference for one type of institution over another may depend on how deeply a person is interested and active within the banking and personal finance communities.
For instance, Andrew Schrage, personal finance journalist and co-owner of blog Money Crashers Personal Finance explains,
"I used to have a bank account at a national financial institution, but I closed it a few years ago due to poor customer service. The branch I used most often had cut staffing tremendously, so each time I went there, I had to stand in line for quite awhile, and the tellers were rather rude and just didn't seem to have my best interests in mind. Whenever I had a question, I would have to wait in the lobby until another bank staff member finally found the time to take care of me."
This lack of service prompted Schrage to move his money to a credit union instead — like millions of other have — where he said tellers are helpful, friendly and efficient. "It's no surprise to me that credit unions rank higher than national banks."
Paul Gentile, Executive Vice President – Strategic Communications and Engagement for CUNA.org said these results are welcome, but no surprise to him either. "For users of financial services, it's all about trust — and the credit union model, as a cooperative operating on a not-for-profit basis with no shareholders — engenders the trust among consumers and small business owners," he explained.
However, the average person does not follow banking industry trends and issues as closely as financial professionals, reporters and readers of finance-related publications. It's highly possible the American population as a whole is less heavily skewed to favor credit unions due to more varied concerns, priorities and interest when it comes to finance, and therefore, offers more diversity in terms of preference.
What Does This Mean for the Future of Banking?
As the preference for banks versus credit unions shifts in the U.S., so does the demographic of their customers. Financial planner, Xavier Epps, owner of XNE Financial Advising LLC, explains the desire to bank nationally or locally, with a bank or a credit union, is also tied to the age of the customer and their generation's overarching sentiment concerning finance and brands.
For example, Epps said older consumers — Baby Boomers and soon-to-be retirees — have developed loyalty towards a specific group of companies by this age. And often, that loyalty lies with credit unions. "The older the Boomer, the more they've likely heard from parents or relatives to not save with banks in the first place due to the negative connotation of the banking industry post-Great Recession," Epps shared, adding Boomers typically value customer service over slick products and larger physical presence.
On the on the other hand, according to Epps, younger generations value "big brands, well-known companies, freebies (i.e. open an account and get $30 today), and advice from peers whom likely know about as much about the banking industry as they do." Millennials especially will bank with the brand they come in contact with most often, which often means Bank of America, Wells Fargo, Capital One, and other national institutions.
"They gravitate to national banks because they crave convenience, like more ATM and banking locations, as well as value the brand over the quality of service provided or products offered," Epps pointed out.
How consumer preference will continue to evolve is yet to be seen, but if the dialogue regarding advantages and disadvantages of banking with national, local and not-for-profit institutions continues, we may see more Gen Y-ers and Millennials adopt the attitudes of their parents and increasingly favor credit unions.
Click here for detailed analysis of these poll results.
Photo: InSapphoWeTrust