Credit Unions Are Designing Wild ATMs to Grab Your Attention — And It's Working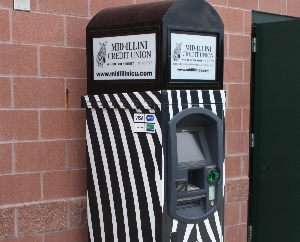 The popularity of credit unions has been growing in recent years — The Financial Brand reports that there were 7,165 credit unions as of 2012, with total membership jumping to 93.7 million last year (from 88.5 million in 2007). Even so, these financial non-profits are still a mystery to many and have a long way to go in becoming household names for American families.
The good thing is, they know it, and are working to shed their reputations as small, old-fashioned banking alternatives and appeal to the millions of consumers who are fed up with big banks.
So how are they doing it? Credit unions are designing eye-catching, often wild-looking ATMs in the hopes of grabbing your attention — and your membership — in a new marketing initiative known as "ATM wrapping."
What Is ATM Wrapping?
It's a bit funny that in an increasingly digital age, credit unions are turning to old-fashioned display advertising in an effort to improve branding and attract new members — but it's working.
ATM wrapping involves working with a third-party service to professionally design custom graphics, then wrap the ATM in the design. As Dibold Direct explains, ATM wrapping serves as "a cost effective solution for displaying a financial institution's logo or marketing message."
Even though the practice is still in its infancy, ATM wrapping has been very successful for credit unions so far. Their vibrant and unusual ATMs are catching the attention of those who may otherwise have never considered joining a credit union, and solidifying their membership.
Credit Unions See ATM Advertising Success
Anthony Pili, VP of Sales & Marketing for Palisades Federal Credit Union, told us that the institution began wrapping ATMs about a year ago and has seen huge payoff so far.
They placed about 11 custom designed ATMs in high-traffic locations such as Costco, Walgreens and CVS. While members enjoy the added convenience of being able to pull out money while shopping at popular retailers, Palisades Federal Credit Union's primary goal when they began the initiative was to gain exposure and garner new membership.
In fact, Pili says, while credit unions in general experienced a 6.7 percent average growth in membership through 2012, Palisades FCU saw 12.5 percent growth over the same time period. He attributes much of this new membership to the higher visibility ATM wrapping has provided.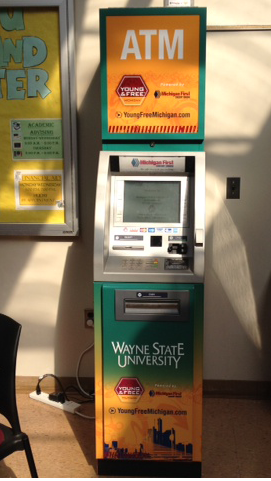 Michigan First Credit Union has shared a similar story, gaining new membership after wrapping about 12 ATMs and placing them throughout local high schools and colleges. Linda Douglas, Vice President of Marketing for Michigan first, said the credit union also began ATM wrapping about a year ago, specifically with the intent of promoting the institution's Gen Y "Young and Free" program.
Each ATM is custom-designed for the school it occupies. Douglas explains, "we wanted [students] to feel more ownership of the ATM in their school," essentially making Michigan First a part of their daily academic lives and encouraging younger membership.
Dispelling the Major Credit Union ATM Myth
Beyond reaching a wider audience, however, ATM wrapping has also been helping credit unions dispel a longstanding myth — that they offer limited ATMs and branches. Many consumers have shied away from credit unions in the past, put off by the notion that their money would be largely inaccessible unless they made special trips to the physical branch.
While this may have been the case decades ago, credit unions are upping their presence throughout the communities they serve and beyond.
In addition to placing ATMs in high-traffic locations like schools and convenience stores, many credit unions also participate in ATM and branch sharing programs, so that members of one institution can perform transactions at other credit unions' locations.
For instance, the CO-OP Network makes more than 30,000 surcharge-free ATMs available to credit union members nationwide, as well as close to 5,000 credit union branches and over 2,000 self-service locations. Members can search for a credit union to find out if it's part of the network.
These days, there's really no excuse to avoid credit unions — except maybe that you prefer impersonal, less affordable banking options. Credit unions want your membership and will take good care of your finances once they have it, so the next time an ATM catches your eye, find out if the credit union that designed it has a spot waiting for you.
Image: www.thegreatdisplaycompany.com