Are Banks Open on Christmas Day?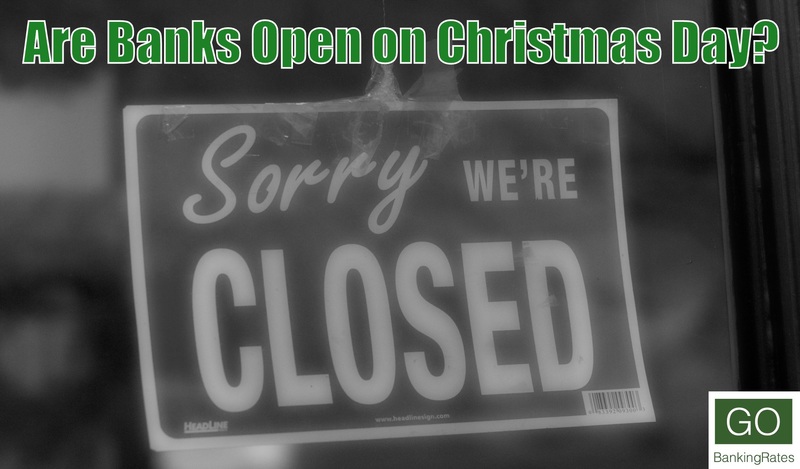 Christmas is Thursday, Dec. 25, and is recognized by federal and local governments as an official holiday. It's a widely celebrated holiday marked with gift exchanges, gatherings of family and friends, and cultural and religious traditions alike. Christmas is hugely significant to American culture and society, with 90 percent of Americans celebrating the holiday, according to a 2013 poll by the Pew Research Center.
Tens of millions of Americans will have Christmas Day off of work. A quarter of employed Americans are required to work on Christmas, found a November Allstate/National Journal Heartland Monitor poll, leaving 75 percent of Americans free to enjoy the holiday.
Many businesses, offices and public institutions will close their doors for the day. The stock markets are closed on Christmas and traders won't be able to do any business that day on the New York Stock Exchange or Nasdaq. But some restaurants, shops and movie theaters will open to capture consumers with limited options.
Are banks open on Christmas? Those planning to head out on Christmas Day might be curious about whether their financial institutions will be offering service on the holiday.
Banks Will Close for Christmas Day 2014
The answer to whether banks are open on a holiday depends largely on whether it is included on the Federal Reserve Bank's list of recognized bank holidays. On those days, the Federal Reserve Bank closes and banks don't have the support needed to facilitate transactions. Banks sometimes choose to open on bank holidays anyway, but they tend to offer limited services or shorter holiday hours.
Christmas is, in fact, a Federal Reserve Bank holiday; and because of its wide celebration, nearly all banks close on Christmas. Even bank branches that might typically remain open on Christmas or offer holiday hours, like supermarket or in-store locations, are likely to be closed for the holiday. Bank customers should expect their local bank branch to be closed on Christmas.
11 Major Banks Closed on Christmas Day
To provide a helpful reference for our readers, GOBankingRates checked major banks to confirm closures on Christmas Day. We were able to confirm that the following banks will be closed on Thursday for Christmas.
Bank of the West
BB&T
BBVA Compass
KeyBank
M&T Bank
Regions Bank
Santander  Bank
Suntrust Bank
TD Bank
U.S. Bank
Wells Fargo
Banks or credit unions not listed above will likely still be closed, but were excluded if GOBankingRates could not confirm closures across all branches.
If you need to conduct banking on Christmas, you will still be able to make use of ATMs to withdraw cash or deposit checks, or online banking and mobile apps to make transfers. Bank customers should note, however, that transactions will likely be delayed due to these closures.
Customers should try to take care of all other banking business on Christmas Eve, which is not a banking holiday. Most banks will be open on Christmas Eve, but many branches will have shortened holiday bank hours to allow employees to head home early. If you are planning to go to the bank on Christmas Eve or Christmas Day it's always best to check with your local branch to verify holiday bank hours.
Photo credit: Alan Levine