What's the Difference Between Banks and Credit Unions? (Infographic)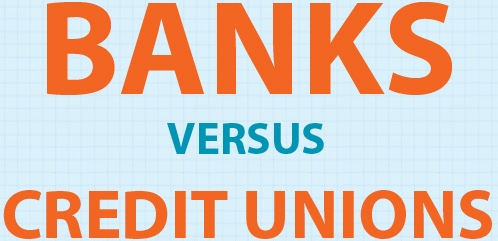 The distinctions between a bank and credit union are easily blurred; after all, both offer similar products and services like checking accounts and home loans. However, when it comes to how each operates and the benefits that depositors and borrowers receive, there are vast differences between the two.
Here's everything you need to know about banks and credit unions to help you decide which kind of financial institution is best for your needs.

Share This Infographic On Your Site
Banks vs. Credit Unions by the Numbers
Bank Definition: A for-profit financial institution, chartered by a state or federal government, which accepts deposits and provides loans.
Credit Union Definition: A member-owned and operated financial co-operative where profits are shared among its owners.
Number of Institutions and Branches
Credit Unions
Institutions – 8,332
Branches – 21,406
Banks
Institutions – 6,096
Branches – 83,709
Average Interest Rates
Credit Unions
Banks
Savings Account
0.14% APY
0.10% APY
12-Month CD
0.42% APY
0.27% APY
Checking Account
0.27% APY
0.16% APY
Money Market
0.19% APY
0.16% APY
5-Year New Auto Loan
2.63% APR
3.91% APR
30-Year Fixed Rate Mortgage
4.22% APR
4.24% APR
Savings products assume a $10k deposit
Source: Informa Research Services, Inc. as of 10/23/13
Sources: GOBankingRates.com/Informa Research Services, Inc. database, FDIC, The Financial Brand