8 Pros and Cons of Switching Banks in 2023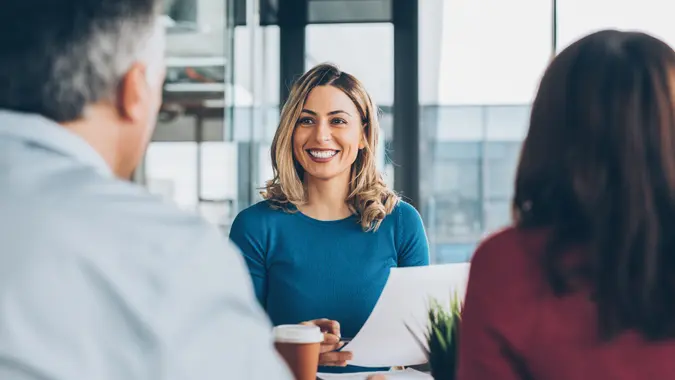 filadendron / Getty Images
If you're thinking of changing banks, you're not alone. The most recent GOBankingRates survey found that over a third of Americans (35%) considered changing banks with the last year.
Changing banks can be quite a hassle, so give your decision plenty of thought to make sure it's the right move for you. Here's a look at eight pros and cons of switching banks, to help you choose where to park your money.
Pro: You Can Find Better Deals
Staying with the same financial institution is an easy option, but it could cost you.
"Switching banks can help you save money by finding better deals like lower interest rates on loans and higher interest rates on savings accounts, as well as additional offerings and products," said Brett Sohns, co-founder of LifeGoal Investments.
Therefore, taking the time to shop around — and opting to make the leap to another bank — could allow you to line your pockets with cash you wouldn't have by sticking with your previous financial institution.
Con: You Might Incur Hidden Fees
On the surface, switching banks might seem like a way to save money, but Sohns said some financial institutions charge hidden fees for new account holders.
"Make sure to find out if there are fees for making withdrawals from savings accounts or for closing an account," he said. "If you are required to open a linked checking account when opening a savings account, check for associated fees with opening that account as well."
Always read the fine print and ask if you have any questions about fees, as simply assuming there won't be any could cost you.
Pro: Customer Service Might Be Better Elsewhere
If the level of service you receive at your bank isn't great, Sohns said moving your money elsewhere could make sense. "You might also find that the customer service is better at another bank, which can make it a more pleasant experience."
This is important if you dread having to speak with rude customer service representatives at your current bank or tend to have to send multiple messages to finally receive a response.
Con: Longer Approval Process
When you've been a customer at your bank for quite awhile, it can be easier to get approved for new accounts, because you have a history with the financial institution.
However, Shawn Plummer, CEO of The Annuity Expert, said it might sometimes take longer to get approved for new products like credit cards and loans if you're a new customer.
This wouldn't be an issue if you have no plans to open any new accounts in the near future, but if you're hoping to seek additional products — i.e., take out a mortgage — it's something to consider.
Pro: Get Services That Better Meet Your Needs
It's been awhile since you opened your current bank account, and since then, your needs have changed. Plummer said the ability to enjoy services that are better tailored to your current lifestyle is a good reason to make the switch.
"For example, you might have accumulated assets in another country that requires you to frequently carry out FX transactions, so switching to a bank with favorable FX rates makes sense," he said.
There's no need to stay with a bank that no longer works for you, so finding one that simplifies your life makes sense.
Con: Changing Banking Details Can Be Time-Consuming
Switching banks isn't the easiest task, Plummer noted, as it can be very tedious to update your bank details everywhere, including with your employer.
"You might have to change auto debit and direct deposit set-ups that you have had for years," he said. "This can result in having to deal with lots of forms and missing payments, if your details aren't updated on time before the next time you are billed."
If you don't have time to update this information, it could make sense to hold off until you have more room in your schedule.
Pro: Take Advantage of Sign-On Bonuses
Some banks offer hefty cash bonuses to draw new customers in. If you're already thinking about switching banks, this is an easy way to essentially get free cash.
These incentives are usually only offered for a limited time, so you can't wait too long to act. If you do take this route, carefully read all the terms and conditions to make sure you're willing and able to abide by all the necessary rules to collect the entire bonus.
Con: You'll Have To Build New Relationships
The people who work at your bank might make it an enjoyable place to do business. Plummer said to remember you'll have to start over with different employees at a new bank.
He said this could be difficult, especially if you knew account managers and tellers at your old bank well. Forming new relationships takes time, and there's no guarantee you'll click with the employees at the new bank as well as you do with those at your current financial institution.
More From GOBankingRates