All the Steps You Need To Take — Before and After — To Switch Banks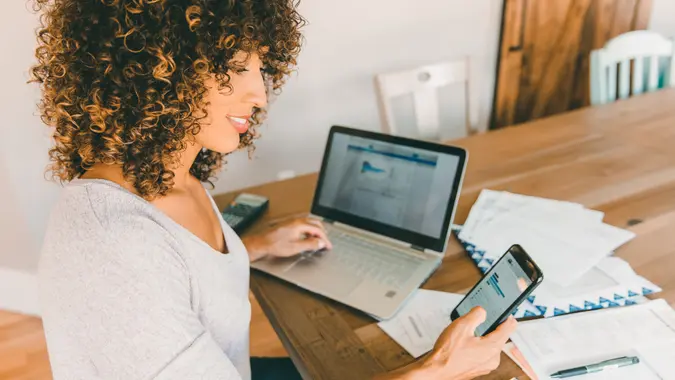 RichVintage / Getty Images/iStockphoto
The reasons for switching banks vary widely. Perhaps you're simply unhappy with your current bank and want to transfer your personal funds from one national bank to another. Maybe you're making the move from a credit union to an online bank, or maybe you're combining bank accounts or leaving the state where your current bank operates.  
Whatever the motivation, switching banks entails detailed protocol. That said, things are usually pretty straightforward when you're switching banks to manage personal funds. 
See: GOBankingRates' Best Online Banks of 2022
Read More: One-Third of People Have $100 or Less in Their Checking Accounts, Survey Shows — Here's How Much Experts Say You Should Actually Have
Francis Locknear, founder of TheCostGuys.com, a personal finance site, details all the standard tasks you'll need to take to switch bank accounts. 
Check Out Banks
"Before you decide to switch banks, take the time to do your research," Locknear said. "Check out the banks in your area. You may want to switch to an online bank, a credit union or a traditional bank. There are plenty of options, this is why you need to figure out which one offers the deal most suited for you." 
To get started with this step, Locknear recommends listing the features you want to have in your new bank account. From there, you'll want to consider the following features: 
Fees
Online banking services
Interest rates
Minimum balance requirements
Branch locations
Read More: Gen Z and Millennials Favor National and Online Banks, Survey Shows — What Does That Mean for the Future of Credit Unions?
Take Note of Your Automatic Payments and Deposits
"To make it easy for you to manage your new account, you need to list down your direct deposits, automated bill payments and recurring transfers," Locknear said. "If you won't do this, problems may happen. Your paychecks may end getting sent to your old account and your recurring transfers may be canceled. Your automatic payment and monthly subscriptions may go unpaid." 
Check Out: Learn More About GOBankingRates' Best Checking Accounts of 2022
Open Your New Bank Account
"Once you've decided which bank account you want to open a new account in, It's time to open a new account," Locknear said. "You can open your account online or in-person [unless it's an online bank]."
You'll need to have basic information on hand, including: 
Name
Date of birth
Mailing address
Phone number
Social Security number
Email address
Driver's license 
Some banks, like Chase, require two forms of photo identification in order to open an account. Many banks also require an opening deposit. Be sure to have the information of the bank account you're closing at the ready so you can transfer all your funds over. To be safe, give yourself a few business days for the transaction to complete.
See: 17 Surprising Ways Penny-Pinching Costs You More
Update Your Recurring Payments and Deposits
"To make sure your switch is complete, move your recurring payments and deposits to your new account," Locknear said. "Review which subscriptions you want to keep and which ones you'd like to cancel. For the ones you want to keep, ensure that you have updated your bank account information." 
GOBankingRates' Best Credit Cards: See the Top Cards and Get Helpful Tips
Enroll In Online and Mobile Banking
"Make sure to enroll in your new bank's online and mobile banking services," Locknear said. "If you're having difficulty, you can always ask for help from your new bank. And if your new bank has a mobile app, it's best that you download it and register."
Close Your Old Bank Account
Once you're satisfied with your transition, close your old bank account," Locknear said. "You can choose to do this online, over the phone, or in person. Make sure that you get a verification that the account is closed."
Options: 16 Effective Ways To Trick Yourself Into Saving Money
Set Up Alerts on Your New Bank Account
"The final step is to set up alerts on your new bank account. If you didn't set up alerts on your old bank account, this is the perfect opportunity to do so," said Guadalupe Sanchez, founder of the personal finance site Budgeting in Blue. 
"I recommend setting up alerts for a few reasons. The main one is to prevent yourself from becoming a victim of fraudulent activity. At a minimum, enable your payment, wire transfer and online payment notifications."  
Learn: Money's Most Influential: Where Do Americans Get Their Financial Advice?
Business Accounts Are Trickier  
As you can see, switching banks for personal funds is pretty clear-cut — but switching business accounts is a whole other bowl of wax.  
"Each and every bank has unique criteria when it comes to who and what businesses are allowed to bank with them," said Libby James, co-founder of  Merchant Advice Services, a site that helps business owners navigate the world of card payments and business banking. "Criteria is subject to change, depending on a number of varying factors such as economy, global impacts, credit history and reputational reasons, i.e. how products/industries are viewed by the general public."
James noted that many banks pulled away from the travel sector during the 2020 pandemic, the financial risks being deemed extremely high. "However, this won't always be the case, when the 'world gets back to normal' and the travel industry recovers." 
It's crucial to check that your business will fit the unique criteria of the potential banks to which you apply. 
"There is no point in placing lots of applications with banks that will not onboard the business," James said. "To do so, it might be worth using a broker or speaking with a bank who you know already services similar industries. Those in higher risk industries may also wish to have more than one business bank account to mitigate termination risk in the future."
More From GOBankingRates