Ally Bank Is the Best Online Bank of 2016
Free interest checking, high-yield CDs and other services set Ally Bank apart from other online banks.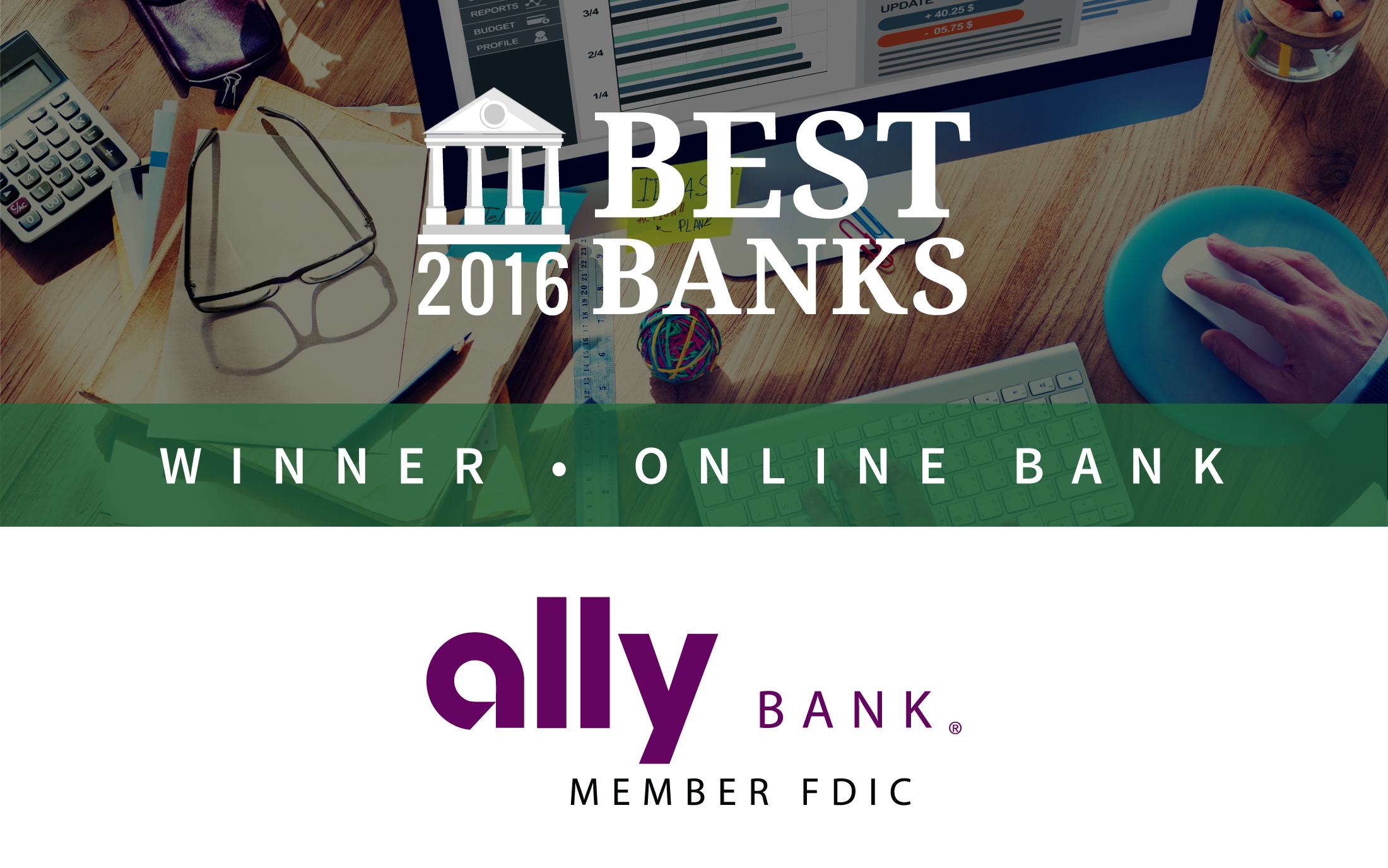 Ally Bank is the Best Online Bank of 2016 in GOBankingRates' annual Best Banks rankings. As the top online bank, Ally pulled ahead of its competitors with favorable products, low costs and excellent service. 
"Ally Bank has been successful in growing its business by focusing on our customers' priorities, providing them with great service and continuing to innovate to offer the best possible banking experience," Diane Morais, CEO and president of Ally Bank. 
Here's a look into how Ally Bank offers online banking customers the best deal for 2016. Its product and service offerings help customers save money on banking while also earning more interest than they could with other banks' checking and savings accounts.
What Makes Ally Bank the Top Online Bank of 2016
To find the Best Online Bank of 2016, GOBankingRates surveyed the leading 30 online banks offering accounts nationally within the U.S. The study investigated service offerings and terms to rank online banks according to which ones provided their customers with the most favorable terms.
Ally Bank earned its top ranking because of its superior deposit products, strong customer support, and top online and mobile banking tools. "Direct banks continue to gain favor as technology evolves to make it simpler and more convenient to conduct most banking activities online," said Morais.
Free Interest Checking and High-Yield Savings Products
Ally Bank's deposit accounts are consistently among the best of 2016. Its savings, checking and certificate of deposit products all earned spots among the top 10 in GOBankingRates' 2016 rankings of these account types. With low fees and high interest rates, Ally Bank offers depositors ways to grow their funds faster without worrying about fees:
Free interest checking: Ally Bank's free checking carries no monthly maintenance fee, one of the key factors of the Best Online Bank ranking. Additionally, this free account also bears interest — 0.10% APY on balances up to $15,000 and 0.60% APY on balances of $15,000 and up.
Online savings account: The

2.00%

APY offered on Ally Bank's Online Savings account is among the best offered by online banks, which helped it stand out in the Best Online Banks and Best Savings Accounts rankings. This savings account also carries no monthly maintenance fee.
High-rate CDs: Ally's CDs are top earners, giving account holders high returns, such as its competitive

2.65%

APY on its 12-month CD. Ally Bank also sets no deposit minimums to open a CD.
24/7 Phone Support and Live Online Chat
Online banks don't have physical branches, but the best ones make up for this lack of face time with customer support available anytime, anywhere. Ally Bank's customer service, for example, is always just a phone call or mouse click away.
The bank has several customer service lines, including a 24/7 hotline to help banking customers any time of the day, every day of the year.  Ally even has a wait time for this number displayed on its site, including at the top of its home page, so account holders can easily check in real time to see if it's a convenient time to call. With person-to-person service, Ally's phone customer support can be used to quickly address questions and concerns.
Ally also offers a live chat option on its website that connects its online users with customer care associates. The instant messaging system enables customers to get immediate access to a representative for quick answers to their banking questions.
Related: 5 Reasons Why No One Goes to the Bank Anymore
Digital Tools for Instant and Convenient Account Access
Ally Bank's strong selection of digital banking tools offers some of the easiest interfaces and most convenient methods for users to access their accounts, manage their money and complete transactions. Account holders can securely log in to at Ally.com to monitor their accounts, review bank statements, pay bills and more.
Smartphone users get another easy way to access their Ally accounts via the online bank's mobile apps for iOS and Android. The Ally Bank app includes many of the same functions offered through online banking, including making transfers or payments. It also offers additional services such as the free Ally eCheck Deposit tool to remotely deposit checks, Popmoney to quickly make digital payments to family and friends, and an ATM finder.
Keep Reading: How Your Bank Is Rapidly Adapting to Millennial Banking Habits
Methodology: To determine its Best Online Bank ranking, GOBankingRates examined 30 online-only banks that offer products nationally according to the GOBankingRates and FDIC databases, excluding online products offered by institutions with a physical, retail banking presence. No asset threshold was consulted for online-only banks.
Criteria for ranking: GOBankingRates scored each online-only bank from most to least favorable for the following factors: (1) checking account fee, (2) savings account annual percentage yield, (3) 12-month certificate of deposit APY and (4) BauerFinancial Star Ratings for overall financial strength. Banks were then scored according to whether they offered the following services, all of which contributed to a single weighting: (5) 24/7 customer service available by phone, (6) live chat service via website with a person, (7) mobile app and (8) remote check deposit. Next, banks were ranked according to their services offered score and then by their overall score.
Data was compiled via BauerFinancial and the GOBankingRates interest rate database and verified against the individual institutions' websites between Oct. 29 and Nov. 23, 2015. Rates, terms and conditions are subject to change at the discretion of the individual financial institutions.
GOBankingRates is a personal finance and consumer interest rate website owned by ConsumerTrack, Inc., an online marketing company serving top-tier banks, credit unions, and other financial services organizations. Some banks mentioned in the Best Banks of 2016 survey are clients of ConsumerTrack, Inc., which serves more than 100 national, local and online financial institutions. Rankings are completely objective, and no institution, client or otherwise, paid for inclusion or specific placement.