Here's Your America First Routing Number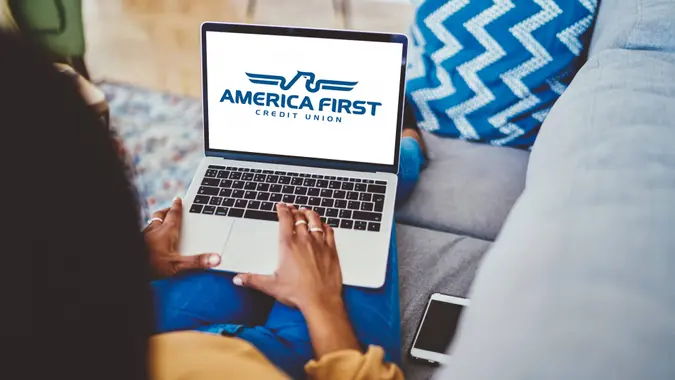 GaudiLab / Shutterstock.com
If you found yourself here, that means you're in need of your America First Credit Union routing number. You'll include the ACH routing number to send an ACH transfer to your America First account.
What Is My America First Routing Number?
The America First Credit Union Routing Number is 324377516, and is the same for every state.
Read on to learn more about the radical world of routing numbers.
What Is a Routing Number?
The totally tubular routing number can be found under different names, such as ABA or routing transit numbers. This number is actually a nine-digit code that every bank or credit union receives from the U.S. Federal Reserve.
Routing numbers are usually used for wire transfers from one institution to another. Sort of like a Social Security number, no two banks or credit unions have the same routing number, although some larger institutions have multiple routing numbers organized geographically.
While routing numbers and SWIFT numbers sound similar, there is actually a key difference. SWIFT numbers are used to receive an overseas or international money transfer. America First's website lists a few uses for a routing number, such as using one for "direct deposit, wire transfers, tax purposes, paying utilities" and more.
How Does a Routing Number Work?
Routing numbers were first used by the American Bankers Association — hence why they're sometimes called ABA numbers — in 1911. The digits comprising the routing number aren't randomized; each digit indicates a particular attribute about the bank:
The first four digits are called the Federal Reserve Processing Symbol. The first two digits deal with the head branch of the Federal Reserve district that serves the bank. The third digit indicates the Federal Reserve processing center assigned to the bank. The fourth digit specifically indicates the bank's location.
The next four digits are actually randomized, assigned to banks per the ABA.
The final digit is the "check digit" that confirms the bank's validity.
While these numbers don't make bank fraud impossible, they do make it possible for financial institutions to "talk" to each other so each knows where funds are coming from. Essentially, routing numbers are used to identify banks during financial transactions to ensure funds are properly being received and distributed by the correct parties.
Other Places To Find Your America First Routing Number
Your check is always a great place to look for your routing number; it's the nine-digit cluster of numbers located on the lower left corner of your check. Additionally, you can call the bank at 800-999-3961, or visit its website to confirm you have the correct routing number.
Be mindful not to confuse your account number, which is assigned by the bank to you personally in order to provide a destination for transfers and wires, with your routing number.
How Do I Find My Bank's Routing Number Without a Check?
It's easy to find your bank's routing number even if you don't have a check handy. One way is to log in to your online banking account and find your bank's personal information there. You can also do a quick online search by entering your bank's name followed by the words "routing number." Just make sure that the information you find is from a trusted source, such as the American Banker's Association. Lastly, your monthly statement will have your bank's routing number on it.
Click through to learn how to understand your bank statement.
Arielle Moscati contributed to the reporting on this article. 
This content is not provided by America First Credit Union. Any opinions, analyses, reviews or recommendations expressed in this article are those of the author alone and have not been reviewed, approved or otherwise endorsed by America First Credit Union.