Apple Federal Credit Union Review: Convenience and Life Membership
Check out what Apple Federal Credit Union does for its members.
Apple Federal Credit Union operates 20 branches across Northern Virginia, with access to around 53,000 ATMs nationwide. The full-service financial institution lets customers access dozens of tools and products, but as a local credit union, people who live outside the area might not be able to enjoy banking with Apple.
Read on for a review to find out if banking at this credit union is right for you.
Apple Federal Credit Union Review
You can open an account with Apple Federal Credit Union for as little as $5, but there are membership requirements to become a member. To bank with Apple, you must meet one of the criteria:
Location: You can open an account if you live in one of the six areas Apple covers in Virginia: Fairfax County, Frederick County, Prince William County, City of Fairfax, City of Manassas or City of Manassas Park.
Schools: You are a faculty or staff member, a student or immediate family member of someone connected to one of the several school districts and jurisdictions Apple covers, including Fairfax County schools and Winchester public schools.
Relationships: You are affiliated with a pre-existing Apple member who is a family member or someone you live with, or you can join an eligible local association.
Work: You are an employee of select businesses in the Northern Virginia area.
Once you're connected with Apple, you can begin using them for your banking needs, including opening checking accounts, applying for credit cards and getting personal loans. Apple also provides members with online banking and mobile banking through its app.
Check Out: 15 Best Mobile Banking Apps and Services

Sponsors of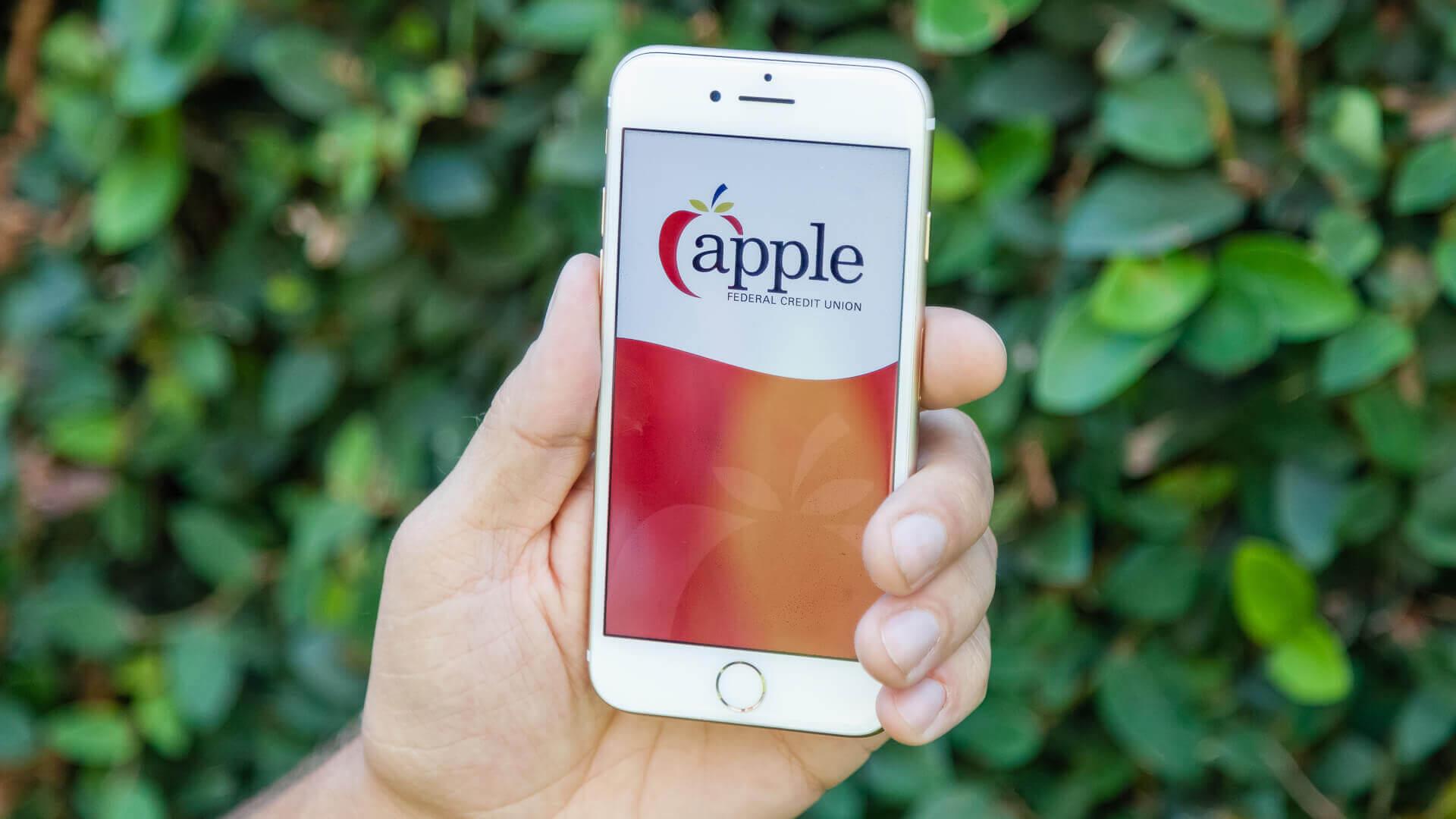 Apple Federal Credit Union Products and Services
Apple Federal Credit Union provides a wide range of products and services. Read on to see if any fit your banking needs.
Apple Checking Accounts
Apple offers four checking accounts to choose from:
A+ Checking: Never pay a monthly service charge or maintain a minimum balance with this utility account.
Advantage Checking: Earn monthly dividends on your checking balance while enjoying unlimited ATM withdrawals.
Student Checking: Like A+ checking, you won't pay a monthly service fee or keep a minimum balance, and it comes with two free non-Apple ATM transactions per month.
Investor Checking: You can earn Apple's highest dividend rate — 1.25 percent on account balances up to $20,000, 0.25 percent if more — with this account.
Here are some other features of the accounts:
Apple Federal Credit Union Accounts 
Account Name
Dividends
Non-Apple ATM Transactions
Free Checks
Qualifications
A+ Checking
No
N/A
Free initial box
No minimum monthly balance required
Advantage Checking
Yes
Free and unlimited
One free box per year
Direct deposit of $1,000, among other conditions
Student Checking
No
Two free ones per month
No
Must be a full-time student age 12-23 and enrolled in eStatements
Investor Checking
Yes
Free anywhere
One free box per year
Maintain investment balance of $25,000 or more through Apple Financial Services
Information accurate as of July 31, 2018.
Apple Credit Cards
Members have seven Apple Federal Credit Union credit cards to choose from, each suited for different financial needs. All the cards come with no annual fee, no cash advance or foreign transaction fee, APRs no higher than 18 percent and come with free custom card designs. Some of these cards come with a rewards focus, such as the Signature Rewards, which earns customers compounded points depending on if they use it at restaurants or gas stations. Others keep it simple with a focus on credit use.
Apple Auto Loans
Apple provides loans for both new and used vehicles. The rates depend on the term length, the type of loan used and your credit score. New and used auto loans have terms of up to 36 to 84 months, with higher APR attached to loans for used vehicles. For example, an 84-month new vehicle loan has 3.64% APR versus the 4.14% APR for the same term for used vehicles. Auto loan refinances consider the vehicle's mileage and age, but refinances up to 48 months cannot be used on vehicles that Apple has already provided a loan for. Apple also covers new and used recreational vehicles. Used recreational vehicles require the highest APR at 9.34% for a term of up to 60 months.
Pros and Cons of Apple Federal Credit Union
Here are some of the most notable advantages and disadvantages of banking with Apple Federal Credit Union.
Advantages:
Checking accounts can usually avoid ATM fees
Credit card APRs no higher than 18.00 percent.
Low APR for used and new vehicle loans
Conditions:
Limited membership eligibility due to locality
Investor checking requires a high investment balance to get 1.25 percent dividend rate
Low 0.20 percent dividend rate on Advantage Checking
Is Apple Federal Credit Union Right for You?
As a community credit union, banking with Apple Federal Credit Union makes the most sense if you live in Northern Virginia. Once you become a member, however, you are a member for life, and there are enough associative ways to begin banking with Apple. Some of Apple's checking accounts make it easier to go around non-Apple ATM fees, which is needed because of its limited network. The credit cards carrying APRs no higher than 18 percent might be a big draw for people with shaky credit history and thrifty shoppers. Locals will probably find it more useful to bank with Apple and take advantage of its perks.
Click through to read about the best credit unions anyone can join.
More on Banks
This content is not provided by the companies mentioned. Any opinions, analyses, reviews or recommendations expressed in this article are those of the author alone and have not been reviewed, approved, or otherwise endorsed by Apple Federal Credit Union.