Are Bank Bonuses Worth It? 10 Things To Watch Out For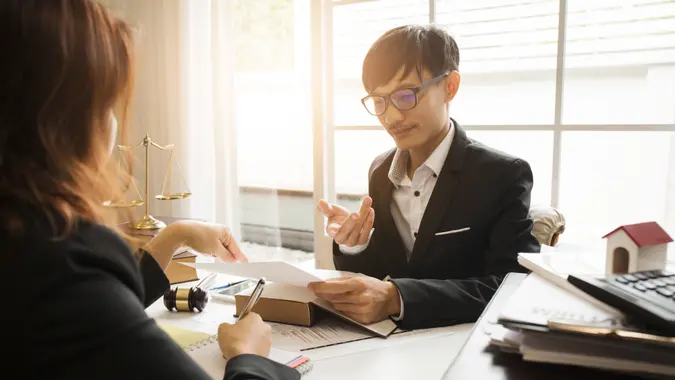 PhuShutter / Shutterstock.com
If you're like most people, you're in a long-term relationship with your bank — which makes you an ideal prospect for other banks. You might find yourself being pursued by your bank's competitors, some of which may even try to lure you away with a sign-up bonus.
Explore: GOBankingRates' Best Credit Cards for 2023
More: 5 Things You Must Do When Your Savings Reach $50,000
Are bank bonuses worth it? Before you decide, there are a lot of questions to ask — from the specifics of the bank's promotion to the bigger picture of what the financial institution in question has to offer you in general.
10 Things You Should Know About Bank Bonuses
Here's a look at the information you should gather when a bank tries to court you with a sign-up bonus.
1. Determine What Kind of Account You're Being Asked To Open
Before you take the sign-up bonus and plunge into a new banking experience, be sure that the type of account you'll be opening meets your needs. If the sign-up promotion is attached to the opening of a checking account, for example, you may find that you don't have a need there — but if it applies to a savings account, you may feel that having an extra account could make sense.
You may also need to open a business banking account — and if you don't have one anywhere else, taking advantage of a sign-up offer could be useful.
Live Richer Podcast: Unexpected Ways Losing a Spouse Can Affect Your Finances and Retirement
2. Know That How You Open the Account Can Matter
Be aware that banks sometimes differentiate between not only what kind of account is opened, but how — meaning that a checking account opened in the branch may not be the same type of account as one opened online. They may appear identical to you, the consumer — but they can come with different fee structures and maintenance requirements.
3. Find Out If You're Eligible
Bank bonuses are typically for new customers only, but some institutions run promotions that apply to existing customers — if they'd like to see you open a type of account that you don't currently maintain with that bank, for example.
Your geographic location can also affect your eligibility. If the bank doesn't have a branch nearby, you may not be able to take advantage of the sign-up promotion — particularly if you need to be on-site in a branch to open the account.
4. Ask About the Bonus Terms
Before you agree to open a new account, find out what the terms of a sign-up bonus will be. Some banks may require you to maintain a minimum account balance. There may be a requirement that you deposit funds into your newly opened account, follow a specific onboarding process or remain a customer for a certain amount of time before being eligible for a sign-up bonus. The bonus may also be subject to state and/or federal income taxes.
5. Understand All Usage Terms for the Account in Question
It's crucial to think beyond the bank's initial offer. Once the lift of a sign-on bonus wears off, you'll be living with the account you've opened — so make sure that the two of you are compatible.
Here's a list of things to watch for. Add any others you think of and take this to the bank with you. Don't open an account for any reason until you know what to expect on all of these fronts:
Monthly account maintenance fees
Account balance minimums
Direct deposit requirements
Limits on fund transfers between accounts
Variances between accounts opened in a branch vs. online; for example, minimum account balances may be different between the two
Fees charged for money orders, certified checks and cashier's checks
Account closure fees
6. Think Beyond Bank Fees
There's much more to a successful bank transition than knowing about the fees and sign-up bonus. Here's a list of other areas to research:
Consider the Following:

From all foreseeable indications, is the bank on solid footing financially?
Does the bank carry insurance, such as FDIC, on customer deposits? What are the limits?
Do you like the account features you've been offered?
Does the bank have a secure, easy-to-use app?
How quickly are your funds accessible?
Are transfers to external parties manageable?
Does the account allow you to name a beneficiary, such as a family member or trust?
7. Ask Yourself: Does the Bank Meet Your Overall Needs and Expectations?
Physical location, parking and safety
Service hours and amenities by branch location
Phone and online customer service hours
Presence or lack thereof of safety deposit boxes and any associated fees
Presence in locations you travel to
8. Ask Yourself: Have You Checked Competitors' Offers?
No matter how good a bank's sign-up bonus may be, you won't know if it's actually a valuable perk unless you know what else is out there. Do yourself a favor and look around — a quick search online should reveal an array of recent solicitation offers from the bank you're considering and also its rivals.
9. Don't Be Afraid To Negotiate
If you spot a better bonus offer out there, why not bring it to the bargaining table? The bank can choose to match or beat its competitor to count you as a customer — but you won't know until you ask.
10. Watch Your Account Carefully
If you decide to take advantage of a sign-up promotion and switch banks, be sure to watch your new account to make sure it meets your expectations. Communicating any questions or concerns early will help get your new banking relationship off on the right foot and ensure that you don't get stuck with any unforeseen fees.
Are Bank Bonuses Worth It?
You can feel great about the fact that you're asking yourself this question, no matter what choice you make. You're hoping to make the most of your money, as you should be. Just be informed about your needs and expectations before you entertain any changes, even with a tempting bank bonus on the table. After all, you're unlikely to regret making every possible effort to maximize and safeguard your cash.
More From GOBankingRates