BB&T Review: 6 Banking Products that Offer Personal Finance Solutions
If you're unhappy with your present bank, you may search for a new place to hold your money. There are different factors to take into consideration, such as the location of branches and ATMs, financial products, fees and electronic features. Choosing a bank may seem like a straightforward decision, but once you begin the search, narrowing the choice down to the best banks can be challenging. This BB&T review can help.
If you're looking for a bank with a long, positive track record, an abundance of financial products and modern technological features, consider opening an account with BB&T. Headquartered in Winston-Salem, North Carolina, BB&T has more than 1,800 branches across 12 states. Founded in 1872, this bank offers a wide range of products from bank accounts to investment solutions.
BB&T Review: Products and Services

A few of the most popular financial products offered by BB&T include:
1. BB&T Checking Rates
Sponsors of
BB&T offers a range of checking account options, such as basic checking, student checking and senior checking. Enjoy low maintenance fees, free online banking, a free check card and the option of overdraft protection. Open an Identity Protection checking account and receive 24-hour credit monitoring, plus quarterly Experian credit reports. And with Elite checking, you can earn interest on your checking account.

2. Savings Accounts


Open a BB&T savings account and get your finances on track. Savings options vary by state, but include BB&T eSavings, an Investor's Deposit account, a Health Savings account, a Young Savers account and the College Wealth 529 Savings. Earn a competitive interest rate on your deposit, plus many accounts feature no monthly maintenance fee and no minimum opening deposit.

3. BB&T CD Rates


If you have long-term financial goals, a BB&T certificate of deposit can put you on the right path. This bank offers seven CD options with terms that range from seven days to five years. BB&T CD rates are competitive, plus there is the option of tiered rates, simple interest and daily compounded interest. Minimum opening deposits range from $100 to $5,000, depending on the type of account.

4. BB&T Mortgage Rates & Home Loans

BB&T mortgage rates. Apply online and see how you can save.

5. Other Loans

Whether you need a personal loan or an auto loan, BB&T offers a range of lending solutions. Use a personal loan to finance a major purchase, or borrow from your equity and make improvements to your home.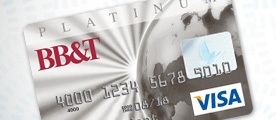 6. BB&T Credit Cards
Building a solid credit history makes it easier to qualify for loans, plus good credit results in a better interest rate. With BB&T credit cards, you can build or improve your personal history. The BB&T Platinum credit card feature a low interest rate and no annual fee. Enjoy a 0% introductory rate for the first 12 months. Another option is the BB&T Rewards credit card. You can earn 1 point per every $1 you spend. There is no annual fee, plus 0% interest for the first 12 months.
Pros of BB&T Bank
BB&T online banking is a major plus, as account holders can manage and monitor their various accounts from their home computer. This convenient feature lets customers pay their mortgages, credit cards and other bills online, as well as track their daily spending. In addition to online banking, BB&T now offers mobile banking. Account holders can download the bank's app to their smartphone or tablet computer. Upon downloading the app, they can view their accounts and deposit checks with their devices. There is also the option of accepting credit cards with a mobile device.
Another plus is the interest rate account holders receive on their eSavings account. An interest rate around 0.01% or 0.02% is typical with most standard savings accounts. However, BB&T's eSavings account pays an interest rate of 0.5%. This higher rate can grow your savings faster and help you reach savings goals sooner.
Cons of BB&T Banks
Unfortunately, BB&T locations are limited to 12 states in the southern region of the U.S. This is an inconvenience for account holders who travel or move outside this area, as they'll have to choose another bank or pay expensive ATM fees.
As the 10th largest financial holding company in the U.S, BB&T is slowly gaining a reputation as a "big bank." Thus, BB&T customer service may not compare with a small community bank. Due to the large number of customers, lack of personable service/attention can be an issue.
Sponsors of
Should You Bank with BB&T?
If you're looking for a bank that's been around for many years, and one that offers a host of financial services, BB&T is the answer. This bank may be a perfect fit if you're looking to maximize your money, as it offers a broad selection of CD products and a high savings account rate. Additionally, with mobile and online banking, managing your accounts has never been easier.
More On BB&T
Here's Your BB&T Routing Number
More Bank Reviews
(Feature image: Frank Kehren)