7 Bank Accounts That Will Give You Free Money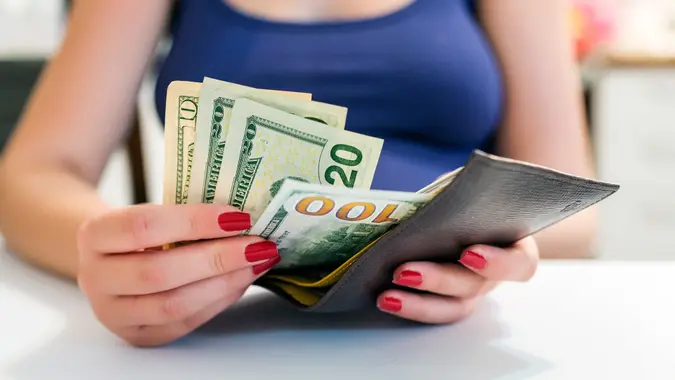 ljubaphoto / Getty Images/iStockphoto
It's always nice to get a bonus, no matter how big or small. And if you can score the bonus with minimal effort, all the better. For instance, some banks have generous tiered incentives that require you to deposit as much as $200,000 to earn the biggest bonus. Needless to say, that's not realistic for the average person.
GOBankingRates' Best Banks 2022: See the Top Banks, Credit Unions and More
Also: GOBankingRates' Best Online Banks of 2022
Some banks offer big bonuses with a high bar to reach them; while others give you a small bonus that is easy to achieve. We'll give you a mix of both here as everyone's needs are different. In some cases, just signing up and making a few transactions can earn you a nice incentive. In other cases, you will have to deposit thousands.
Offers can vary a lot in their value and requirements, so if you're in the market for a new bank account, give these a look. They have bonuses that can make it well worth signing up.
TD Bank Checking
Sign-up bonus: Up to $300
TD Bank will give you free money with its checking accounts if you meet the direct deposit requirements. The TD Beyond Checking has a $300 bonus with cumulative direct deposits of $2,500 or more in the first 60 days. Can't clear that hurdle? The TD Convenience Checking account has a $150 bonus with $500 in direct deposits. The Convenience Checking also has no maintenance fee if you maintain a daily balance of at least $100. For the Beyond Checking account, you must maintain a daily balance of at least $2,500 to waive the maintenance fee.
This offer is valid until March 31, 2022.
Chime
Referral bonus: $100
Chime* is an online bank with no monthly fees. Like many online banks, it partners with an ATM network (in this case, MoneyPass) to let you withdraw cash without branch locations. If you sign up with Chime, you can earn a bonus by referring a friend. If you refer someone and they make a single qualifying deposit of $200 or more within 45 days of account opening, you both get $100. The good thing about this offer is you only have to invite one friend to receive it.
Learn: One-Third of People Have $100 or Less in Their Checking Accounts, Survey Shows — Here's How Much Experts Say You Should Actually Have
Huntington Bank
Huntington Bank offers sign-up bonuses for both its business accounts and its personal accounts. We'll cover one of each below.
Huntington Unlimited Business Checking and Unlimited Business Plus Checking
Sign-up bonus: Up to $750
Are you self-employed or an entrepreneur? Perhaps you drive for Uber or Lyft or offer freelancing services? Anyone who conducts any amount of business not working directly for an employer can sign up for a business bank account. If you have your own business of some sort, the Huntington Business Checking account has a tiered bonus structure for new customers.
Huntington offers two business checking accounts with a sign-up bonus: Huntington Business Checking and Huntington Plus Business Checking. The former has a $400 bonus if you deposit at least $5,000 when you sign up and deposit an additional $10,000 or more monthly. The Plus account has a $750 if you deposit $20,000 at signup and $25,000 or more monthly.
Both Huntington Business Checking bonuses are valid until March 7, 2022.
Related: All the Steps You Need To Take To Switch Banks
Huntington 5 Checking Account
Sign-up bonus: $200
If you don't have your own business or can't meet Huntington's business banking direct deposit requirements, its Huntington 5 personal checking account has much lower requirements. For this account, you must have $1,000 or more in direct deposits in the first 60 days. If you can meet that requirement, you will receive a $200 bonus.
Chase Bank
Chase may be the largest bank in the U.S., but it still wants new customers. As a result, it offers bonuses for signing up, and those bonuses are among the easiest to achieve. We'll cover to separate Chase accounts here. Both Chase offers below are good until April 19, 2023.
Control Your Money: 35 Useless Expenses You Need To Slash From Your Budget Now
Chase Total Checking
Sign-up bonus: $225
The Chase Total Checking account has a $225 sign-up bonus, and all you have to do is sign up and set up direct deposit within 90 days. Unlike other banks, Chase doesn't require you to deposit a certain amount. As long as you set up direct deposit, you'll receive a bonus within 15 days.
There is a $12 monthly fee for this account, but you can have that waived with $500 in monthly direct deposits. Alternatively, to waive the fee, you can maintain a daily balance of $1,500 or a minimum balance of $5,000 in linked accounts. As a final fee referral option, you can pay $25 or more in qualifying checking-related services or fees.
85% of People Prefer Banking Online or With a Mobile App: What Are Your Best Options?
Chase Secure Banking
Sign-up bonus: $100
The Chase Secure Banking is another personal checking account from Chase with a sign-up bonus. The offer is $100 for new customers. This bonus is also easy to achieve, especially if you don't have an employer paying you in direct deposit. All you have to do is make 10 qualifying transactions in the first 60 days. These include debit card purchases, online bill payments and Zelle payments.
The information related to Chase Secure Banking was collected by GOBankingRates and has not been reviewed or provided by the issuer of this product/card. Product details may vary. Please see issuer website for current information. GOBankingRates does not receive commission for this product.
*Chime is a financial technology company, not a bank. Banking services provided by, and debit card issued by, The Bancorp Bank, N.A. or Stride Bank, N.A.; Members FDIC
More From GOBankingRates