Bank Accounts To Grow Your Generational Wealth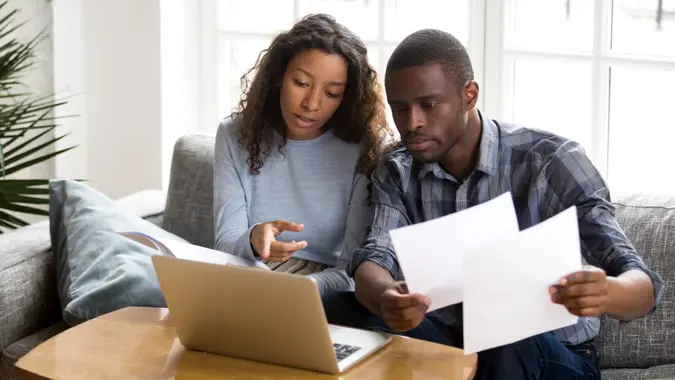 fizkes / Getty Images/iStockphoto
When it comes to growing generational wealth, choosing the right financial institution can be a big boost to your efforts. Not all banks can appeal to both the older and younger generations, and finding one that keeps both generations engaged can help make both wealth generation and wealth transfer more likely. In addition to offering estate planning and other wealth transfer solutions, here's a list of five banks that have both cutting-edge features that may appeal to younger investors and the banking and investment accounts that can help create wealth in the first place.
GOBankingRates' Top Picks: The Best Regional Banks of 2022
And See: The Best Credit Unions of 2022
SoFi
SoFi, formerly Social Finance, is a fintech company that provides a wide range of financial services to customers. SoFi is a hot property among the millennial crowd, as it operates completely online and is optimized for use on a mobile app that scores 4.8 stars on the App Store. Originally a student loan company, SoFi now offers comprehensive financial services, all at a low cost. On the investment side, customers can buy stocks and ETFs for no commission, and — notably for the younger generation — cryptocurrency and IPOs are also available for trading. But unlike many other fintechs or online banks, SoFi also offers estate planning, will generation, home loans and all types of insurance. Put it all together and SoFi has a great package of accounts and services to grow generational wealth.
Read: 40% of Women Have Less Than $100 in Their Savings Accounts, New Survey Finds
JPMorgan Chase
JPMorgan Chase is one of the largest banks in the world. As such, nearly any conceivable financial service is available at the bank. If you're looking to build significant wealth and transfer it to the next generation, JPMorgan Chase likely has a solution for you. High net worth individuals in the bank's Chase Private Client division have priority access to banking, lending and investment services tailored to sophisticated clients, but all clients can avail of the bank's close to 5,000 branches and full-service banking capabilities. Keeping up with its online brethren in this new age of stock trading, JPMorgan Chase also offers $0 commission stock and ETF trading, along with a robo-advisory service with a 0.35% annual fee. All of these factors can help grow generational wealth — just beware of the high fees and low APYs on some of the bank's deposit accounts.
Good To Know: How Much Money You Should Keep in Each Type of Banking Account
Bank of America Merrill Lynch
Bank of America Merrill Lynch is another banking behemoth that straddles the line between traditional banking and online capabilities. Like its competitor JPMorgan Chase, Bank of America offers a host of full-service banking options, from deposit accounts like checking, savings and money market options to credit cards, home and auto loans, CDs, retirement accounts and investments. While you can opt for a full-service financial advisor, particularly if you're in need of advanced generational wealth planning, you can also use the bank's Merrill Edge platform for self-directed, $0 commission online trading of stocks and ETFs. The firm also offers a robo-advisory service, dubbed Merrill Guided Investing, that clocks in at a 0.45% annual fee. Overall, the bank strikes a careful blend of in-branch, full-service capabilities with online, customer-driven technology.
More: 23 Tips To Build Your Emergency Savings
Ally Bank
Ally Bank is a completely online institution, and while that may appeal to younger generations, more traditional customers might shy away at first. But a closer look at Ally shows that the bank does an excellent job of providing a wide range of banking and financial services while still maintaining the low costs, high yields and convenience of the best online institutions. The bank's deposit accounts all come with no fees, and the checking and savings accounts pay yields of 0.50% and up to 0.25%, respectively. Investments are low-cost also, with $0 commission stock and ETF trading and a robo-advisor that charges no advisory fees. Portfolio types within the robo-advisor included a socially responsible option, which has gained popularity, particularly with the younger generations. All together, Ally Bank's focus on low fees, high yields and a variety of investment options make it a great way to grow generational wealth. 
See: GOBankingRates' Best Online Banks of 2022
Charles Schwab Bank
Charles Schwab was always an investment company first and foremost, but its newer banking offerings are a perfect complement to those services. The Charles Schwab Bank checking account has no annual fee and offers unlimited reimbursement of ATM fees across the entire globe. When paired with a Schwab investment account, it makes for a perfect one-stop shop for those looking to grow generational wealth. On the investment side of the ledger, Schwab offers $0 commission trading of stocks and ETFs and a robo-advisor, Schwab Intelligent Portfolios, that charges no fees and no commissions, although it does require a $5,000 minimum investment. Customers can access a wide range of accounts, from educational and custodial options to retirement options. Those in need of a higher level of financial support can access the services of Schwab Private Client, which offers a dedicated financial advisor backed by a team of experts to provide a personalized approach to wealth management, all for a tiered pricing structure that starts at 0.80% annually and drops from there.
More From GOBankingRates