10 Bank Services You Should Be Using If You Need Them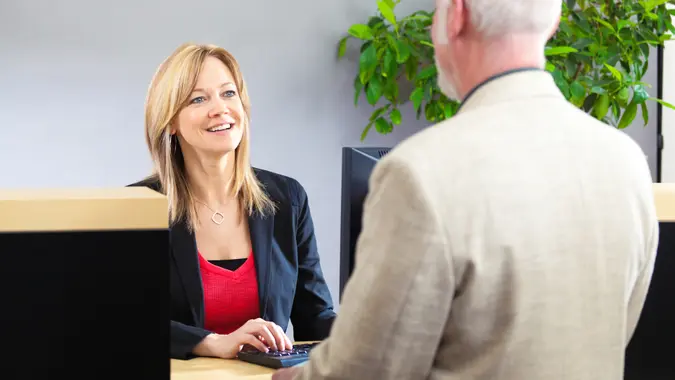 YinYang / Getty Images/iStockphoto
When you go to the bank, what do you typically do? You might see a teller to make a withdrawal or deposit. Or you may speak with a bank representative about opening a new account or taking out a loan.
But your bank offers much more than a place to store your cash and borrow money. It provides various other services to help you manage your financial life.
Here we'll share the top 10 types of bank services you should be using whenever you need them. That way, managing your money will be easier and more secure. Some of these offerings may seem obvious — but others might surprise you.
Automatic Teller Machines (ATM)
These days, you might not keep much money in your wallet. If you need cash in a pinch, though, an ATM can help you get it — and it should be free of fees if you use the one at your bank. Plus, you can use the machine to make deposits, too.
Safe Deposit Box
If you've got a lot of valuables, you may want to rent a safe deposit box at your bank. These boxes are ideal for securely storing jewelry and important legal documents. Usually, you can rent one for under $200 per year, depending on the size.
Wire Transfers
Wire transfers can help you quickly and securely send or receive money electronically, and they are usually more affordable at banks than other places. Many people use a wire transfer to move money internationally.
Foreign Currency Exchange
If you plan to travel abroad, you may want to convert some of your U.S. dollars to the other country's currency. Your local bank will generally offer a better rate for the service than an airport kiosk.
Online Banking
The majority of people do most of their banking online nowadays, but if you're still a holdout, you should consider trying it. It's fast, easy and safe.
Financial coach Jonathan Thomas, MBA, remarks that online banking "provides valuable insights to your income and spending trends [and your] net worth. You can even add outside accounts to see everything in one spot, [review] monthly FICO updates, and [compare] updated offers you may qualify [for]."
However, while the technology is here to stay, the future of banking is still human. Chances are, you'll sometimes need and appreciate a financial professional's personalized service and advice. 
Mobile Banking Apps
Many consumers don't even use a computer to do their banking. They can complete every transaction — including check deposits — from their smartphone or tablet quickly and easily. The best mobile banking apps offer top-notch customer service and helpful money management tools.
Financial Advisor
Managing your money and financial planning can be complicated. Your bank may offer financial advisory services that can help you get from where you are to where you want to be.
Thomas says you'll "usually [have] free access to expert advice that can help you navigate setting up your 401(k), IRA, etc. [Your advisor can also] explain industry terms and [answer] one-off questions you may have, [such as] how to calculate your financial independence number."
Mortgage Consultant
When it's time to buy a house, a mortgage consultant can help you secure and understand your home loan. "They can explain all the different loan products and how they work and even help you understand how to calculate how much you can afford," says Thomas.
Notary
Have you ever needed a document notarized and wondered where to find a notary? Wonder no longer! 
Your bank likely has a professional who can notarize your contracts, affidavits and other legal documents or validate your identification. Thomas says, "This [is] a free service offered by banks and credit unions when you have an account."
Small Business Banker
According to Statista, nearly 10% of Americans owned a small business as of 2022. If you're among that crowd, you should build a relationship with your bank's small business banker. "Oftentimes, when you're a solopreneur, this can be helpful as many banks may help you set [up] a website and even payroll for free."
More From GOBankingRates