Bank5 Connect Review: High-Yield Accounts With Security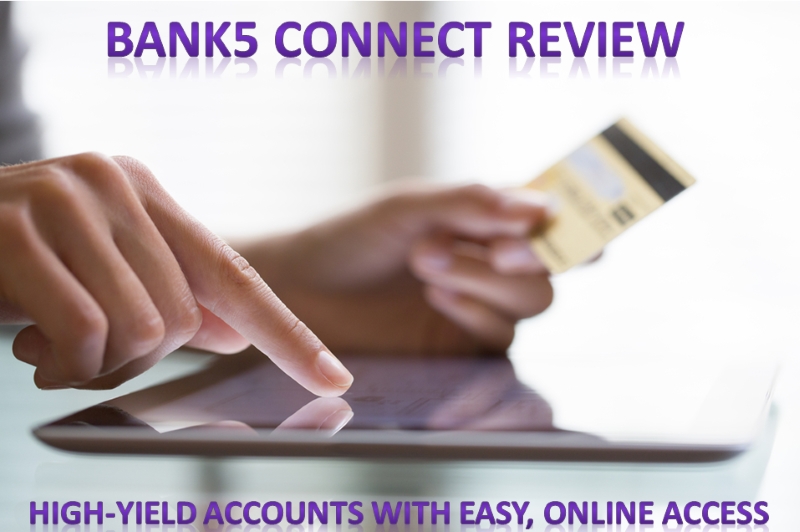 Sometimes the services that take your experience to the next level are not the ones you use but the ones you should. At the online-only Bank5 Connect, you get the banking staples you need without the expensive frills of a local branch you never visit.
Recently named one of the best 10 online banks of 2015 by GOBankingRates and one of only two on that list to earn a prestigious BauerFinancial Star Rating of 5, Bank5 Connect takes its place next to major banks like Bank of America and Chase to bring online banking into the mainstream.
Thanks to no overhead for brick-and-mortar physical locations, Bank5 Connect can pass along those savings by slashing fees and cranking up interest earnings. Anchored in traditional banking as a division of BankFive, a Massachusetts bank with 160 years of financial service, Bank5 Connect offers the classic banking products you rely on — checking accounts, savings accounts and CDs — augmented by contemporary conveniences such as online bill payments, paperless e-statements and mobile banking from your phone or tablet.
Some people still hesitate to trust their money to online banks, questioning their security or technology. The truth is, online banking is a popular feature among even traditional banks and credit unions today, based on proven technology and security. Online banking allows banks like Bank5 Connect to offer lower fees, stronger earnings on interest (especially on savings products) and 24/7 service.
Related: How Online Banking Evolved Into a Mainstream Financial Tool
Traditional Banking Products and Accounts
Bank5 Connect's online banking services are the perfect fit for customers who want 24/7 access to their money wherever they are. Take care of your banking at your desk or on the fly, all while earning strong, competitive interest rates.
Bank5 Connect High-Interest Checking Account
Even the checking account at Bank5 Connect earns account holders an impressive 0.76% APY, as long as they maintain a minimum balance of just $100. The best part? No fees anywhere in sight: free online banking, bill payments, paperless e-statements and mobile banking. You can open a checking account with as little as $10.
The UChoose Rewards program turns your debit card into a rewards card. When you choose to sign for your purchases, you'll earn the maximum reward of one point for every $2 you spend. Redeem your points for travel discounts and packages, gift cards and other rewards.
Bank5 Connect High-Interest Savings Account
When you don't need to access your money regularly, a Bank5 Connect savings account helps it earn even stronger returns. These high-yield accounts are currently paying 0.90% APY on accounts with balances of $100 or more.
You can open a Bank5 Connect savings account with only $10. Like Bank5 Connect's high-yield checking account, these account provides access to free online banking services, free e-statements and free mobile banking. You can choose to link your savings account to your Bank5 Connect checking account to provide checking overdraft protection.
Bank5 Connect High-Yield Certificates of Deposit
Amplify your financial security with the robust returns of a Bank5 Connect CD. Get started with a minimum deposit of $500. When your CD matures, you can roll it over into a new term as is, or beef it up with additional funding.
A Connect CD offers a convenient range of term lengths from six to 36 months at rates from 0.85% APY to 1.50% APY. The returns can be impressive, but these CDs aren't for you if you think you might need to make an early withdrawal. Pulling your funds out early means forfeiting three to six months of interest in early withdrawal penalties.
An Investment CD gives you the unparalleled flexibility of adding funds at any point during the CD term. You can even connect it to your Bank5 Connect checking account to pave the way for regular transfers — the perfect way to keep your savings total mounting. You'll need $500 to open a 24-month Investment CD, which earns 1.30% APY. Early withdrawal fees are the equivalent of six months of interest.
Related: Why Online Banking Customers Are Saving More Money
Bank Anytime, Anywhere
Banking doesn't get much more convenient than managing your finances from the palm of your hand. As an online-only bank, Bank5Connect gives you the tools you need to bank on your computer, smartphone or tablet at absolutely no cost, with free online bill payments, e-statements and mobile banking.
When you need an ATM, consult the site's handy ATM locator to find the nearest in-network SUM Network ATM. Bank5 Connect never charges for using an ATM, in-network or out, and it reimburses other banks' ATM surcharges up to $15 per billing cycle.
Because everything at Bank5 Connect is virtual, the bank puts all its customer resources online. Here are some ways you can make use of this information:
Find answers to your money questions in an easy-to-search FAQ.
Refer to banking terms in the helpful glossary.
Learn more about banking basics from informational videos.
Run the numbers on your own financial scenarios with a selection of personal, investment and retirement calculators.
Pick up hot financial tips via a collection of podcasts and e-books.
If none of these resources answer your questions, rest assured you haven't reached the end of your rope. You can chat with a live customer service representative right on the bank website.
Safe, Secure and Insured
If you figured that an online bank would know a thing or two about internet security standards, you're right. Bank5 Connect protects your money and personal information with the latest technologies, including multi-factor authentication and secure browser protocols.
Bank5 Connect's fraud resources are robust. On the security section of its website, you can learn about the latest security alerts and threats, sign up for text or email fraud alerts and contact the Bank5 Connect security and fraud response team. You can also find out how to spot and prevent fraud plus what steps to take if you suspect you're a victim.
Your deposits are fully insured at Bank5 Connect. Not only are your deposits insured up to $250,000 through the Federal Deposit Insurance Corporation (FDIC), but because Bank5 Connect is a member of the Depositors Insurance Fund (DIF), all deposits above the FDIC limit are insured in full by the DIF.
Banking on Your Terms
A full-service online bank like Bank5 Connect makes banking at your keyboard safe, convenient and savvy if you want to earn great interest rates. Whether you're looking for a bank that can keep up with your schedule or a competitive place to let your nest egg grow, go online with Bank5 Connect.
To join Bank5 Connect, visit its website or call 1-855-55BANK5 (1-855-552-2655). Be prepared to provide your Social Security number, a valid ID, your previous home address (if you've lived at your current address for less than two years), and a means of funding your new account such as a credit card, debit card or an existing checking or savings account.
Editorial Note: This content is not provided or commissioned by the bank advertiser. Opinions expressed here are author's alone, not those of the bank advertiser, and have not been reviewed, approved or otherwise endorsed by the bank advertiser. This site may be compensated through the bank advertiser Affiliate Program.