Banking Crisis 2023: How To Get Your Money Through FDIC Insurance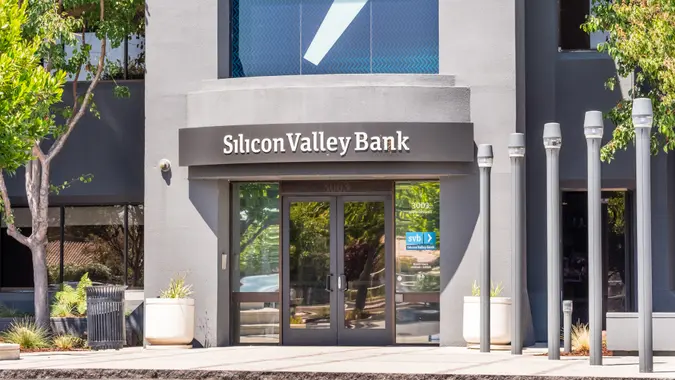 Sundry Photography / Getty Images
Since the falls of Silicon Valley Bank and Signature Bank, you might be wondering what to do if your bank fails and you need to claim your deposits using Federal Deposit Insurance Corporation (FDIC) insurance.
Depositors with SVB gained access to their money beginning March 13, 2023, through ATMs, debit card purchases and paper checks, the FDIC said in a press release. That's because the FDIC acted quickly to transfer all remaining deposits held by SVB and Signature into "bridge banks" designed to create a seamless transition for customers.
But what is the typical process if a depositor needs to access their money through FDIC insurance?
What FDIC Insurance Covers
First, it's important to understand FDIC coverage. The Federal Deposit Insurance Corporation backs all eligible funds held in insured banks up to $250,000 per depositor, per account category. Joint accounts are insured for up to $500,000, or $250,000 per name on the joint account.
Eligible funds include:
Checking and savings accounts.
Negotiable order of withdrawal (NOW) accounts.
Money market deposit accounts (MMDAs).
Certificates of deposit (CDs).
Cashier's checks, money orders, and other official items issued by an insured bank.
Stocks, bonds, mutual funds, life insurance policies, annuities and other investments are not covered, per the FDIC.
How To Get Your Money
If your bank fails, the FDIC will take swift action, as it did with SVB, to either sell the bank and its remaining assets to a healthy bank or directly pay deposits up to the insurance limits.
Depositors will have access to their funds through the new bank by making a cash withdrawal with no penalties. They also have the option to establish an account with the new bank and access their money through checks, debit card purchases, or ATM transactions — the same way they would with any bank.
When the FDIC cannot find a buyer for the bank, the FDIC pays each depositor directly by check. Payments typically start a few days after the bank closes, according to the FDIC.
Bridge Banks Represent "Extraordinary Action"
In the case of both Signature and SVB, the Biden administration established emergency bridge banks, which quickly gave customers of both banks access to all their deposited funds – even the amounts that exceeded FDIC coverage. The action helped companies who were customers of the bank to "continue to make payroll and fund their operations," according to a CNN report.
The Fed has made additional funding available for banks in the future in order to prevent bank runs and help preserve financial stability in the banking system. The new Bank Term Funding Program will offer loans with terms up to one year to financial institutions to help banks, credit unions, and other "eligible depository institutions" maintain their liquidity.
More From GOBankingRates