Every Banking Transaction You Can Do On Your Phone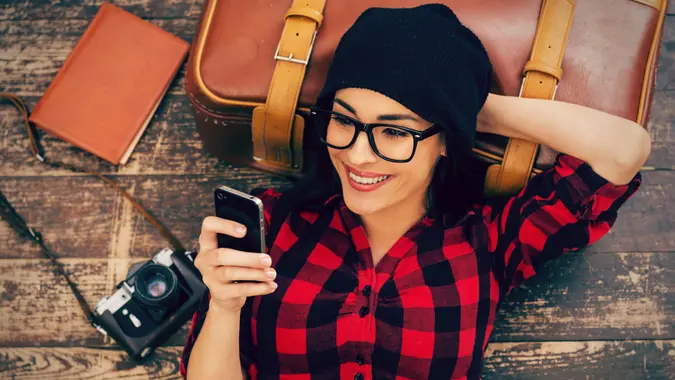 g-stockstudio / Shutterstock.com
There really is very little you still need to go to a bank to do. Most of your everyday banking can take place wherever you are, thanks to your phone. Banking and credit union apps are getting really sophisticated, and even if a function isn't available from an app, you can use the bank's website or email someone to get help, rather than calling or having to visit your local bank branch. If you're not sure what your phone is capable of, here's a list of every banking transaction you can do virtually. 
Check Your Balance
Instantly get a look at how much money is in your account wherever you are. You can see all of your accounts at a glance including checking, savings and any joint accounts you have access to. This way, you don't have to stop at an ATM just to get a look at what's left in the bank. 
Deposit a Check 
This is truly a game changer. Many banking apps have a feature where you can use your phone's camera to capture images of a check and it deposits directly into your account. Most of the time, you can see this check reflected in your account the same day you deposit it. You don't even need to be using Wi-FI to do this. Anywhere with cell reception, you can snap a photo of the check and have access to that money shortly after. 
Transfer Money Between Checking & Savings Accounts
Need to move some money around? You can do it on the go. Using your bank's app, you can move money from your savings to checking and vice versa. Just make sure if you are withdrawing from your savings account that you keep it under the six allowed transactions per billing cycle. 
Transfer Money to Someone Else's Account 
If you want to transfer funds to someone else's bank account, you can set them up as a recipient. All you need from them is their bank's name, account number and routing number. You can set up recurring payments or keep it to a one-time transfer. You can also make a payment through Zelle. Zelle works similarly to Venmo, but it's done through your banking app, so whenever you want to pay someone via Zelle, you can enter their phone number or email to transfer cash.  
Pay Bills
You no longer have to be at home with your checkbook to pay all your bills. Simply set them up as recipients in your banking app and pay bills as they come to you via email no matter where you are. You can also set up automatic payments so you never forget to pay again. 
Set Up Security Alerts
Keep an eye on your account at all times by setting up alerts when there is suspicious activity on your account. Most banks let you customize how and when you're alerted. Whether it be when there's an unusually high withdrawal or a suspicious looking payee, you can receive a text, email or call from your bank (or all three to be super vigilant) so you're aware of it as soon as possible. These alerts also give you the option to verify the charge so if it's not a suspicious charge, you can go ahead and keep using your card. 
Report Your Card Lost or Stolen
If you're on vacation or just really busy, it's hard to fit in a trip or a call to your bank. Now, you can easily file a report on your phone so your bank flags your account as lost and starts the process to ship out a new one to you. 
Order Checks
Though checks might seem like a relic of the past, there are still crucial times when you need them. Your bank most likely offers an option in its app or online to place an order for checks that can either be delivered or picked up when you need them. 
Get Finance Tips
You can find so many financial planning resources online, and your bank can offer solutions tailored to your needs. You might even be able to make a personalized budget, or a debt payment plan using the tools your bank provides online. 
Apply for a Loan
Though you might need to meet with a loan adviser at some point, you can apply for a loan online using banks' online application forms. 
More From GOBankingRates