Are Banks Open During the Coronavirus?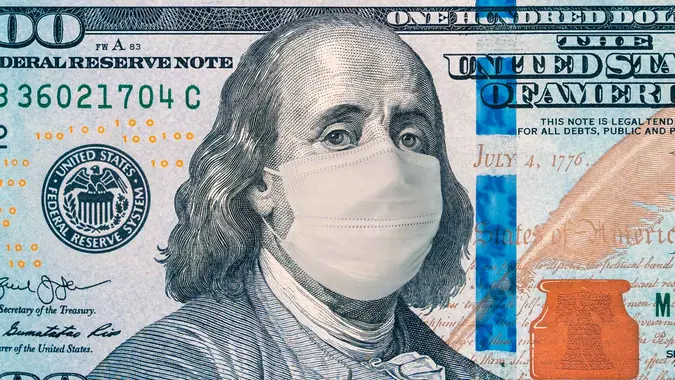 Diy13 / Getty Images/iStockphoto
Are banks open during coronavirus? The answer depends on the financial institution. Some banks are cutting back hours, others are limiting branch visits and a few are closing to protect customers and employees from the spread of COVID-19. Here's what you need to know about what banks are open right now.
The topics covered in this guide include the following:
Banks Open During the Coronavirus Pandemic
Banks are taking measures to keep customers and staff safe. Most banks are reducing lobby hours and will require you to make an appointment ahead of time if you need to meet with a branch representative. Branches, ATMs and pin pads are sterilized frequently. Drive-thru tellers are open or expanding as an alternative.
Refer to the following list for information on which banks are open right now:
Bank of America: Lobbies are open with modified banking hours.
BBVA: Lobbies are closed without an appointment; drive-thru tellers are open.
BMO Harris: Lobbies are closed; drive-thru tellers are open with reduced hours.
Capital One:

Most lobbies and cafes are open with modifications. ATMs remain accessible.

Chase: Most branches are open with reduced hours.
Citibank: Most are branches are open.
Citizens Bank: Reduced hours are in effect; appointments are required; only two customers allowed inside at a time; drive-ups are open.
Comerica: Lobbies are closed without an appointment; drive-thru tellers are open.
Fifth Third Bank:

Branches started to reopen June 1st, Drive-thru services still available.

First Republic: Open, although clients 60 and older are limited to visiting between 9 and 10 a.m.
HSBC:

All branches are open and following social distancing guidelines.

Huntington Bank:

All branch lobbies are now open with procedures in place.

KeyBank:

Nearly every branch is open and using minimal contact. Bank recommends using drive-thru lanes when available.

M&T Bank:

Branches are open and many do not require appointments anymore. For faster service, make an appointment.

PNC: Three-quarters of the branches are open with reduced hours for drive-up service only; appointments required for access to safety deposit boxes, etc.
Regions Bank: Open for drive-thru only or with an appointment; some branches are closed
Santander Bank: Many branches are open with reduced hours for teller service; drive-thru service is available; appointments are required to meet with a banker.
TD Bank:

Many branches are reopening and following safety guidelines. ATMs are still available and recommended when possible.

Union Bank:

Some branches remain temporarily closed, most are open with limited occupancy. Drive-up locations are in operation where available.

U.S. Bank: Limited banking hours are in effect.
Wells Fargo: Most branches are open with reduced hours for teller service; an appointment is required to meet with a banker.
Refer to the branch locator page of your bank's website to determine if your local branch is one of the open or closed locations, as well as to find the branch's hours.
Good To Know: Best Checking Account Bonuses, Promotions and Offers
What To Do If Your Local Branch Is Impacted By the Coronavirus
It's highly likely your branch is impacted by COVID-19. Many have limited their hours, closed lobbies and only offer drive-up teller service. Here are some alternatives to visiting a branch:
Turn To Mobile/Online Banking
Most banking tasks can be completed by using the bank's mobile app or online banking services. You can deposit checks using your smartphone's camera and the bank's app. Most bills can be paid by scheduling an online bill payment. You can also send money using cash apps like Zelle, Venmo or PayPal.
Related: The Types of Bank that Is Best For You 
Use ATMs 
If you need to deposit or withdraw cash, ATMs are still working. Keypads are regularly sterilized to safeguard your health, but it would be a good idea to wear gloves when using an ATM. If you don't have gloves, use hand sanitizer before and immediately after you use the cash machine.
Save Money: How To Find No-Fee ATMs Near You
Call Customer Service
Most banks have increased their phone customer service to help customers with their banking needs. Call volumes are high, but if you need help, try calling your bank before you visit a local branch.
See This: Banks Offering Relief to Those Affected By the Pandemic
Make an Appointment
If you need to access your safety deposit box, have to sign loan documents or need help from a branch representative, most branches will accept customers with an appointment. Call ahead or request an appointment through the bank's website.
More Bank Holidays
Schedules were sourced from financial institutions' websites, by contacting financial institutions directly, and from Banks.org and The Holiday Schedule when information was not available. Schedules are subject to change and may vary for individual branches.