The 20 Best Regional Banks of 2022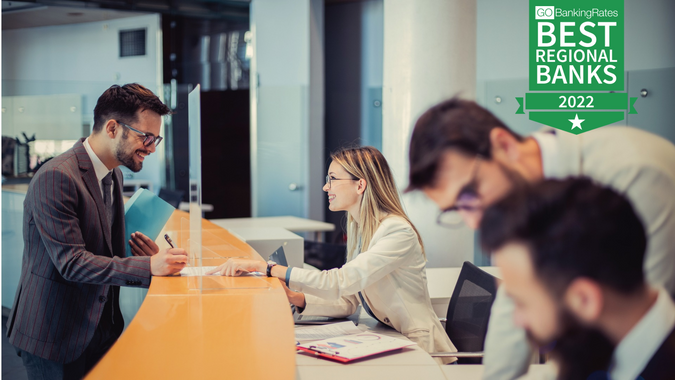 LukaTDB / iStock.com
If you're searching for a bank that offers higher rates than a national bank but still has more locations than a community bank would, a regional bank may be ideal for you. For the purposes of this ranking, GOBankingRates defined a regional bank as one with institutions in five or more states, but less than 20 states.
To find the Best Regional Banks of 2022, GOBankingRates ranked nearly two dozen financial institutions across the following factors:
Total assets
Number of branch locations
Checking account annual fee
Savings account APY
12-month CD APY
Customer service products offered
Bauer rating
Products/services offered
Average mobile app rating
Based on these criteria, these are GOBankingRates' Best Regional Banks of 2022.
Our Best Regional Bank
More of the Best Regional Banks 2022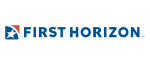 First Horizon Bank
Why it stands out: First Horizon Bank has over 400 locations and 600 ATMs in the Southeast U.S. and a full stable of offerings, including trusts and other financial planning services. One notable product that sets it apart from competitors is an add-on CD that lets you make unlimited deposits during the term of the CD plus one penalty-free withdrawal every six months.
Pros:
No checking fee with FirstView Checking account
Wide range of products offered
Add-on CD
Cons:
Need high balances to earn more than minimal interest
What to look for: First Horizon Bank's one-year standard CD has a lower APY compared to others on this list at 0.03%. Its traditional savings account offers 0.01% APY, and you'll need a $25,000 balance to reach the top money market APY of 0.02%. The bank has a free checking account.
READ OUR FULL REVIEW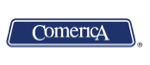 Comerica Bank
Why it stands out: Comerica Bank's primary U.S. locations include Texas, Arizona, California, Florida and Michigan, but its service area extends into Canada and Mexico. That makes it a valuable resource for Americans who need to bank in Canadian dollars or Mexican pesos. In addition, Comerica has a well-organized website that makes it easy to compare accounts. The bank has an excellent Bauer Rating and a wide range of services.
Pros:
Good selection of products

Ability to bank across Canadian and Mexican borders
Cons:
Fees and account minimums are disproportionately high for rates offered
What to look for: Comerica Bank offers a good range of products and services that include auto and mortgage loans, credit cards, investment services, insurance and more. Its Access Checking account doesn't earn interest, but there's no monthly fee. The basic savings account has an APY of 0.01% and its one-year fixed rate CD has a rate of 0.05% APY.
READ OUR FULL REVIEW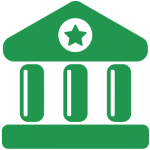 MUFG Union Bank
Why it stands out: Union Bank is the consumer banking arm of Mitsubishi UF, or MUFG. It has branches in California, Oregon and Washington. Although its physical footprint is small, it's part of a major international financial institution that also operates in Canada, Mexico and throughout Latin America. In addition to deposit accounts, credit cards and investing, Union Bank offers home loans, including standard and seven-year fixed-rate home equity lines of credit — a loan many banks have suspended temporarily due to the pandemic.
Pros:
Low minimum balance requirements for most CDs
Good selection of basic account types
Waivable fees on most accounts
Cons:
Low savings rates
Limited physical locations
Must schedule an in-person appointment to open the account
What to look for: MUFG Union Bank has a solid APY on its one-year CD at 0.15%. Its savings and money market rates are not as strong at 0.01% and 0.05%, respectively, but the savings account offers limited rebates for out-of-network ATM fees. The free checking account has no overdraft fees for overdrawn balances of less than $5.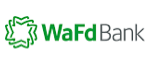 Washington Federal Bank
Why it stands out: Washington Federal Bank has over 200 branches across eight states in the West and Southwest, plus over 37,000 free ATMs. The bank offers credit cards, home loans and an excellent selection of checking and savings accounts, including a high-interest account for kids. Some checking accounts include My WaFd Wins perks like shopping, health and travel discounts, mobile phone protection and extended product warranties.
Pros:
My WaFd Wins perks on checking accounts
Good interest rates on savings accounts and eligible checking account
High-interest special CD
Cons:
Some monthly checking account fees can't be waived
What to look for: Stellar Plus Checking and Green Checking accounts offer valuable My WaFd discounts and other benefits, although they also have fees that can't be waived. The Minor Savings account has a 5.00% APY on the first $10 to $100 and 0.10% APY thereafter. The savings APY is 0.10%. The Gold Money Market rate is 0.15% to 0.20% APY, depending on the account balance. Standard 12-month CDs have a 0.20% APY, but the 13-month CD special APY is 0.35% APY — 0.40% with eligible checking.
READ OUR FULL REVIEW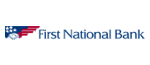 First National Bank of Pennsylvania
Why it stands out: Despite its name, First National Bank of Pennsylvania serves a number of metropolitan areas in the Mid-Atlantic and Southern states. Its deposit accounts include IRA savings and CDs, and the bank also offers mortgage and consumer loans, investing and insurance. Some deposit accounts come with a free safe deposit box.
Pros:
No checking fee
Wide range of products offered, including IRA savings accounts and CDs
Cons:
No credit cards
Low rates across the board
What to look for: First National Bank of Pennsylvania's most noteworthy accounts are the CD specials, which offer up to 0.30% APY. A 12-month standard CD earns 0.03% on balances of $500 or more. Savings accounts earn 0.01% APY and interest-bearing checking accounts may earn 0.01% APY, depending on balance.
READ OUR FULL REVIEW
How To Choose a Regional Bank
Regional banks can be a good option for customers who like visiting physical branches but don't want the impersonal feel that large, multinational banks sometimes have. Generally, you can find a wide array of available products at a regional bank, but be careful of account and service fees, which can be high. Regional bank APYs may be competitive with national banks but typically can't keep up with those offered by online banks.
Location
Regional banks by definition only operate in certain areas of the country, so be sure a bank you're interested in has a nearby location.
Availability
Check the operating hours, including holidays, of your regional bank. Some may not have the availability of a national or online bank.
Bank Health
Some regional banks prefer to remain small and local, but others are limited from expanding nationally because they aren't raising enough assets or generating enough profit. Look at your bank's financials to ensure they'll be there for the long haul.
Rewards and Promotions
Regional banks are often good at offering rewards and promotions; compare the current offers at the regional bank you're considering with other available bank offers.
Account Offerings
Some regional banks are limited in terms of their product lines, so be sure that the regional bank you're considering offers everything you'll need.
FAQs About Regional Banks
What is considered a regional bank?

A regional bank is one that has branches clustered in one or a handful of regions in the United States. These banks are not necessarily small; some are part of the largest banks in the world, but they don't have locations in every town in the U.S.

What is the difference between a regional bank and a community bank?

A regional bank serves a segment of the country. A community bank serves people in a particular city or state. Both offer services targeted for the places where they operate. Many regional banks are growing through the acquisition of community banks, so the lines are getting blurry.

Are regional banks safe to use?

You generally don't have to worry about safety when it comes to regional banks. All legitimate regional banks, like the ones on this list, share the same FDIC insurance as traditional banks. However, you should still check your bank's financials to see that it is not on the edge of insolvency. For many customers, cybersecurity is also a concern with regional banks; in fact, it ranks as Americans' greatest fear when it comes to banking, according to a recent GOBankingRates study. Reputable regional banks, like the ones on the top 10 list here, offer advanced customer protection, such as two-factor authentication.

Are there bank account promotions or sign-up bonuses I can take advantage of?

Regional banks often promote certain products with higher rates or sign-up bonuses. For example, TD Bank currently offers a $300 sign-up bonus for one of its checking accounts, and other banks offer promotional rates on certain CDs. Many Americans leave free money on the table by not checking for current banking promotions, but it's definitely worth the effort to look.

How can I open an online bank account?

Most regional banks have the capacity to open accounts online. You can also call the bank or visit a branch if you need to open an account.
Daria Uhlig, Ann Logue and John Csiszar contributed to the reporting for this article.
Rates are subject to change; unless otherwise noted, rates are updated periodically. All other information on accounts is accurate as of July 1, 2022.
Methodology: To discover the Best Regional Banks, GOBankingRates looked at the top regional institutions (located in 5 or more states but in less than 20). To determine rankings, GOBankingRates looked at the following factors: (1) total assets as sourced from the FDIC; (2) number of branch locations as sourced from the FDIC; (3) checking account annual fee; (4) savings account APY rate; (5) 12-month CD APY rate; (6) customer service products offered (24/7 customer service and live chat with a human); (7) Bauer rating (out of 5 stars); (8) products/services offered (auto loans, mortgage loans, credit cards, investment services and insurance); and (9) the average mobile app rating between the Android and Apple stores. All factors were then scored and combined, with the lowest score being best. Factors (5) and (9) were weighted 1.5 times, factors (1), (2) and (8) were weighted 2 times. For all savings and checking account data, only the basic accounts/products offered at each institution were analyzed.