Charles Schwab Hours: Full Hours and Holidays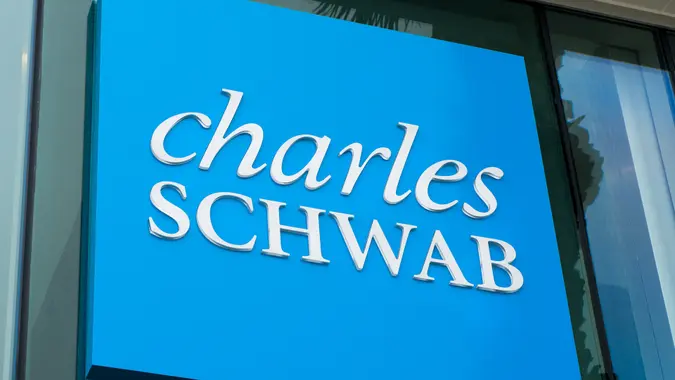 Ken Wolter / Shutterstock.com
Charles Schwab is one of the largest brokerages in the country. While Schwab might be best known for its investment and retirement tools, it also offers banking services, which provide traditional banking products and services such as checking accounts, savings accounts and home loans.
Keep reading to find out what times Charles Schwab branches are usually open.
Charles Schwab Hours on Normal Days
Charles Schwab bank branches typically open at 8:30 a.m. on weekdays and close at 5 p.m. A few branches open later at 9 a.m. and some close earlier at 4 p.m.
To be sure of the hours for your branch, call ahead or check Charles Schwab's branch locator first to confirm its hours before heading out.
Is Charles Schwab Open on Weekends?
None of the branches posted on Charles Schwab's website listed hours on weekends. The table below shows typical hours at a Schwab branch.
| Day | Hours |
| --- | --- |
| Monday through Friday | 8:30 a.m. to 5 p.m. |
| Saturday | Closed |
| Sunday | Closed |
Charles Schwab Hours for Holidays
Charles Schwab's holiday schedule follows the guidelines set by the U.S. Office of Personnel Management. All Schwab bank branches close during the following holidays:
| Holiday | Date |
| --- | --- |
| New Year's Day | Monday, Jan. 2 |
| Martin Luther King Jr. Day | Monday, Jan. 16 |
| Presidents Day | Monday, Feb. 20 |
| Memorial Day | Monday, May 29 |
| Juneteenth National Independence Day | Monday, June 19 |
| Independence Day | Tuesday, July 4 |
| Labor Day | Monday, Sept. 4 |
| Columbus Day | Monday, Oct. 9 |
| Veterans Day | Saturday, Nov. 11 |
| Thanksgiving Day | Thursday, Nov. 23 |
| Christmas Day | Monday, Dec. 25 |
For investment services, Charles Schwab follows a slightly different holiday schedule than for bank services. For example, though banks close on Columbus Day and Veterans Day, the stock market is open, which means Charles Schwab investment offices are open as well.
How To Bank With Charles Schwab Outside of Business Hours
Charles Schwab offers online and mobile banking platforms you can access at any time, no matter the day or hour. With its Schwab mobile app you can deposit checks into either your bank or brokerage accounts using your phone's camera.
If you're using the app for both banking and investment accounts, it also provides an easy way to track your investments.
How To Contact Charles Schwab Customer Service
Charles Schwab's customer service line for banking is available seven days a week, though weekday hours differ from weekend hours. The number is 888-403-9000. Here are the hours:
Monday through Friday from 4 a.m. to 8 p.m. Pacific time, excluding banking holidays
Saturday and Sunday from 6 a.m. to 7:30 p.m. Pacific time
Depending on the nature of your issue, you can also access Schwab's 24/7 automated services line at 800-435-4000.
More on Charles Schwab
More on Bank Hours
Information is accurate as of Oct. 6, 2023.
Editorial Note: This content is not provided by any entity covered in this article. Any opinions, analyses, reviews, ratings or recommendations expressed in this article are those of the author alone and have not been reviewed, approved or otherwise endorsed by any entity named in this article.