4 Simple Ways for Women To Boost Their Bank Accounts, According to Experts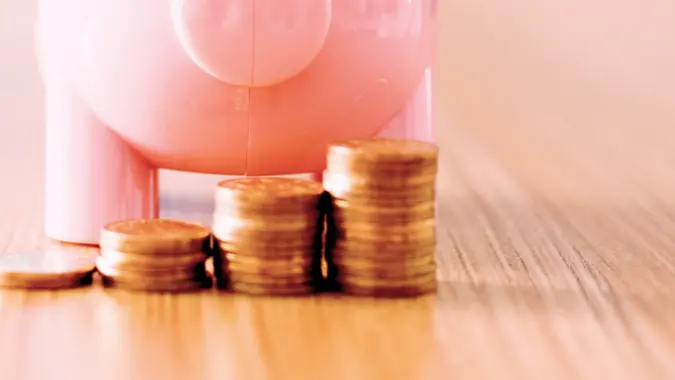 baona / iStock.com
The majority of women have alarmingly low bank account balances, a recent GOBankingRates survey found. According to the survey of 1,000 Americans, 42% of women keep a minimum balance of $100 or less in their checking accounts and 37% of women have $100 or less in their savings accounts. Although there's no one right amount to keep in these accounts, experts advise keeping enough money to cover monthly expenses — plus a little extra — in a checking account, and enough to cover three to six months' worth of expenses in a savings account to serve as an emergency fund.
While it will take some planning, there are ways for women to bring their bank account balances up. In this "Financially Savvy Female" column, we're chatting with financial experts to get their best, easy-to-follow advice for women who want to grow their bank accounts.
Round Up
"Leverage any tools your bank offers to help grow your savings effortlessly and without making a huge impact on your day-to-day cash flow," said money-saving expert Andrea Woroch. "For instance, many banks these days offer savings features that automatically round up purchases to the whole dollar, taking that extra spare change and putting it to a separate savings account."
This is also the main feature of several different money apps.
"If your bank doesn't offer this, look into financial apps that do — such as Acorns," she continued. "Just link the app to your credit and bank accounts, and they will begin rounding up purchases to the nearest dollar amount, transferring the difference to an investment account to help build your savings portfolio over time."
Switch Banks
"When focused on building savings, it's important to think about where you save that money," Woroch said. "Leaving your savings sitting in a traditional bank means leaving money on the table. You can benefit from interest rates rising by moving your savings to a high-yield online savings account. That means your savings will make money while it just sits there — in your sleep and while you're driving kids to and from school and sports practice."
You may even be able to find checking accounts that pay interest, so you can grow money in that account faster as well.
Take Our Poll: Do You Have a Second Job or Backup Plan in Case You Are Laid Off?
Automate Your Savings
"Make sure to pay yourself first," said Tammy Trenta, CFP, founder and CEO at Family Financial. "Before paying bills or making other purchases, put a portion of your income into savings. Set up automatic transfers to your savings account so that you don't have to rely on willpower to save money."
Even if you can only set aside a little each paycheck, a little bit can go a long way over time.
Look For Easy Ways To Spend Less
You'll be able to keep higher balances in your accounts if you're able to cut down on spending — and there are a few ways to do this that don't require much effort.
"Cut unnecessary expenses, such as subscription services," Trenta said. Check your statements for subscriptions you're paying for that you're no longer using, or that you can easily live without.
Trenta added that another way to save is "when making purchases, look for discounts and deals that can help you save money."
There are a number of sites, plug-ins and apps that can help you find discounts or earn cash back on your purchases — all it takes is a quick search to get started.
GOBankingRates wants to empower women to take control of their finances. According to the latest stats, women hold $72 billion in private wealth — but fewer women than men consider themselves to be in "good" or "excellent" financial shape. Women are less likely to be investing and are more likely to have debt, and women are still being paid less than men overall. Our "Financially Savvy Female" column will explore the reasons behind these inequities and provide solutions to change them. We believe financial equality begins with financial literacy, so we're providing tools and tips for women, by women to take control of their money and help them live a richer life.
More From GOBankingRates
Methodology: GOBankingRates surveyed 1,000 Americans ages 18 and older from across the country between Dec. 7 and Dec.12, 2022, asking 19 different questions: (1) What category does your current financial institution fall under?; (2) Have you considered changing banks within the past year?; (3) If you have considered changing banks in the past year, were any of the following factors? (Select all that apply); (4) Which feature, perk or other offering is most important to you when opening an account with a new institution?; (5) Are you currently satisfied with all the banking products and services offered by your bank/credit union?; (6) Would you ever have different types of accounts across multiple banks? (i.e. checking at Chase, but savings at TD Bank); (7) What is your most preferred method of banking?; (8) Which of the following is the biggest factor for you staying with your current bank?; (9) Which of the following bank accounts do you currently use/have open? (Select all that apply); (10) How much is the minimum balance you keep in your checking account?; (11) How much do you currently have in your savings account?; (12) What amount of a sign-up bonus would make you consider switching banks?; (13) Have you considered using any app-only banking platforms (aka neobanks) in the past year (e.g. Current, Upgrade, Chime, Dave, etc.); (14) How important is it to you for your bank to be affiliated with a crypto exchange/platform?; (15) In the past year, how often have you written a physical check?; (16) When was the last time you visited your bank in person?; (17) Why would you choose to visit your bank in person? (Select all that apply); (18) When you think about banking, do you think of it as something you need or don't need?; and (19) What services/products do you expect from your bank and/or credit union? (Select all that apply). GOBankingRates used PureSpectrum's survey platform to conduct the poll.