Fighting Back: 5 People Who Stuck it to Big Banks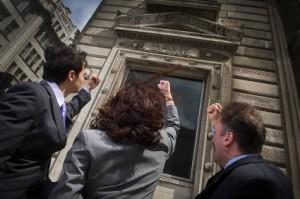 How do you feel about your bank? Some people adore their local institution and the business relationship they've fostered over the years, while others flat out hate their bank and want everyone to know it. Either way, it's safe to say a lot of people have been screwed over by big banks in the past, especially since the last financial meltdown.
However, banks seem to be such behemoth entities, customers rarely stand up for themselves when slighted by their banking institution, or are ignored when they do.
This is not the case when it comes to the following five individuals. When their banks did them wrong, they fought back. Here's how they did it:
#1 Patrick Rodgers
New Jersey resident, Patrick Rodgers, decided to turn the tables on his mortgage lender and attempted to foreclose on Wells Fargo.
It all began when Rodgers was notified by his lender, Wells Fargo, that he had to insure his home for $1,000,000–the total it would cost to rebuild the property if it was destroyed. Since the home itself wasn't valued at nearly that much, Rodgers refused to increase his coverage and was slapped with forced-place insurance instead. That's when he wrote to Wells Fargo for further explanation.
According to the Real Estate Settlement Procedures Act (RESPA) of 1974, mortgage lenders are required to acknowledge written requests within 20 business days, or face damages or penalties if they fail to respond. Patrick Rodgers wrote to Wells Fargo four times with no response, so he took them to court. Everything worked out for him, too, because the court awarded Rodgers $1,173.
So where did things go awry? Wells Fargo chose not to pay Rodgers.
And what happens when you don't pay your mortgage lender? That's right, your property is foreclosed upon to recoup the money owed. So Patrick Rodgers followed this line of action and began foreclosure proceedings on the local Wells Fargo office to get the money owed to him. Mission accomplished.
#2 & #3 Maureen Collier and Sgt. Warren Nyerges
Patrick Rodgers started a trend that this Florida couple followed next.
Maureen and her retired police officer husband bought their home in 2009 for $165,000–cash. Yet somehow, Bank of America was not only sure the two had taken out a mortgage loan, but were also behind on payments. So BofA began foreclosure proceedings in February 2010 with the help of the David J. Stern law firm.
The couple were forced to hire an attorney and fight the bank, ultimately winning their case. Bank of America was ordered to repay them $2,534 in attorney fees. They didn't.
So the Florida couple threatens to foreclose on BofA–Maureen and Warren show up to the local BofA office, along with their lawyer, a moving company and two sheriff's deputies, to demand their money or the equivalent amount in furniture would be taken and sold at public auction.
After about an hour of negotiation, the bank forked over $5,772.88 (the original debt plus additional fees related to the collection).
#4 Wrenella Pierre
That wasn't the only big banks battle to occur in Florida. Chase Bank was recently sued by Wrenella Pierre after they made a very big mistake.
For some reason, Chase thought Wrenella died, and changed their records to reflect it. They also let a host of creditors know she was no longer living, and even sent her family a condolence letter.
The only problem? Wrenella was very much alive and well, and when she and her husband attempted to have their mortgage modified, Wrenella learned that her credit was destroyed due to the error. Even a month after setting the bank straight, creditors were still reporting her as deceased.
After declaring her dead, ruining her credit and making it impossible to have any new credit extended to her, Wrenella Pierre took Chase Bank to court for damages.
#5 Dave Graham
Dave Graham suffered a blow to his monthly income when he retired from his job as a shift foreman at a grocery distribution center. He certainly wasn't hard-up for cash, but felt that lessening his mortgage payments would free up his budget to live more comfortably in retirement.
Luckily, through the Home Affordable Modification Program (HAMP), Graham could receive a permanent 5-year loan modification if he made reduced payments on his mortgage during a 3-month trial period. The "trial" period ended up lasting a year and a half, but Graham continued to diligently make reduced payments to Bank of America as he waited for his loan mod to be approved.
It turns out BofA continued to accept these payments over the course of 18 months, even though they knew long before that Graham didn't qualify for HAMP. The big bank then informed him he had to pay the $7,000 difference or lose his home.
Graham countered by taking the mortgage division to small claims court and was awarded $7,595. He said he never would have even bothered with HAMP if it hadn't been for the fact that BofA sent him a package in the mail, encouraging him to apply in the first place.
Have you ever been wronged by big banks? What did you do?
Editorial Note: This content is not provided or commissioned by the bank advertiser. Opinions expressed here are author's alone, not those of the bank advertiser, and have not been reviewed, approved or otherwise endorsed by the bank advertiser. This site may be compensated through the bank advertiser Affiliate Program.