Did You Believe Any of These 5 Banking Myths?
Rumors, rumors everywhere — like a guilty pleasure, sometimes we can't help but be fascinated by wild stories, hoaxes or embellished stories of the strange and creepy kind. So why is it that we keep believing so many silly urban legends about personal finance, even though we know they couldn't possibly be true?
From ATM codes doubling as distress signals, to using red ink to get us out of debt, here are some outlandish banking myths that aren't worth banking on.
#1. Enter ATM PIN Number Backwards as Distress Call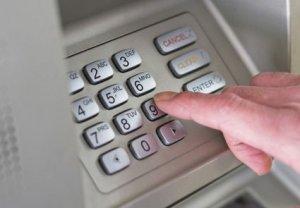 If being robbed at the ATM, typing your PIN number backwards automatically calls the police.
Fact: Perhaps out of seeking a false sense of security, a rumor began circulating in the mid 2000s: in the event you're being robbed at the ATM for your money, entering your PIN number in reverse discreetly alerts the authorities. But like the idea of a 911 call that goes unanswered, doing this at the ATM not only doesn't work, it can be dangerous.
A Chicago-area attorney named Joseph Zingher is said to have invented an ATM PIN number reversal system, but so far, has been unsuccessful in convincing lawmakers and banks to implement the technology in ATMs. Part of the reason, according to several sources, is the logistics: accidentally typing in your ATM PIN number backwards could trigger too many false alarms. It could make an unsafe scenario even riskier, say banks; few customers being held up at gunpoint are likely to remember their PIN in reverse, or worse yet, in stalling to do so, could anger an armed gunman.
ATM safety is important — law enforcement officials suggest that in the event of a robbery, comply with a robber's demands and call the police later. Your life is worth more than a cash withdrawal; entering one's PIN number backwards does nothing.
#2. Beware of the 1 Percent Transaction Tax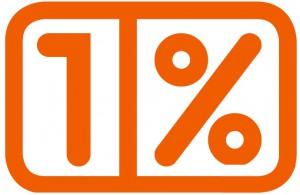 In an attempt to resuscitate the slagging bank industry, President Obama has proposed a 1-percent transaction tax on all bank transactions.
Fact: Before the Occupy Wall Street movement, this was the other "1 percent" that got some people abuzz across the internet. Coined the "One Percent Solution" or the "Debt Free America Act," the proposed transaction tax was just that — a proposition that began in the House of Representatives as one bill, HR 4646, and later re-introduced as HR 1125.
Presented as a possible solution to pay down the national debt, banking myths swirled that each American would soon be paying a 1-percent tax on any transaction, from debit card purchases to cash withdrawals to direct deposits. Although President Obama had no part in the proposal, his name was inextricably linked with the plan, attaining it urban legend status.
Still under "consideration" by a Congressional committee, website govtrack.us said that the 1 percent transaction tax "has a zero percent chance at being enacted."
#3. Use Red Ink to Delay Checks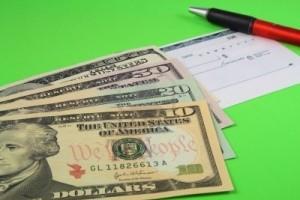 Get a check to float longer by writing it out in red ink.
Fact: The old make-a-check-out-in-red-ink-to-buy-more-time trick — a sly way of saying, "I'm writing this in red because I'm in the red." This urban legend suckers many people into thinking that their financial institution of choice will easily put a hold on a red-inked check, giving you more time to deposit money to cover the amount on the check. The truth is, if your checking account is in the negative digits, you shouldn't be drafting a check in any amount unless you'd like to see how the bank bounces them back to you, complete with fees and fines.
Using fewer paper checks reduces the amount of "mail float" that could jeopardize your finances. Opt for online banking or direct deposits — that way, you can monitor how much money you have in your account at any given time. That way, when it comes time to write a check, you'll know whether you can cover an expense no matter what color ink you use. (Black or blue are recommended.)
#4. Write "Paid in Full" to Get Out of Debt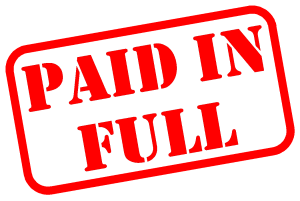 Writing "paid in full" on a personal check to your creditors gets you out of debt.
Fact: If only it was that easy. Say you're in hock to a debtor for $100,000. Wouldn't it be great if you could write a check for $100, sign it "paid in full," and call it even? If this was an option, then nobody would be in debt. A fraction of your debt, paid in full, is just that — only a fraction, not the full amount. One lonely payment on the road to resolving debt. Surprisingly, this urban legend persists among the hopeful who believe a sympathetic creditor will understand.
The best way to handle negotiating your outstanding debt is not to scrawl "paid in full" when it's not, but to learn some of the do's and don'ts of calling creditors for settling debt.
#5. Sign "See ID" to Prevent Identity Theft
To avoid identity theft, sign "See ID" on the back of your credit card, instead of your name.
It's one of the more understandable urban legends about banking — according to sources, over 11.6 million people were victims of ID theft in 2011. One seemingly simple way to combat this could be to avoid signing your name on anything prone to loss or theft, like a credit card. That way, when a thief tries to max out your card on an illegal shopping spree, they won't be able to prove they're you when the clerk reads "See ID" and finds out that they are not you.
Fact: This is a tricky one in that "See ID" doesn't guarantee you safety from ID theft, nor does signing your John Hancock on the back of your MasterCard leave you wide open to theft. The resolve lies in the hands of merchants, who are technically obligated to refer to the back of the card for proof. Many don't, but you shouldn't worry.
If your card is stolen and used fraudulently, you're only liable for up to $50, according to the Federal Trade Commission. Regardless of what's written on the back of your card, most thieves, if pressed, won't be able to forge your signature, or produce a fake ID, on the spot.