Here's Your Golden 1 Routing Number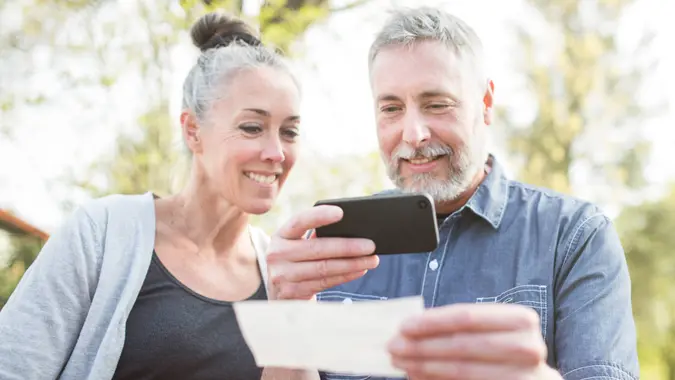 RyanJLane / Getty Images
If you bank with Golden 1 Credit Union and need to transfer money, pay a bill or set up a direct deposit, you'll want to know your Golden 1 routing number. Keep reading to learn what routing number to use and how to find your routing number in seconds.
What Is The Golden 1 Routing Number?
Golden 1 Credit Union has one routing number for most of its branches and advises all customers to use this number for transactions like direct deposit and wire transfers. Four of its branches have a different routing number:
| | |
| --- | --- |
| Golden 1 Credit Union Branch | Routing Number |
| Golden 1 Credit Union Routing Number (Most Branches) | 321175261 |
| 1328 W. Hillsdale Blvd., San Mateo, CA Branch | 321076289 |
| 2298 Lombard St., San Francisco, CA Branch | 321076289 |
| 1273 N. Davis Rd., Salinas, CA Branch | 321175753 |
| 8379 Church St., Gilroy, CA Branch | 321178022 |
Knowing the correct Golden 1 routing number is important because this number is used for services like direct deposit and wire transfers that involve sending and receiving of money. Routing numbers are the standard way to identify the specific financial institution and location at which you have an account, and they pinpoint which institution is responsible for payment of a particular negotiable instrument like a check.
Some banks and credit unions restrict the use of certain routing numbers, so check with Golden 1 Credit Union before using a particular routing number for any financial transactions. The credit union advises all customers to use 321175261 when they sign up for Golden 1 Credit Union direct deposit services. To confirm this number, call Golden 1 customer service toll free at 877-465-3361.
How to Find Your Routing Number
If you have a Golden 1 checking account, you can also find your routing number on a check — the check routing number is the first nine numbers in the lower left corner. You might not have a check handy, however, so you can also call Golden 1 any time at 877-465-3361 to find the routing number for your account. If you are at all confused about which number to use, you should consider calling Golden 1 because using the right number could mean the difference between your money going into the right or wrong account.
How Do Credit Unions Get Routing Numbers?
A routing number is also called a routing transit number (RTN) or American Bankers Association (ABA) routing number. The Official ABA Registrar of Routing Numbers assigns these numbers to federal- or state-chartered institutions that are eligible to maintain accounts at a Federal Reserve bank. The first four numbers are the Federal Reserve Routing Symbol, and the first two numbers of that set are allocated to specific types of financial institutions or uses, with the "32" in the Golden 1 bank routing number indicating that it's for checks, drafts and electronic transactions of thrift institutions. These two numbers are no longer used as of 1985, with 01 to 12 replacing them. The next four numbers are the ABA Institution Identifier, and the last number is the check digit.
Routing Numbers and Golden 1 Credit Union Wire Transfers
Golden 1 Credit Union allows you to send and receive domestic and international wire transfers, for which you'll need the correct routing number. The credit union instructs its customers to use 321175261 as the Golden 1 routing number and 8945 Cal Center Dr., Sacramento, CA 95826 as the address for these transfers. You should also provide your name as it appears on your account and the account number where the funds should be received.
Golden 1 Credit Union is not part of the Society for Worldwide Interbank Financial Telecommunication (SWIFT) network and does not have an International Bank Account Number (IBAN). If you're receiving an international wire transfer, provide the following information to the individual or business sending the wire transfer to you. The financial institution sending the money should forward this information to its U.S. correspondent bank for further credit to:
Golden 1 Credit Union 8945 Cal Center Dr. Sacramento, CA 95826 Routing Number: 321175261 For Credit to: Beneficiary Name and Account Number
Incoming international funds might take up to 15 days to arrive, and Golden 1 Credit Union will post them to your account on the same day they're received, as long as it's by the 3:30 a.m. PST cutoff.
Click through to read about free ways to send money to family and friends.
We make money easy. Get weekly email updates, including expert advice to help you Live Richer™.
Editorial Note: This content is not provided or commissioned by the bank advertiser. Opinions expressed here are the author's alone, not those of the bank advertiser, and have not been reviewed, approved or otherwise endorsed by the bank advertiser. This site might be compensated through the bank advertiser Affiliate Program.