How Easy Is It for a Bank To Get Your Business?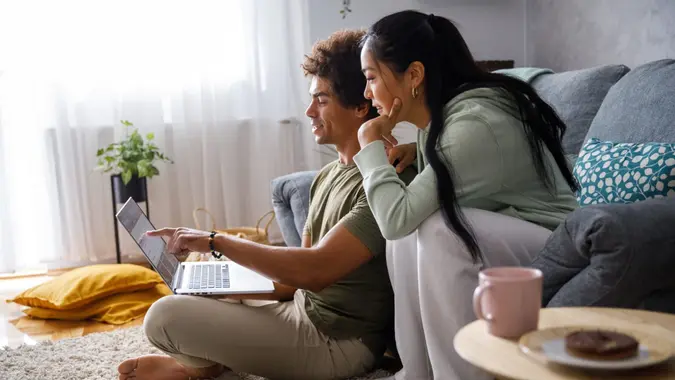 fotostorm / Getty Images
What does it take for a bank to get a customer's business? In GOBankingRates' Best Banks 2023 survey, 39% of overall respondents said low fees were the most appealing offering when opening an account with a new institution. When asked how much of a sign-up bonus it would take to persuade customers to switch banks, 23% of overall respondents said they would want $1,000 or more.
See the List: GOBankingRates' Best Banks of 2023
See: GOBankingRates' Best Neobanks 2023
And More: GOBankingRates' Best Online Banks 2023
Are large sign-up bonuses and low fees all it takes to nudge customers into doing business with your financial institution? Not quite. GOBankingRates spoke with Darryl Knopp, senior director of portfolio marketing at FICO, to learn more about what customers are looking for in their overall banking experience. Here's what it takes for banks to earn a customer's business.
Banks Must Build Trust With Customers
Of the 1,000 respondents polled by GOBankingRates, 80% surveyed said they were currently satisfied with the services and products offered by their bank and/or credit union. Such a high percentage of satisfied customers presumably trust their financial institution.
The consumer expectation for trust is much higher in banking than it is with most other industries, Knopp said. "A cohesive banking experience built on a foundation of trust — from checking your account on your bank's app to visiting the physical branch — is of high value to consumers."
When building trust with customers, banks need to consider the long-term effects of their every move. Knopp uses the example of financial institutions that design and improve banking solutions. In doing so, they must consider elements of transparency and control.
Take Our Poll: How Big of a Sign-Up Bonus Would It Take for You To Change Banks?
The measures banks take to build trust with their customers not only achieves long-term loyalty with customers — it makes them feel safe. And the long-term notion of safety, Knopp said, helps customers understand their assets are safe as well.
Banks Must Prioritize Safety Without Hindering the Customer Experience
Banks work hard to build trust with customers and make them feel safe doing business with the institution. The consideration of safety is of utmost importance to customers when selecting a new financial account provider. 
According to FICO's Consumer Survey 2022: Fraud, identity and digital banking in the USA, which surveyed 1,000 Americans in August 2022, the number one consideration for customers selecting a new account is good fraud protection. At 33%, good fraud protection outranks other considerations such as ease of use or good value for money. 
Knopp said this shift makes it all the more important for banks to develop consistent protection measures across the customer experience. Despite the importance of good fraud protection, however, the process cannot become so complex or time-consuming that it pushes customers to abandon their application. Results from the FICO survey revealed two-thirds of consumers expect to spend less than 30 minutes opening a checking account. 
"Banks must strike a balance between proving their safety measures without hindering the customer experience," said Knopp, who adds that this balance must be struck in the onboarding process.
Customer Preferences Are Shifting — and Banks Must Stay Aware
Customer preferences do shift over time. Knopp said some shifting preferences include but are not limited to:
Customers who want to be alerted quickly when suspicious charges are made on their accounts.
The ability to take control through automated or self-service methods.
Being able to access their bank account quickly from channels customers feel most comfortable with.
One of the most interesting shifts Knopp has seen is a preference toward digital banking options. The preferred method of banking among respondents surveyed by GOBankingRates is mobile banking (59%) followed by online banking (22%, specifically using a web browser).
The information from FICO's survey reflects similar sentiments. 59% of U.S. consumers surveyed by FICO said they would prefer to open a personal bank account digitally. With the shift in preference toward digital banking options comes heightened expectations from consumers for more personalized financial experiences, said Knopp.
Personalized experiences are an expectation and a need at the same time. Ultimately, it ties back in with the bank's ability to build trust and long-term relationships with customers.
More From GOBankingRates