How to Find Citibank ATMs Near Me
Stop driving around — use one of these fast, easy ways to locate a nearby Citi ATM.
If you're on the go and need to get to a Citibank ATM stat, you no longer need to waste your time trying to locate one or finding yourself forced to use another ATM and risk incurring a fee. Instead, find a computer or download the Citi mobile app on your smartphone so you can find the nearest ATM.
Finding a nearby Citibank ATM has never been easier. In January of this year Citibank entered into an agreement with ATM owner and operator Cardtronics to add 30,000 surcharge-free ATMs across the U.S. for its customers. This nearly doubled the Citibank ATM network. Now, account holders can find ATMs that are free to use at Target, Costco and CVS pharmacies. Nearly 700 Citibank locations in the U.S. are available — and if you bank when you travel, you'll find more than 1,800 Citibank branches overseas.
Find a Citibank ATM Now
You can find Citibank ATM locations near you in a few ways — searching online or using the Citi Mobile app for your iPhone or Android smartphone are the simplest. However, you can always call a branch, too, and ask customer service to help locate your nearest ATM.
Sponsors of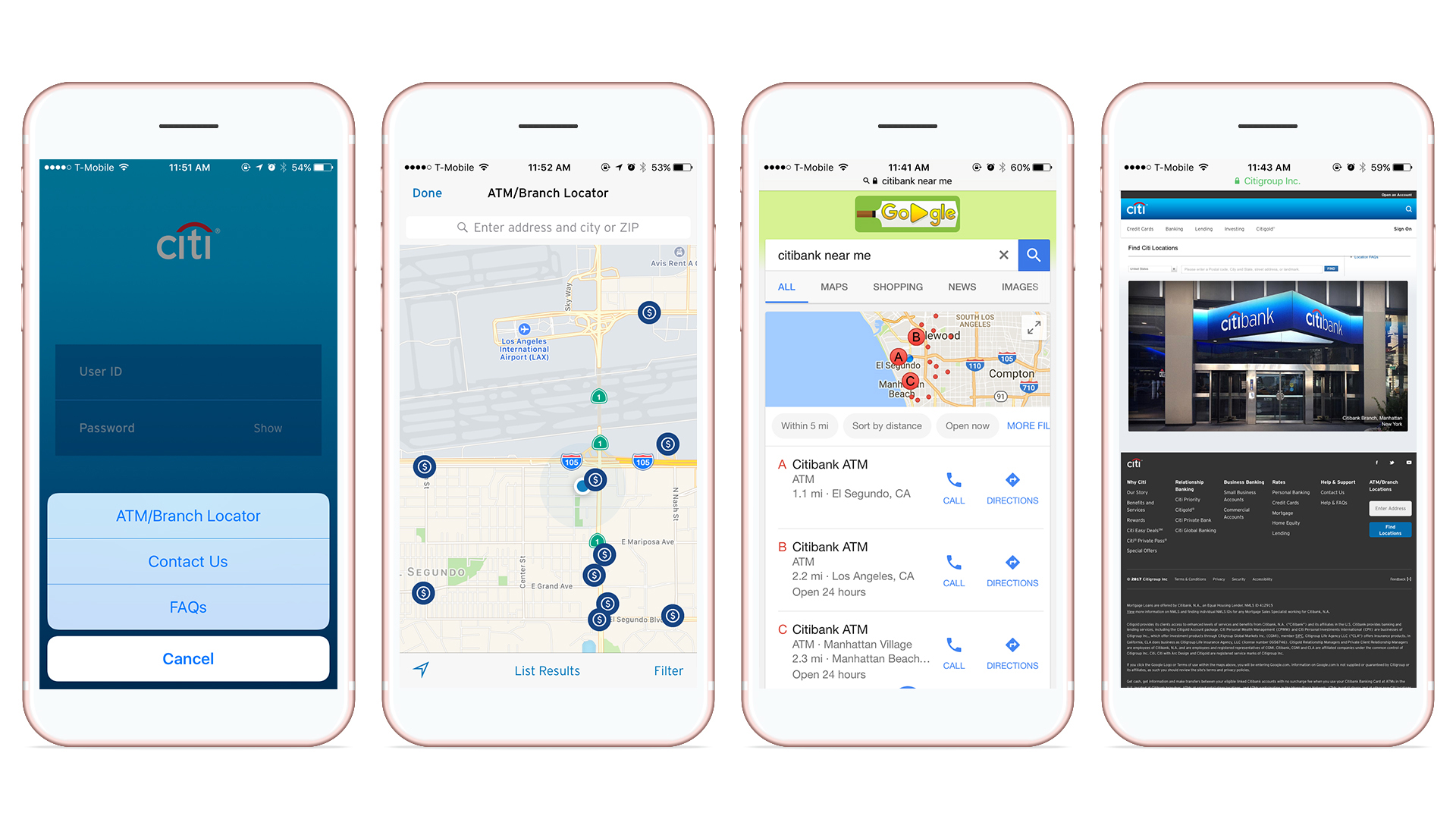 Read: 15 Best Mobile Banking Apps and Services
How to Find a Citibank ATM with the App
The Citi Mobile app is available if you have a Citibank account, and there's a version for iPhone and Android smartphones. You can download the app in the iTunes App Store for your iPhone or from the Google Play store for Android.
The Citi Mobile app enables you to find nearby Citibank ATMs and Citibank branch locations. Once you download the app, follow these steps to find a nearby ATM:
Open the app on your iPhone.
Tap on "Services."
Choose "ATM/Branch Locator."
Enter either the address and city or the ZIP code where you want to find an ATM.
If you want to choose between finding "ATMs and branches" or "Branches Only," choose one and then tap "List Results."
To use the app on an Android smartphone, follow the same steps. Then, head out to your nearest ATM.
Sponsors of
See: ATM Withdrawal Limits at Chase, Wells Fargo and 48 Other Banks
How to Find a Citibank ATM Online
Searching online to locate a Citibank ATM near you is easy. To find the closest Citibank ATM online, take these steps:
Visit the Citi Locator.
Choose the country you need to find an ATM in using the drop-down menu at the top left corner under "Find Citi Locations."
Enter a postal code, city and state, street address or landmark near you.
Click on "Find" and a list of nearby ATMs will appear. Choose the type of ATM you're looking for in the drop-down menu under "Results." Choices include full-service, drive-up and check deposit capable ATMs.
Use the drop-down menu under "Show Citi Locations" to choose how many miles you're willing to travel to an ATM. Your ATM locations will be filtered according to your preferences so you can find the nearest one that meets your needs.
More on Citibank
Sponsors of
More on Finding Banking Locations 
Editorial Note: This content is not provided or commissioned by the bank advertiser. Opinions expressed here are author's alone, not those of the bank advertiser, and have not been reviewed, approved or otherwise endorsed by the bank advertiser. This site may be compensated through the bank advertiser Affiliate Program.