How to Find TD Bank ATMs Near Me
Find out how to access to a nearby TD Bank ATM.
If you need to make an ATM withdrawal in an unfamiliar area, you can look up, "Where is there a TD Bank ATM near me?" using any of these three options: You can go to the TD Bank website, use the TD Bank app or call TD Bank customer service. TD Bank has over 1,300 locations along the East Coast of the United States and in Canada. Here's what you need to do to find an ATM near you.
How to Find a TD Bank ATM
There are a few methods you can use to locate a TD Bank ATM, including through the website or app. Follow these instructions to find a TD Bank ATM close by.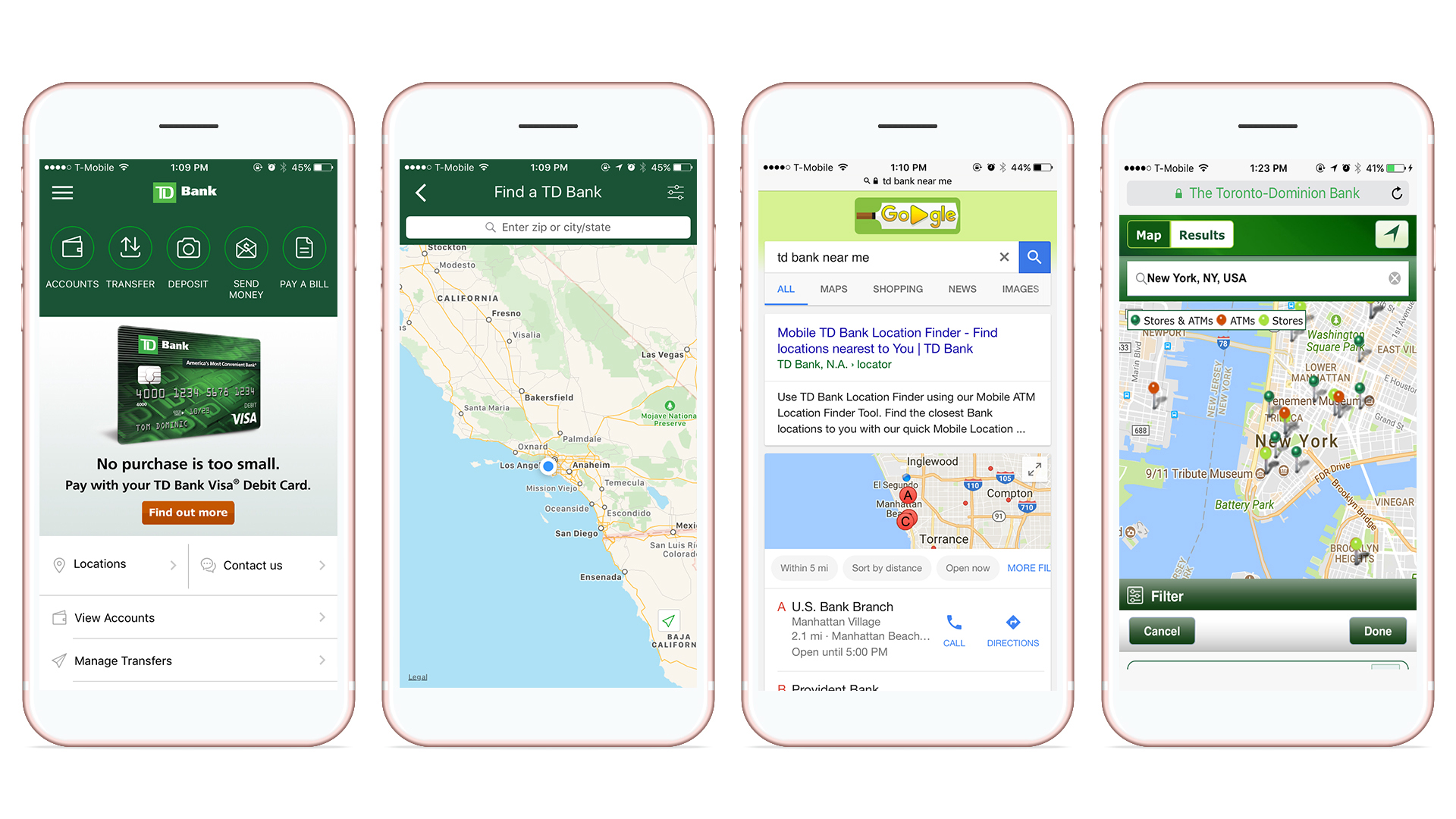 Find an ATM Using the TD Bank Website
If you have internet access, you can quickly find the nearest TD Bank ATM. You can also find TD Bank hours and directions for nearby branches. Here's how:
Sponsors of
Go to the TD Bank website.
Click on "Locations" in the upper right corner of the page.
At the top of the page, it says, "Find a TD Bank Near You." Directly beneath, there is a search box. Type in the desired city and state or the zip code if you know it. Click "Find."
Underneath the search box, there are several boxes you can check to improve your search results. If you want a branch, make sure the box that says, "Search stores" is checked. You can also select only stores that have drive-up service, that are open now or open on Sundays, or that have foreign currency available. If you want just to find the nearest ATM, check the "Search ATMs" box. You can also select boxes for walk-up service, envelope-free deposits or ATMs that accept deposits if those features are important to you.
Below that section you will see a listing of the closest TD Bank ATM locations to you by distance. Each location is displayed on the map to the right of the list.
To get directions to the location of your choice, click on the line underneath the address that says, "View directions." If the location is a branch, it will say, "View hours and directions."
Sponsors of
Next: ATM Withdrawal Limits at TD Bank, Wells Fargo and 48 Other Banks
Find an ATM Using the TD Bank Mobile App
You can also use the TD Mobile App to find TD Bank locations near you. Here's how:
Open the TD Bank Mobile App on your iPhone or Android smartphone or tablet. Log in with your password or Touch ID. Touch ID is available for iOS only.
On the dashboard, select "Locations." Enter the city and state or the zip code of the location you're searching for.
You'll see a list of nearby TD Bank ATM locations and branches with a map showing the specific location. Tap "Get Directions" to find out how to get there.
If you do not already have the TD Bank Mobile App, you can download it from the App Store or Google Play. You will need to be enrolled in online banking in order to use the Mobile App.
Sponsors of
Find Out: Here's Your TD Bank Routing Number
Contact TD Bank Customer Service
If you don't have a computer or smartphone handy, call TD Bank:
Dial Customer Service at 888-751-9000.
Press zero to reach a TD Bank customer service agent.
Give the representative your location, and ask for the address of nearest TD Bank ATM.
A great benefit of using your TD Bank debit card at a TD Bank ATM is that you can save on ATM fees. Next time you're in need of cash, use an ATM locator to find a nearby ATM wherever you are.
More on TD Bank
More on Finding Banking Locations