6 Banking Habits That Define Gen X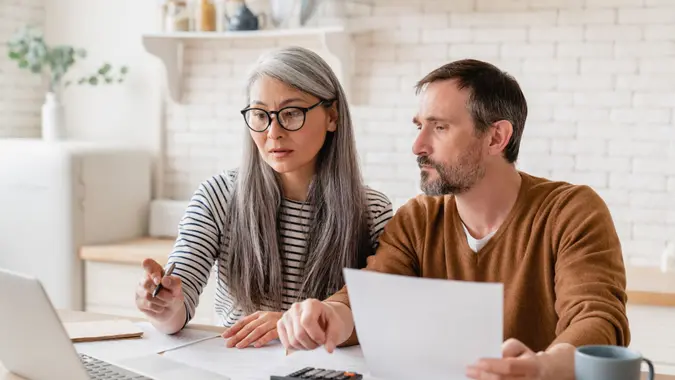 Inside Creative House / Getty Images/iStockphoto
Generation X — who are now ages 43 to 58 — may take a different approach to banking than the generations they're straddled between. That's because members of this generation may be more financially secure than millennials, who are still relatively early on in their careers but have different financial needs than boomers, many of whom are now retirement age.
To shed some light on how Gen X banks, GOBankingRates conducted a survey about this generation's preferences and behaviors. Here's a look at how Gen X is approaching banking in 2023.
Gen Xers Prefer National Banks
There is now a wide variety of financial institutions to choose from, from national banks to regional banks to online-only banks and neobanks. Gen X favors national banks, with nearly one-third (31%) choosing this option. Online banks were a close second, with 24% of Gen X opting for these institutions. In addition, 20% use a local bank, 14% use a credit union and 11% use a regional bank.
"Convenience is the big attraction for Gen X with national and online banks," said Johan Romero Luna, SVP at Hanscom Federal Credit Union. "When we talk about convenience, national banks and online banks have done a good job advertising the benefits and time saving they can offer, as well as the cost savings online banks are able to pass on to customers without physical presence overhead."
Gen Xers Hold Different Accounts at Different Banks
The majority of Gen X (63%) said they would have different accounts at different banking institutions.
"Gen X consumers typically deploy a diverse set of financial products and will likely take an active role in managing their money with an eye out for solutions that work best for them, regardless of the financial institutions that offer them," said Dr. David Tuyo, CEO of University Credit Union. "It's not uncommon for Gen X banking customers to have accounts with multiple banks or credit unions."
Take Our Poll: How Big of a Sign-Up Bonus Would It Take for You To Change Banks?
Gen Xers Prefer To Bank Via Their Phones
Members of this generation prefer to bank via mobile app (57%) compared to in-person (18%) or online (24%).
"Compared to baby boomers, Gen X is significantly more comfortable with technology, which shapes the way they like to interact with financial institutions and lends to a preference to use mobile apps over in-person interactions," Tuyo said.
Gen X may especially be drawn to mobile banking because of the time it can save compared to banking in person.
"The majority are in the most productive years of their professional lives, so time is a big factor when making financial decisions," Luna said. "Saving time has become paramount in our current era, and having access to coordinate and manage their banking needs from their mobile devices has become routine due to the easy access and capabilities from both smartphones and mobile banking apps."
Gen Xers Are Loyal To Their Chosen Financial Institutions
The majority of Gen X said they have not considered switching banks in the past year (58%) and that they like their current institution and have no desire to change (51%).
"The institutional loyalty trend did not surprise me," said Devesh Khare, chief product officer at MeridianLink, a digital lending platform. "Market research has established that, in general, brand loyalty is highest among Generation X consumers. They have a high affinity for brands that have earned their trust and are willing to pay more for products from those brands. This preference towards established brands also sheds light on why the majority of Generation X consumers still bank with national institutions."
Luna believes this may be less about loyalty and more about not wanting to deal with the hassle of switching. In fact, nearly one-quarter of Gen X respondents said that the biggest factor in why they are staying with their current bank is that they believe the process of switching will be difficult and time-consuming.
"The complexity they live in makes it harder to change banking relationships because of the amount of time it can take to switch payroll, bills, automatic payments and deposits, and more," Luna said. "It takes a major disagreement or issue for the majority of Gen X-ers to switch accounts, even when there might be a better offering out there."
Gen Xers Keep Low Balances in Their Bank Accounts
This generation keeps low balances (under $100) in both their checking and savings accounts — 46% keep a minimum of less than $100 in their checking accounts and 45% have less than $100 in their savings accounts.
"The challenging economic environment that began during the pandemic is a major factor in why many Generation X consumers have so little in their checking and savings accounts," Khare said. "Many Gen Xers are raising families, providing financial support to an adult child or caring for an elderly parent. The financial demands of those commitments, combined with potential lost income during the pandemic, would have created a challenging financial situation for almost anyone."
About Half of Gen X Hasn't Written a Check in the Past Year
Gen X is about 50-50 when it comes to writing checks — 49% have not written a check in the past year.
"Technology has accelerated the way we live our lives, and with that has come the convenience of paying bills via the internet," Luna said. "It has become a more effective, efficient and secure method compared to checks or cash. It is one of the biggest shifts in banking in the last 30 years, and now anyone with a bank account can initiate, send and receive payments in a timely manner with no barriers."
More From GOBankingRates
Methodology: GOBankingRates surveyed 1,000 Americans ages 18 and older from across the country between Dec. 7 and Dec.12, 2022, asking 19 different questions: (1) What category does your current financial institution fall under?; (2) Have you considered changing banks within the past year?; (3) If you have considered changing banks in the past year, were any of the following factors? (Select all that apply); (4) Which feature, perk or other offering is most important to you when opening an account with a new institution?; (5) Are you currently satisfied with all the banking products and services offered by your bank/credit union?; (6) Would you ever have different types of accounts across multiple banks? (i.e. checking at Chase, but savings at TD Bank); (7) What is your most preferred method of banking?; (8) Which of the following is the biggest factor for you staying with your current bank?; (9) Which of the following bank accounts do you currently use/have open? (Select all that apply); (10) How much is the minimum balance you keep in your checking account?; (11) How much do you currently have in your savings account?; (12) What amount of a sign-up bonus would make you consider switching banks?; (13) Have you considered using any app-only banking platforms (aka neobanks) in the past year (e.g. Current, Upgrade, Chime, Dave, etc.); (14) How important is it to you for your bank to be affiliated with a crypto exchange/platform?; (15) In the past year, how often have you written a physical check?; (16) When was the last time you visited your bank in person?; (17) Why would you choose to visit your bank in person? (Select all that apply); (18) When you think about banking, do you think of it as something you need or don't need?; and (19) What services/products do you expect from your bank and/or credit union? (Select all that apply). GOBankingRates used PureSpectrum's survey platform to conduct the poll.