How To Avoid BBVA Fees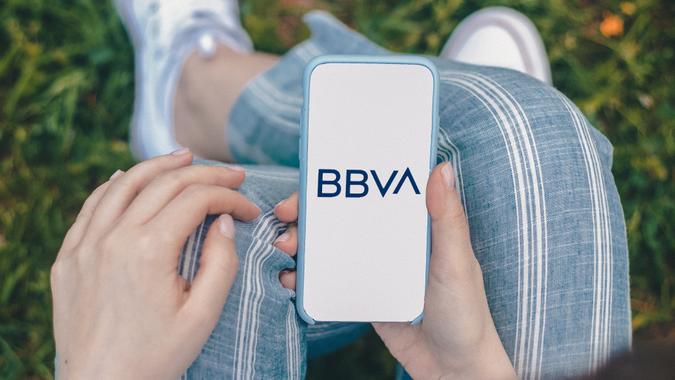 Yuliia Blazhuk / Getty Images/iStockphoto
Most bank accounts have associated fees that can cost you hundreds of your hard-earned dollars over time. You can avoid paying certain monthly BBVA banking fees by meeting specific requirements.
BBVA offers its free basic checking account to consumers with the option of bundling the checking account with its standard savings account. The savings account does come with a quarterly service charge and a paper statement fee, though.
Continue reading to see how to avoid these and other BBVA USA fees and leave more money in your account.
Common BBVA USA Fees and Ways To Avoid Paying Them
Overdraft Fee
When you make an account transaction, such as using your BBVA USA debit card or making an ATM withdrawal, online transfer or online payment, and you don't have enough money in your account to finance the transaction, you may incur an overdraft fee.
Your BBVA account will incur an additional overdraft fee — an Extended Overdraft Service Charge — if your account remains overdrawn by more than $1 over a period of seven consecutive calendar days.
If you want to avoid paying overdraft fees with BBVA, you can try any of these three options:
Courtesy Overdraft Protection:

If you sign up for BBVA's Courtesy Overdraft Protection, you agree to pay a fee of

$38 ($32 in California) for the bank to pay the transaction for you. If you decline this Courtesy Overdraft Protection, then you risk your transaction being declined at the point of purchase or ATM withdrawal.

Overdraft Protection:

With BBVA's overdraft protection, you can link your savings and checking accounts. If you overdraw one account, funds can be automatically transferred from the other to cover the overdraft transaction.

Overdraft Line of Credit:

You can apply for BBVA's overdraft line of credit service. If approved, funds can be transferred from your overdraft line of credit to cover the overdrawn amount in your checking account.
ATM Fee
Some banks charge a fee for using ATMs outside of their network. You can avoid paying ATM fees with BBVA if you use BBVA USA ATMs. Additionally, the Premium Checking and BBVA Online Checking accounts offer access to a larger network of 64,000-plus nationwide ATMs. Customers with these accounts can avoid ATM fees by using any BBVA, Allpoint or participating 7-Eleven ATM in this extended network in the U.S.
When you use your BBVA checking account debit card outside of the network of ATMs your account offers access to, you will be charged additional fees by BBVA and the financial institution that the ATM belongs to. The amount of the surcharge imposed by other banks or ATM owners will vary by location.
Online Bill Pay Late Fee
Online bill pay is a checking account feature that allows you to pay your monthly bills to different service providers, merchants and other businesses such as mortgage companies, rental agencies, credit card companies and utility companies from your online account dashboard. The option is usually free.
If you get charged a late fee for an online bill payment through your BBVA account, you can avoid paying it by calling the company you pay the bill to and asking that they waive the late fee or finance charge. If this does not resolve the issue, contact BBVA customer service and request that they intervene on your behalf to attempt a resolution.
Annual Select Credit Card Fee
BBVA charges a $99 annual fee for using its premium Select credit card. This fee is waived for the first year that the account is open. An additional perk is that if you are a BBVA Premier Personal Banking customer, the $99 annual fee is always waived.
Non-sufficient Funds Fee
When you don't have enough money in your checking account to cover transactions, your account is in non-sufficient funds or insufficient funds status. BBVA charges an NSF Paid Item fee to pay an overdraft transaction and an NSF Returned Item fee when an item is returned due to ISF.
BBVA will either pay or refuse to pay your account overdrafts, depending on whether you have opted into Courtesy Overdraft, overdraft protection or overdraft line of credit services, as mentioned earlier. Again, these are some ways to avoid paying BBVA's NSF and ISF fees.
Checking and Money Market Account Fees
BBVA charges monthly service fees on its Premium Checking and money market accounts. Here's a look at how to avoid these fees:
Premium

Checking:

$19 monthly service charge
BBVA will waive the service charge if you make at least a $4,000 deposit per month or have an average daily collected balance of at least $4,000.
BBVA Money Market: $15 monthly service charge
BBVA will waive the service charge if you maintain a daily collected minimum of $10,000 per month or set up an automatic monthly $25 transfer from your BBVA checking account to your money market account.
If you're in need of a checking account, you can avoid monthly service charges by opting for either a BBVA Free Checking or BBVA Online Checking account.
Savings Account Fee
BBVA charges a $15 quarterly service fee on its BBVA Savings account. You can avoid paying this fee by taking one of the following actions:
Set up an automatic recurring transfer of $25 or more per month from a BBVA checking account to your BBVA savings account.

Maintain a minimum daily balance of $500 or more in your BBVA savings account.
If you're looking for a savings account and want to avoid this fee, keep in mind that the BBVA Online Savings account does not come with a quarterly service charge.
Quarterly Paper Statement Fee
BBVA charges a $3 fee to receive quarterly statements via regular mail. You can avoid paying this fee by going paperless and receiving your quarterly statements electronically through BBVA's online banking service.
How Much Are BBVA's Banking Fees?
Here is a list of the costs of some of BBVA's fees.
| BBVA Fee | Cost |
| --- | --- |
| Overdraft protection via funds transfer from savings to checking account or by using line of credit | $12 ($7 in California) per day |
| Courtesy Overdraft Protection (includes NSF Paid Item fee and NSF Returned Item fee; maximum of six NSF fees per day, per account) | $38 ($32 in California) per overdraft |
| Extended Overdraft Service Charge; maximum of four per overdraft occurrence | $23 |
| Quarterly service charge on BBVA Savings accounts | $15 |
| Quarterly paper statement fee  | $3 |
| International Money Transfer fee  | Up to $45 per individual transfer |
| Out-of-network ATM fee  | $3 |
Good To Know

Like most lines of credit, BBVA's overdraft line of credit has a limit on the amount that you can borrow to cover overdrafts. Be aware that at the end of each monthly statement cycle, you will be charged interest on any unpaid balance.
BBVA USA makes it easy for you to switch from where you currently bank to its institution. Bundling a checking account and savings account makes banking with BBVA appealing, and you now know the ins and outs of how to avoid paying BBVA fees so you can save yourself some money.
This content is not provided by BBVA. Any opinions, analyses, reviews or recommendations expressed in this article are those of the author alone and have not been reviewed, approved or otherwise endorsed by BBVA. Information accurate as of Nov. 23, 2021.