How To Avoid US Bank Overdraft Fees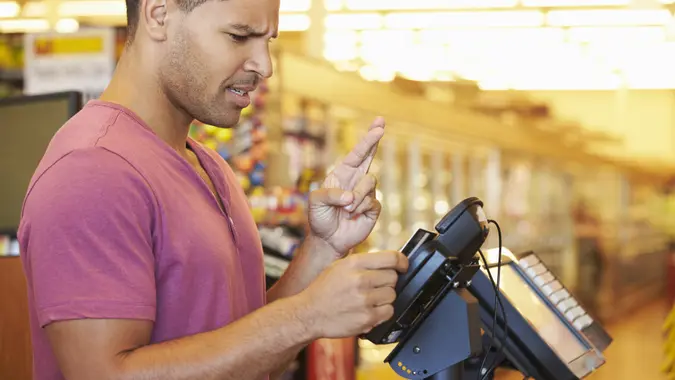 ©Shutterstock.com
An overdraft occurs when you make a charge against your account and you have insufficient funds to cover it. At U.S. Bank, there are various types of overdraft protection that can cover your shortfall until you deposit sufficient funds into your bank account.
However, U.S. Bank will charge a fee whenever you overdraw your account, and the bank won't necessarily cover your overdraft. Read on to find out exactly what kind of overdraft protection U.S. Bank offers and decide what's best for your financial situation.
Types of US Bank Overdraft Protection
Now that you're no longer wondering what an overdraft is, it's time to get into the specifics. U.S. Bank offers two types of overdraft protection: standard overdraft coverage and its signature Overdraft Protection. Regardless of which one you choose, you will be charged an overdraft transfer fee.
Standard overdraft coverage comes with your U.S. Bank checking account and permits the bank to pay, at its discretion, checks, automatic bill payments and recurring debit transactions that result in an overdraft. If you have standard overdraft coverage, however, U.S. Bank will not pay ATM transactions and daily debit card transactions that trigger overdrafts.
Overdraft Protection enables you to link your checking account to your savings account, line of credit or credit card account. U.S. Bank will use money from those accounts to cover any type of overdraft you incur, including ATM and daily debit transactions.
US Bank Overdraft Fees
A US Bank Overdraft Fee is $36 per item. If you overdraw your account by $5 or less, U.S. Bank will not charge you an overdraft fee. For overdrafts of $5.01 and more, however, you'll be charged $36 for each instance, up to four times per day — so theoretically, you could incur up to $144 in overdraft charges each day.
On top of this standard fee, U.S. Bank charges an additional $25 per week that your available balance remains below $0, starting on the eighth calendar day.
US Bank Overdraft Fees
U.S. Bank overdraft fee
$36
Maximum fees per day
4
Maximum charges per day
$144
Fee for every week account balance remains below $0
$25
How To Avoid US Bank Overdraft Fees
U.S. Bank Overdraft Protection can prevent your checks from bouncing, but it's an expensive backup to rely on heavily. Clearly, the best way to avoid overdraft fees is to ensure you always have a sufficient balance in your checking account.
U.S. bank allows you to set up online account alerts that can help prevent overdrafts by letting you know when your balance reaches a certain level, for example. You can also establish an emergency fund that serves as a backup account in case your main checking account runs low and is heading toward becoming an overdrawn bank account.
How To Get Overdraft Fees Waived
If you do incur an overdraft fee, you can try to get it waived. Your best bet is if you are a long-standing client of the bank and don't have a history of overdrawing your account. Contact your local bank — in person might be the most effective — and politely ask the teller to waive the fee.
Check Your US Bank Account
The best way to avoid U.S. Bank overdraft fees is to keep close tabs on your account and ensure that keep a cushion for unexpected or forgotten debits. Sign up for U.S. Bank alerts so you can get free notifications about your account status. Last, don't be afraid to ask for a fee waiver if you rarely overdraft — you have nothing to lose and you'll likely get it.
Information is accurate as of Aug. 11, 2022.