Banking Experts: What To Do if You're Worried About the Safety of Your Deposits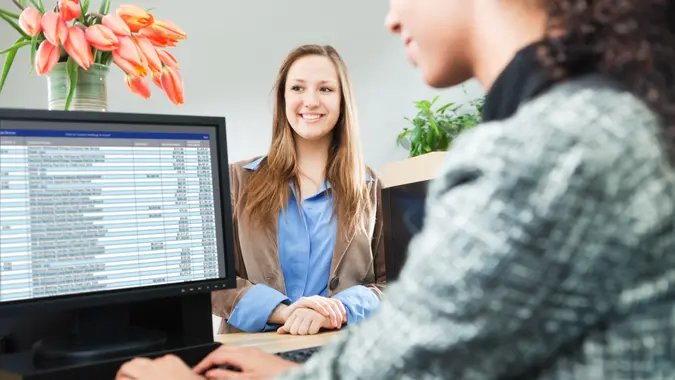 YinYang / Getty Images
After four financial institutions collapsed in less than two weeks in March, millions of Americans are left wondering if their bank is next — and if their own deposits are safe.
Despite the drama, the banking system remains healthy overall and the safeguards designed for situations like this have so far proven effective. But no one could fault depositors for sweating it out.
If you're worried about the money that you trusted to your financial institution, you're hardly alone. Here's what you need to know.
Assurance Through Insurance
With the exception of the cash in your wallet or bedroom safe, every single one of your dollars is either insured by the federal government or not. Step one is to find out which is which.
"If you're concerned about the safety of your deposits, there are a few things you can do," said Alexa Serrano Cruz, CAMS, banking expert and certified anti-money laundering specialist at Finder. "First, make sure that your bank is NCUA or FDIC insured."
Serrano Cruz references the Federal Deposit Insurance Corporation and the National Credit Union Administration. Both are Congressionally mandated organizations created to guarantee qualifying deposits — "qualifying" being the key word.
Know Which Accounts Are Covered
You can breathe a sigh of relief upon confirming that the federal government insures your bank or credit union — but you're not done just yet. "Next, make sure that your deposits are insured," said Serrano Cruz.
Even if your institution is covered, your specific account might not be. Presuming your bank has FDIC membership, you can rest assured that your money is safe in a:
Checking or savings account
Money market deposit account (not to be confused with money market funds, which come with risk)
Certificate of deposit (CD) or other time-based deposit
Negotiable order of withdrawal (NOW) account
Also, official bank-issued items like money orders and cashier's checks enjoy full insurance coverage.
On the other hand, the FDIC does not insure:
Investments like stocks, bonds and mutual funds
Annuities
Municipal securities
Life insurance policies
U.S. Treasury bills, bonds or notes (although they are backed by the full faith and credit of the U.S. government)
The contents of safe deposit boxes
You don't need to purchase or even apply for FDIC or NCUA insurance. You're automatically covered and your money is protected just by opening an account with a member financial institution.
Insurance Is Guaranteed, but Not Unlimited
Once you confirm your money is in an insured account at an insured institution, you're two-thirds of the way there. The final step is to make sure the amount of money falls within the threshold for your type of account.
"Most banks are insured for up to $250,000," said Serrano Cruz. "However, the limit may be more depending on your account ownership category. For example, if you have a joint account, you're each insured up to $250,000 for a total of $500,000."
As the last few weeks have proven, bank failures can and do happen. If your institution collapses, goes insolvent and is taken over by the FDIC, there are no negotiations or appeals.
"If they have less than $250,000, they will get paid through FDIC," said Tomas Philipson, former chair at the White House Council of Economic Advisers. "If they have more than $250,000, they need to consult a lawyer."
While it might be easier to keep all your money in one account, never choose convenience over security if you're above the threshold.
"If you've reached or are close to reaching the limit, spread your money across other banks," said Serrano Cruz.
There's a One-Stop Shop for Keeping Large Deposits Safe
Serrano Cruz's final suggestion is absolutely critical for those suffering from the good problem of having too much money — never keep more than $250,000 in the same account in the same bank.
However, instead of splitting deposits into amounts that meet the FDIC threshold and divvying them up between different banks, consider an easier and more streamlined alternative. 
Looking To Stash More Than a Quarter-Million? Meet ICS and CDARS
Those with large deposits might be able to get the coverage they need all in one place.
"People should ask their bank if their accounts are covered and what type of FDIC-insured coverage they offer," said Charles Claver, senior vice president and director of investment management and trust for First Bank.
Claver's institution is part of a special network known as CDARS/ICS — Certificate Deposit Account Registry Service and Insured Cash Sweep.
"When we place your deposit through the ICS or CDARS service, that deposit is divided into amounts under the standard FDIC insurance maximum of $250,000 and is placed in deposit accounts at multiple banks," said Claver. "As a result, you can access coverage from many institutions while working directly with just one."
With CDARS/ICS, you can cover up to $50 million with federally guaranteed FDIC insurance all at once — and these kinds of deposits typically earn better rates than standard accounts.
"It offers the peace of mind that comes with access to multimillion-dollar FDIC insurance, the opportunity to earn interest on your deposit and flexibility," said Claver.
More From GOBankingRates