Los Angeles Federal Credit Union Named Among LA's Best Places to Work
LOS ANGELES, Sept. 10, 2014 – GOBankingRates commends its client Los Angeles Federal Credit Union (LAFCU) for its sixth consecutive year being designated as a Best Places to Work in Los Angeles by the Los Angeles Business Journal. John Dea, president and CEO of LAFCU, accepted the honor at the awards luncheon held at the J.W. Marriot Hotel at LA Live in downtown Los Angeles on Aug. 19, 2014.
"We're very proud to share that one of our newest clients received this prestigious honor for the sixth year in a row," said GOBankingRates managing editor Casey Bond. "The great care that LAFCU shows for its employees is the same they provide their members and the Los Angeles community."
LEARN MORE about Los Angeles Federal Credit Union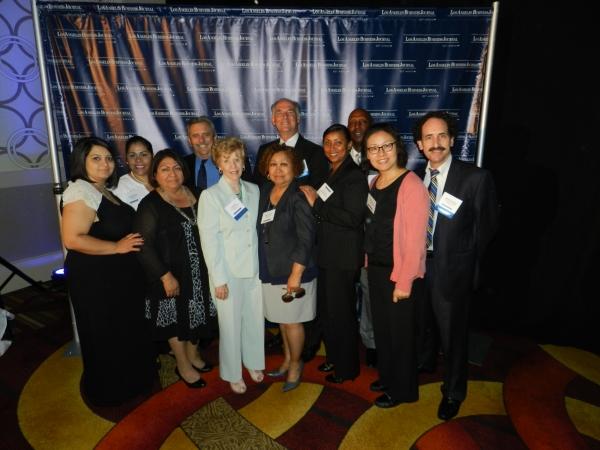 Recognizing the best employers in Los Angeles County since 2007, this year the Los Angeles Business Journal identified a total of 100 companies as winners and split them into small-, medium- and large-sized company categories. After reviewing employee surveys and assessing each company's successes and opportunities, LAFCU was one of 38 recipients to receive the honor in the medium-sized company division.
Employees praised LAFCU for its positive culture, one that includes recognition incentives such as quarterly food trucks and bonus payments to celebrate goal achievements.
"I am thrilled that LAFCU was named one of the best places to work in Los Angeles because it shows our employees appreciate what we do for them," said Marty Goodman, LAFCU vice president of marketing and business development. "The award proves that LAFCU employees recognize our commitment to their well-being by offering great benefits, employee recognition and monetary awards in exchange for their hard work."
LAFCU employees also noted perks such as an on-site gym and social events, such as company picnics.
The results and rankings of the Best Places to Work were published in the online version of the Los Angeles Business Journal on Aug. 25, 2014.
About Los Angeles Federal Credit Union
Founded in 1936, Los Angeles Federal Credit Union (LAFCU) is a member-owned, full-service financial institution that offers low-rate loans, 24/7 mobile access, and many free and discounted services to all residents in Southern California. For more information, visit www.LAFCU.org.
About GOBankingRates
GOBankingRates.com connects consumers with the best credit unions, banks and interest rates nationwide.
Contact:
Roxy Barghahn
GOBankingRates, Media Relations
rbarghahn@gobankingrates.com
(310) 297-9233 x202