Low Fees Are No. 1 in What Consumers Want: 4 Top Fees To Watch For When Picking a Bank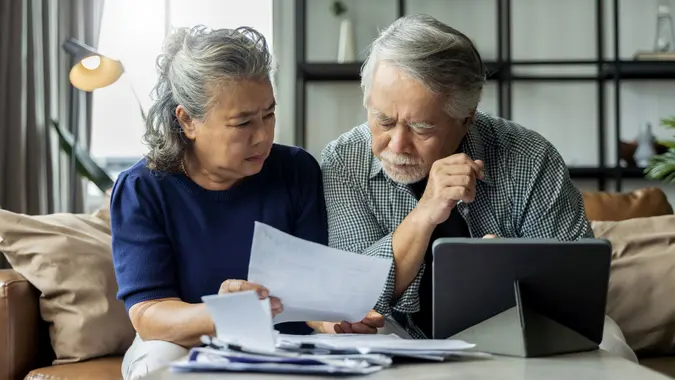 whyframestudio / Getty Images/iStockphoto
It's no secret that banks have a plethora of fees, something the Biden administration, in conjunction with the Consumer Financial Protection Bureau (CFPB), said it would look at, pledging to crack down on some of them, the so-called "junk fees."
And what's not surprising either, is that low fees are the No. 1 feature American consumers want from their bank. A new GOBankingRates survey found that the most important perk to Americans when opening an account with a new institution is by large low fees — it's the top reason with almost 40% of respondents answering this way.
"Fees tap into people's emotions. For example, if you get a fine, it feels like a punishment – who wants to do business with a bank that is punishing you and reminding you of something you did 'wrong,'" said Bobbi Rebell, CFP, founder of Financial Wellness Strategies and author of "Launching Financial Grownups." "Also, as Americans we have a cultural acceptance that 'the customer is always right' and should be valued. When we are hit with fees, we don't feel valued. They make us angry. Who wants to do business with a company that makes you feel bad?"
The fact that low fees are of utmost importance is both surprising and not surprising, said Bob Armour, chief marketing officer at M1 Finance.
"Surprising because customers should be looking at the totality of the relationship with the new institution. This means considering what you get in terms of return and other benefits, such as perks, loyalty points, fee reduction for doing more with an institution," Armour said.
And not surprising because of inertia.
"People get used to the way their current firm works, and they hesitate to move because they're afraid of a 'gotcha' that they didn't consider or weren't aware of. Fees are the easiest to identify and avoid," Armour added.
So, which fees should consumers pay attention to and how can they avoid them? Read on to find out.
Monthly Maintenance/Service Fee
These fees are charged by some banks just to maintain deposit accounts. However, they can be lowered or waived in certain situations, such as when you have direct deposit, maintain a minimum balance or make a certain number of transactions each month, according to the Federal Deposit Insurance Corporation (FDIC).
And when you take into consideration that the average monthly maintenance fee is around $15, according to CreditKarma, these can quickly add up.
"It's important to consider monthly service fees when evaluating bank accounts," said Ted Rossman, senior industry analyst at CreditCards.com. "These can often be avoided, especially if you keep a certain amount of money in the account or sign up for direct deposit. Other fees tend to be more punitive, such as overdraft fees and ATM fees."
Out-of-Network ATM Fee
This is a fee that can also quickly add up, as on average, it costs more than $4.50 to use an out-of-network ATM, according to CreditKarma. Ways to avoid these is to plan ahead if you know you will need cash or choose a bank that has a lot of branches.
Rossman said that some banks will waive some or all ATM fees, so consider that if you travel a lot or if you withdraw a lot of cash and don't have easy access to in-network ATMs.
"Think about your particular account habits and consider which fees you're likely to incur. See if you can find a bank that doesn't charge those. Think about the total cost of ownership. Ideally, you'll be able to minimize fees while maximizing return. That might involve tying two separate accounts together," he said.
Minimum Balance Fee
Banks charge this fee if your account falls below a set amount. One way to avoid this is to keep on top of your account and ask the bank to send notifications if your account drops below the set threshold.  
Overdraft Fee/Insufficient Fund Fee
An overdraft fee is when your bank covers the transaction, and this fee may average around $30, according to the FDIC.
On the other hand, if the bank decides not to cover the transaction, it may charge you a "non-sufficient funds" (NSF) fee and the merchant also may charge you a fee, the FDIC added.
Ways to avoid this is to link your checking account to your savings account if you have one. That way, the funds can be retrieved from the savings account to cover the transaction, avoiding an overdraft, as recommended by the FDIC.
Other Tips
Armour recommends that to avoid fees, clients should first "know thyself" and how they intend to use the account.
"Auditing past behavior with other accounts is a good starting point. Secondly, they should shop around. There are dozens of options to choose from, both from traditional legacy banks and newer institutions," he said.
Ideally, customers should try to avoid all the fees, but it really depends on individuals' needs, such as how much they will be keeping in the account, how much buffer they can keep in it, if they intend on using other services from the institution or whether they need cash regularly, Armour said.
"Every person has different needs. If you have an account with high turnover, you might want to really zero in on the minimums and the overdraft fees. If you need to move large sums, wire transfers would be more of a focus. If you're just holding large sums of cash for a return, fees may not matter as much as getting the highest return," he added.
And Rossman said that while he gives most people pretty good marks for shopping around for a lower-fee bank account, there's a lot of room for improvement on the rates front.
"It doesn't have to be one or the other – you could keep a checking account with a big bank – for convenience, ATM access, etc. -and tie it to an online savings account with a much higher yield," he added.
More From GOBankingRates
Methodology: GOBankingRates surveyed 1,000 Americans aged 18 and older from across the country on between December 7 and 12, 2022, asking nineteen different questions: (1) What category does your current financial institution fall under?; (2) Have you considered changing Banks within the past year?; (3) If you have considered changing banks in the past year, were any of the following factors? (select all that apply):; (4) Which feature, perk, or other offering is most important to you when opening an account with a new institution?; (5) Are you currently satisfied with all your banking products and services offered by your Bank/Credit Union?; (6) Would you ever have different types of accounts across multiple banks? (i.e. Checking at Chase, but Savings at TD Bank); (7) What is your most preferred method of banking?; (8) Which of the following is the biggest factor of you staying with your current bank?; (9) Which of the following bank accounts do you currently use/have open? (Select all that apply); (10) How much is the minimum balance you keep in your Checking Account?; (11) How much do you currently have in your Savings Account?; (12) What amount of a sign up bonus would make you consider switching banks?; (13) Have you considered using any app-only banking platforms (aka neobanks) in the past year (e.g. Current, Upgrade, Chime, Dave, etc.); (14) How important is it to you for your bank to be affiliated with a crypto exchange/platform?; (15) In the past year how often have you written a physical check?; (16) When was the last time you visited your bank in-person?; (17) Why would you choose to visit your bank in-person? (Select all that apply); (18) When you think about banking, do you think of it as something you need or don't need?; and (19) What services/products do you expect from your Bank and/or Credit Union? (Select all that apply). GOBankingRates used PureSpectrum's survey platform to conduct the poll.