Here's Your MACU Routing Number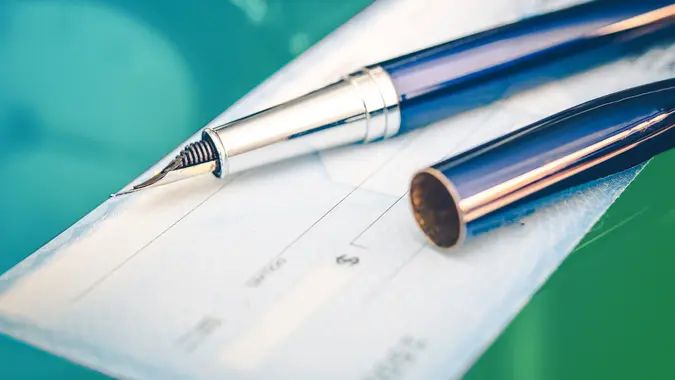 Bank routing numbers vary according to the location where your bank account was opened. Routing numbers are used to set up direct deposit arrangements, make electronic payments, transfer funds and reorder checks.
Read on to find Mountain America Credit Union's routing number and other important facts about routing numbers.
Here's your MACU routing number:
Mountain America Credit Union Routing Number
324079555
How to Find Mountain America Credit Union's Routing Number
You can find your bank routing number on a check by looking at the nine-digit string of numbers at the bottom left-hand corner. The string of numbers to the right of the routing number is your account number. You might not have a check handy, however, so you can also call MACU any time at 800-748-4302 to find the routing number for your account. If you are at all confused about which number to use, you should consider calling MACU because using the right number could mean the difference between your money going into the right or wrong account.
What Does Each Digit in a Routing Number Mean?
Routing numbers, including the Mountain America routing number, contain nine digits. The first two numbers represent the federal district, and the third digit represents that specific Federal Reserve bank or branch that serves the institution.
The fourth digit used to stand for credit availability according to a specific coding system, but it's no longer used for anything other than to ensure that routing numbers are nine digits.
The next four digits represent the financial institution, and the last digit is a check digit. A check digit is the result of a mathematical calculation that's used to verify the routing number's accuracy.
Bank routing numbers are also known as routing transit numbers, check routing numbers or ABA routing numbers. ABA stands for the American Banking Association, which is the organization that created bank routing numbers in 1910.
Why Some Banks Have More Than One Routing Number
MACU only has one routing or bank ABA number, but many larger financial institutions have more than one, typically to represent various geographic areas. Also, when banks merge, new routing numbers might be created, rendering older ones obsolete.
How Do I Complete a Wire Transfer to my MACU Account?
To complete a wire transfer from another institution to your MACU account, you'll need the following information:
Your MACU account number
MACU's routing number: 324079555
MACU's phone number: 800-748-4302
MACU's address:
MACU

9800 S. Monroe St.

Sandy, UT 84070
We make money easy. Get weekly email updates, including expert advice to help you Live Richer™.
Editorial Note: This content is not provided or commissioned by the bank advertiser. Opinions expressed here are the author's alone, not those of the bank advertiser, and have not been reviewed, approved or otherwise endorsed by the bank advertiser. This site might be compensated through the bank advertiser Affiliate Program.