Major Banks Deposit $30 Billion in Funds To Rescue First Republic Bank — Why That's Good for You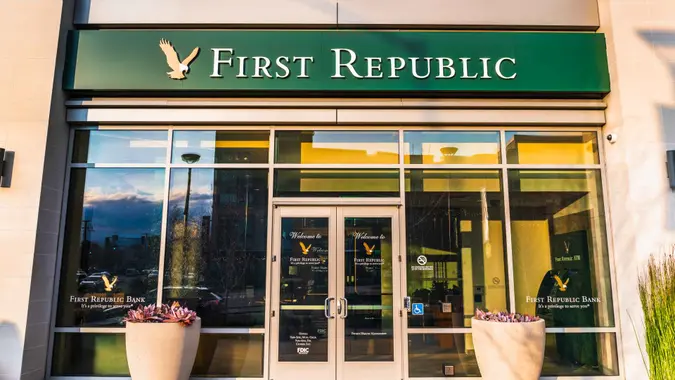 Sundry Photography / Getty Images
Following the collapse of Silicon Valley Bank and Signature Bank, 11 banks joined forces to inject $30 billion in embattled First Republic Bank on March 16 in an effort to stem the outflow of depositors — and reassure jittery consumers and investors.
"This action by America's largest banks reflects their confidence in First Republic and in banks of all sizes, and it demonstrates their overall commitment to helping banks serve their customers and communities. Regional, midsize and small banks are critical to the health and functioning of our financial system," the banks wrote in a statement.
Bank of America, Citigroup, JPMorgan Chase and Wells Fargo each made a $5 billion uninsured deposit into the bank, while Goldman Sachs and Morgan Stanley each made an uninsured deposit of $2.5 billion. BNY-Mellon, PNC Bank, State Street, Truist and U.S. Bank each made an uninsured deposit of $1 billion.
In a joint statement, Treasury Secretary Janet Yellen, Federal Reserve Board chair Jerome Powell, FDIC chairman Martin Gruenberg, and acting comptroller of the currency Michael Hsu deemed the injection "most welcome," saying it "demonstrates the resilience of the banking system."
This is surely good news for both depositors as well as for those invested in the broader banking system. Any prevention of further financial collapse is self-evidently a good thing for the greater U.S. economy, as well as for those invested — directly or indirectly — in First Republic Bank.
First Republic Bank Shares Have Been in Turmoil
Shares of the bank have been on a roller-coaster in the past few weeks, being down 87% in the past month and down 6.6% in pre-market trading on March 22. While the $30 billion injection was initially viewed as reassuring for investors and improved sentiment for depositors, it has not yet curbed broader fears of contagion in the sector.
S&P Global further downgraded the credit rating of the bank, saying that while the $30 billion in deposits should ease near-term liquidity pressures, it may not solve the substantial business, liquidity, funding, and profitability challenges that they believe the bank is now likely facing, according to the report.
Additionally, reports have surfaced suggesting FRC may participate in a capital raise, which could dilute current shareholders, according to a CFRA Research note. 
"Unfortunately, we believe this indicates that the $30 billion in deposits that FRC received from large banks last week was not enough to stabilize FRC's balance sheet,"  Alexander Yokum, equity analyst at CFRA Research, wrote in the note. "It's another tough blow for the bank as shares have fallen approximately 90% over the last month alone. With FRC relying heavily on outside funding, we expect the bank's net interest margin to be severely impacted as the bank's interest expense rises rapidly. We reiterate our belief that FRC shares are no longer trading on fundamentals."
CFRA said it kept its Hold opinion on the shares.
Take Our Poll: Are You Concerned About the Safety of Your Money in Your Bank Accounts?
More: The 15 Biggest Bank Failures in US History
Meanwhile, the bank issued a message to clients on its website on March 21, saying that while the events of the past two weeks have been unprecedented, its commitment to client service is unchanged.
"And we remain well-positioned to continue to manage deposit activity. Today, as every day, we are processing transactions, opening accounts, funding loans, answering questions, and serving clients' overall banking and wealth management needs," founder and executive chairman James H. Herbert, II — and CEO, president and board member Michael J. Roffler — wrote in the message.
More From GOBankingRates
Editorial Note: This content is not provided by any entity covered in this article. Any opinions, analyses, reviews, ratings or recommendations expressed in this article are those of the author alone and have not been reviewed, approved or otherwise endorsed by any entity named in this article.