'Big Short' Investor Michael Burry Sees No 'True Danger' & Believes SVB Crisis Will Resolve 'Very Quickly'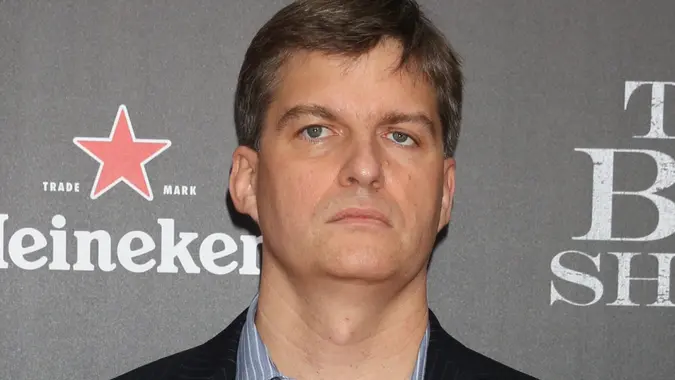 Gregory Pace / Shutterstock.com
Michael Burry, of "The Big Short" fame and founder of the hedge fund Scion Asset Management, took to Twitter on Monday, March 13 to say he doesn't believe the collapsing of Silicon Valley Bank and Signature Bank is a danger.
Learn: Here's How Much Americans Have in Their Savings Accounts in 2023
Discover: 3 Things You Must Do When Your Savings Reach $50,000
"This crisis could resolve very quickly. I am not seeing any true danger here," Burry wrote in a now-deleted tweet, according to Bloomberg.
Bury, who predicted the 2008 housing crisis and was played by Christian Bale in "The Big Short," also commented on the current regional bank turmoil the prior day.
"2000, 2008, 2023. It is always the same," Burry commented in a now-deleted tweet on Sunday, according to The New York Post. "People full of hubris and greed take stupid risks, and fail. Money is then printed. Because it works so well."
The quick collapse of Silicon Valley Bank and the ensuing measures regulators took to avoid more damage on Sunday evening March 12, prompted contagion fears and created chaos in the markets on March 13.  In addition, the FDIC and the Federal Reserve also announced on March 12 the closing of crypto-friendly bank Signature Bank, because of a "similar systemic risk."
"We are also announcing a similar systemic risk exception for Signature Bank, New York, New York, which was closed today by its state chartering authority. All depositors of this institution will be made whole. As with the resolution of Silicon Valley Bank, no losses will be borne by the taxpayer," the Treasury, Federal Reserve, and FDIC said in a joint statement.  
Take Our Poll: Are You Concerned About the Safety of Your Money in Your Bank Accounts?
President Joe Biden aimed to reassure Americans on March 13, saying that the banking system was safe.
"Americans can rest assured that our banking system is safe. Your deposits are safe. Let me also assure you we will not stop at this — we'll do whatever is needed," Biden said Monday morning, according to a White House transcript.
"Thanks to the quick action of my administration over the past few days, Americans can have confidence that the banking system is safe," Biden reiterated. "Your deposits will be here when you need them."
More From GOBankingRates