5 Reasons It's Important To Set Up Account Alerts With Your Bank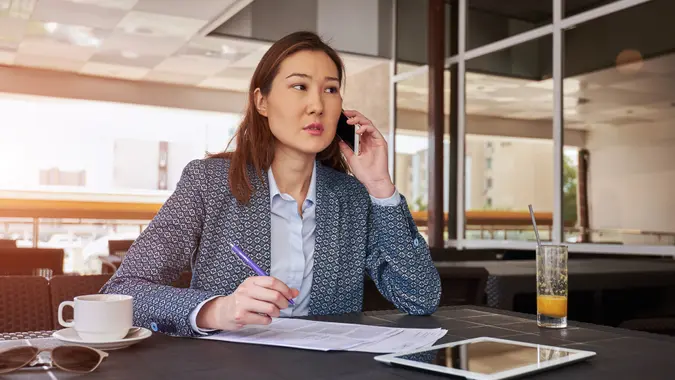 Alissa Kumarova / Shutterstock.com
Most bank account holders are prompted to set up account alerts with their bank or financial institution. While it's easy to dismiss this nudge, setting up alerts is beneficial to accounts for a wide variety of reasons both obvious and lesser-known alike. 
Experts: 3 Places You Shouldn't Use Your Debit Card
Find Out: Do You Have Too Much Money in Your Checking Account?
If you're still on the fence about whether to set up an account alert, these reasons might persuade you to change your mind. Here's why it's important to set up account alerts with your bank.
Monitor Account Changes
Are there changes being made to your account? Alerts will keep you informed about what's going on via real-time notifications. 
Alerts can notify account holders of changes to their address, phone number or email address, said Gabriel Lalonde, CFP and president at MDL Financial Group. This helps protect the account and prevent identity theft, especially if you know you did not make these changes.
"Monitoring account changes is important because it helps you track any changes to your account information, such as changes to your details, contact information or account preferences," Lalonde said. "By receiving alerts about these changes, you can quickly identify and address any potential security threats or inaccuracies."
Take Our Poll: How Big of a Sign-Up Bonus Would It Take for You To Change Banks?
Monitor Account Activity
Changes to your account aside, Lalonde said account alerts immediately notify account holders about any account activity. This keeps suspicious activity at bay and helps protect your money.
"These alerts allow you to monitor and track your account transactions, balance and other important information, so you can quickly detect and prevent any potential fraud or unauthorized activity," Lalonde said. 
Reminder of When Important Payments Are Due
While account alerts do work to monitor changes and activity to your account, they can also be used to set helpful reminders. 
Account holders may create alerts for when important payments are due, said Ann Martin, director of operations at CreditDonkey. This ensures the holder doesn't forget to make the payment and helps prevent being hit with expensive fees.
Notice of Available Funds
An account alert may be set up to inform its holder when funds are available in their account. Martin said notifications like these ensure those who need to access these funds know when it's a safe time to do so. 
Avoid Overdraft Fees
Is your bank account balance low? Lalonde said account alerts will notify the holder immediately and can help avoid overdraft fees. A win-win for the account holder and their overall financial health.
"Avoiding overdraft fees is important because it helps you save money, maintain good financial health and avoid the stress and inconvenience of bounced checks and declined transactions," Lalonde said.
More From GOBankingRates