4 Red Flags as You Check Your Bank Statements Every Month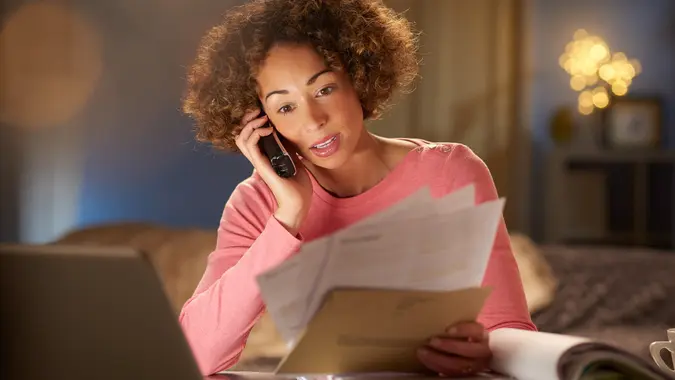 sturti / Getty Images
How often do you review your bank account statements? According to a GOBankingRates' August 2023 survey, 56 percent of Americans check their account statements each month for any suspicious activity. 
Aside from learning more about your financial habits, checking account statements give you the chance to catch anything that seems fishy in your account.
Watch out for these four red flags the next time you review your bank statement.
Large, Unknown Deposits
Did you notice your bank account statement states you have a hefty, unknown deposit in your account? 
If you received a significantly large deposit and don't recognize who it's from, contact your bank or financial institution to report it. The deposit may already be in the process of being reversed. If it is not, it's good to bring this to the attention of your bank. 
Whatever you do, do not touch this money. Don't attempt to spend it, move it to another bank account or invest it. According to SoFi, spending money from a bank error without returning the money may be tantamount to theft. You can even face criminal charges because you did not return the money.
Super Small Deposits
Look closely at your bank account statement. Do you see any small deposits, ranging from 20 cents to $10, that you don't recognize? If you do, this may be a red flag indicating criminals are attempting to hack your account.
An article from State Savings Bank encourages consumers to stay on their radar about transactions under $1. This may be a sign someone has your account information and is planning to use it to commit a crime. Typically, fraudsters will use these small charges as tests. Account holders need to pay close attention to small transactions as much as they would large ones. 
Charges for Canceled Services
Let's say you canceled a service and find you are still being charged for it in your account. According to HelpWithMyBank.gov, you can take the following actions to keep merchants from continuing to charge you:
Contact the merchant in writing to cancel the service and charges to your account
Contact your bank to revoke authorization for these merchant charges
Request that your bank places a stop payment on a pre-authorized transaction.
Duplicate Transactions
If you use your debit card frequently, you might have had one or two moments reviewing your bank statement where you noticed double transactions for the same purchase. 
Before you initiate a claim, Bank of America recommends contacting the merchant to see whether it can resolve your claim. If you still need to dispute the charge, contact your bank to determine the best way to dispute the transaction.
More From GOBankingRates
More From GOBankingRates