Synovus Review: Branch-Based, Full-Service Banking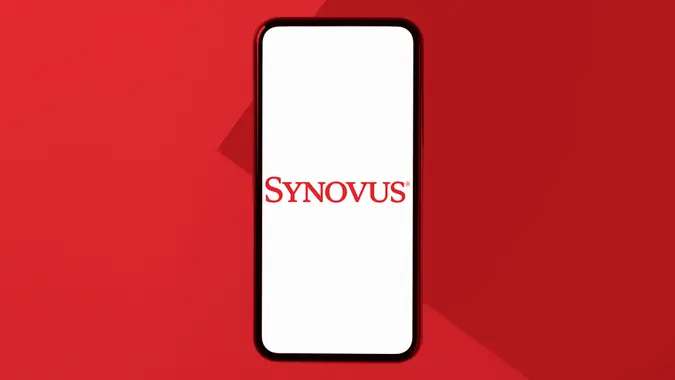 Synovus Bank is a subsidiary of Synovus Financial, which has more than $48 billion in assets and trades on the New York Stock Exchange under the symbol SNV. The bank itself operates 298 locations across the Southeast, including Georgia, Florida, Alabama, South Carolina and Tennessee. As a full-service, branch-based bank, Synovus offers a wide range of deposits accounts, loans, investments and other financial services. It has specific features and benefits that probably appeal to some types of customers more than others, so it's important to take a look at what the bank has to offer before deciding if it's right for you.
If you want to jump ahead to any particular area of this Synovus Bank review, click one of the following headers:

Who Is Synovus Bank Best For?
Before determining if Synovus Bank is a good fit, you'll need to weigh its advantages and disadvantages. Here's a look at the pros and cons of the bank to help you determine if it's the right choice:
Pros:
Wide range of account options, from deposit accounts and loans to investments

Branch-based, full-service bank backed by a parent company with $48 billion in assets 

Relationship Program offers significant perks
Cons:
Must contact bank to get current

interest rate

information


Inspire Checking account has high balance requirement to avoid monthly fees

No way to open accounts online
Who Might Want To Choose Synovus Bank?
Customers in need of a complete banking solution might find that Synovus is a good choice. This service-oriented bank not only offers a broad range of accounts but also provides discounts and perks for those who establish an integrated banking relationship. Most accounts come with additional features and their fees can be avoided relatively easily, with the notable exception of the Inspire Checking account.
Who Might Want To Skip Synovus Bank?
First off, if you don't live in Synovus Bank's immediate service area, you'll probably want to skip it — especially if you prefer branch banking. Synovus is also not the best option for customers looking for an online bank that offers high annual percentage yields and no fees. Synovus Bank accounts come with a lot of fees — although they can be avoided — and the APYs are a bit of a mystery unless you contact the bank directly. There is also no option to open an account online via the Synovus Bank website. This combination isn't designed for the DIY banking customer.
Types of Accounts Available
One of the main strengths of Synovus Bank is its diverse product line. Here's a quick rundown of what to know about rates and fees:

Synovus Bank Accounts
Account
APY/APR
Fees

Checking 

Contact bank 

$0-$50

Savings

Contact bank 

$0-$5

Money Market

Contact bank 

$0-$10

CDs

Contact bank 

$0

Investments

N/A

Variable

Loans

Variable; HELOC APR as low as 4% 

Variable
Checking Accounts
Synovus Bank has two checking accounts: Free Checking and Inspire Checking. Both come with a $100 minimum deposit, but the Inspire Checking account requires a $100,000 combined Synovus Bank account balance to avoid the hefty $50 monthly fee.
Regardless of which checking account you choose, you'll enjoy the following features and benefits: 
Unlimited fee-free transactions at Synovus ATMs and Publix Presto! ATMs

A no-fee Visa debit card (or Visa Platinum debit card, if applicable) 

Integration with Apple Pay, Google Pay and Samsung Pay mobile wallet

Digital and mobile banking

Overdraft protection 

Federal Deposit Insurance Corp. insurance up to $250,000
For the Free Checking account, ATM transactions at out-of-network ATMs cost $2.50, plus any third-party fees. Overdrafts are $36 — $29 for military accounts — although that can be reduced to $10 per transaction with overdraft protection. 
The Inspire Checking account provides access to numerous perks associated with the Relationship Program at Synovus, including the following:
Free standard checks and 50% off premium checks

ATM fee refunds at non-Synovus terminals

Refunds of stop payment fees

Waivers of overdraft, overdraft transfer, uncollected funds and NSF fees

Waived official check fees

Fee refunds for incoming and outgoing domestic wire transfers

Preferred interest rates and preferred pricing on deposit accounts

Access to credit monitoring and identity theft tools

A 50% discount on safe deposit boxes
The Relationship Program also offers credit card rewards points or statement credits as well as rate discounts on lines of credit and mortgages.
Following are some pros and cons of Synovus checking accounts:
Pros:
Choice of a free checking account or a relationship rewards account

Significant perks with the Relationship Program
Cons: 
Extremely high monthly fee of $50 with Inspire Checking, unless waived with a minimum $100,000 balance

Must contact bank for current APYs 

High overdraft fee 
Savings Accounts
Synovus Bank has one standard savings account, called Personal Savings, along with two specialized offerings: the Minor Savings account and Holiday Savings account.
The Personal Savings account is the primary savings account at the bank and offers the most features, including these: 
Tiered interest rates

Unlimited fee-free in-network ATM transactions

Two free non-network ATM withdrawals per month ($3 each thereafter) 

Easy transfers to other Synovus accounts

Quarterly statements (monthly when combined with checking account)

Printed or paperless statements

Online bill pay
This account has a $100 minimum to open, but with a Relationship Balance of at least $200, the $5 monthly service fee is waived. 
Both the Minor Savings and Holiday Savings accounts have no minimum balance requirement and charge no fees. Minor Savings provides two free ATM transactions per month ($3 each thereafter), while Holiday Savings offers one no-fee withdrawal per year. Extra withdrawals cost $5 each. 
For all savings accounts, debit transactions are limited to six per month. Continually exceeding this number could result in your savings account being converted into a checking account.
Pros:
Larger deposits earn higher rates

Minor Savings account available for those under age 18 (19 in Alabama) 
Cons:
Rates only available by contacting the bank

Only offers one standard savings account


Minimum $200 balance required to avoid $5 monthly fee
Compare: Best Online Savings Account for Earning High-Yield Profits
Money Market Accounts
Synovus bank offers a single money market account, named the Relationship Money Market. It comes with a $100 minimum deposit but requires a minimum $2,500 relationship balance to avoid a $10 monthly fee. 
Like other Synovus deposit accounts, interest rates are tiered with the Relationship Money Market account, but you must contact the bank to get current rates. Certain transactions — including checks, pre-authorized transactions and transfers — are limited to six per month or statement cycle. Excess transactions are hit with a $15 fee. 
Deposits are insured by the FDIC for up to $250,000. The Relationship Money Market account also comes with free notary service. 
Pros:
Tiered interest rates

Free notary service

$100 minimum deposit
Cons:
$2,500 required to avoid $10 monthly fee

Must contact the bank to get current interest rates
CDs
All Synovus Bank CDs have a $1,000 minimum and come with $250,000 FDIC insurance per depositor. CDs automatically renew at the then-current interest rate. If you withdraw your funds before maturity, you'll be assessed a penalty according to the following table: 
Synovus Bank CD Early Withdrawal Penalties
CD Term
Penalty

Less than 3 months (7-89 days) 

The greater of these: interest accrued to date; or half of the accrued interest at maturity or seven day's accrued interest

3-6 months (90-179 days)

1 month's interest

6-12 months (180-364 days)

3 months' interest

12-17 months

3 months' interest

18-23 months

6 months' interest

24-35 months

6 months' interest

36-47 months

9 months' interest

48-59 months

9 months' interest

60+ months

9 months' interest
To get a list of currently available CD terms and rates, you'll have to contact Synovus Bank directly. 
Pros:
Variety of CD terms available 
Cons:
Terms and rates not listed on bank website; you must call the bank directly
IRAs
Synovus Bank offers a Personal Choice IRA that earns interest. There's no minimum deposit to open the account, but you'll need a ledger balance of $1,000 every 12 months to avoid the $25 annual maintenance fee. You can make six free withdrawals or transfers per month. Each additional transaction incurs a $15 fee. 
Pros:
Cons:
$25 fee unless you keep at least $1,000 in the account
Investments
Synovus Bank offers a wide range of investment options, including the following: 
Securities

IRAs and annuities

College savings

Managed accounts

Risk management (life insurance)
Financial advisors at Synovus can help you develop a portfolio that includes everything from stocks and bonds to annuities, 529 college savings plans and managed investments. 
Pros:
Professional, in-house financial advisors

Wide range of investment options
Cons:
No self-directed or robo-advisor options
Loans
Synovus Bank offers a broad array of loans, grouped into the categories of home mortgages, home equity lines of credit, and personal and installment loans. 
In the home mortgage category, Synovus offers fixed-rate, adjustable and jumbo mortgages. The bank also offers programs for first-time buyers and an Affordable Mortgage Program, with financing of up to 100% with no mortgage insurance required.
For home equity lines of credit, Synovus offers a 30-year Total Line of Credit HELOC with rates as low as 4%. If you have an existing deposit account relationship, the bank might pay up to $500 in closing costs. 
On the personal side, Synovus offers installment loans, a variety of vehicle loans and personal lines of credit. Installment loans begin at $2,500, while personal loans run between $2,500 and $10,000, with terms of up to 10 years. 
Pros:
Wide choice of loan types

HELOC rates as low as 4%

Personal loans up to 10 years
Cons:
Rate information for most loan types not available online
How To Bank With Synovus Bank
To open any Synovus Bank account, you'll have to visit a branch. You can search for branches and ATMs on the bank's website.

Mobile and Online Banking
Synovus Bank dubs its online and mobile banking service My Synovus. Some of the features available via My Synovus include: 
Bill pay

Money transfers

Access to balances and transactions

Account alerts
On the mobile app, additional functionality includes mobile check deposit, Touch ID and Face ID compatibility. 
Apps are available for both iOS and Android devices.
Fees
As is common with many full-service banks, Synovus Bank has a pretty broad fee schedule. Most deposit accounts come with some type of fee, although they can be avoided by meeting minimum balance requirements. In some cases, that's a high hurdle. To avoid the $50 monthly fee on the Inspire Checking account, for example, Synovus requires combined balances on deposit of at least $100,000. 
Beyond basic account fees, Synovus Bank also has a litany of service fees. Some examples include: 
Fee for closing a savings

or money market account

within six months of opening: $25

Withdrawal from a non-Synovus ATM: $2.50 (unless reimbursed)

Overdraft fees: $36 standard; $29 for military service members


Stop payment: $34

Bill pay same day/overnight payment: $10/$15

Wire transfer, domestic: $18 incoming/$26 outgoing

Wire transfer, international: $25 incoming/$45 outgoing
Many of these fees can be avoided, but you'll need to research the requirements.

Availability of Funds
Synovus Bank doesn't publish its funds availability policy or its ATM withdrawal limits. However, it does note that ATM deposits made before 7 p.m. are typically available on the next business day. Mobile deposits might not be available for three business days. Contact your banker for more details.
Synovus Bank: Full Service, Not Online-Friendly
Synovus Bank is designed to meet the complete banking needs of its customers. If you're looking for an integrated, full-service bank with extensive branch coverage in the Southeast, it's worth looking into. However, if you prefer an online banking experience, Synovus probably isn't a good choice. You can't open any deposit accounts on the bank's website, and it can be difficult to get information about its accounts and policies without calling or visiting a branch. Rates are not disclosed on the bank's website, which probably means they aren't that high compared with other banks. Also, many Synovus accounts have fees that require minimum balances to avoid.
Up Next: Best New Bank Promotions and Bonuses
More on Synovus
More Bank Reviews
Rates and fees are subject to change. Information on accounts is accurate as of May 4, 2020. 
This content is not provided by Synovus Bank. Any opinions, analyses, reviews or recommendations expressed in this article are those of the author's alone and have not been reviewed, approved or otherwise endorsed by Synovus Bank.