4 Top Bank Trends at the Start of 2023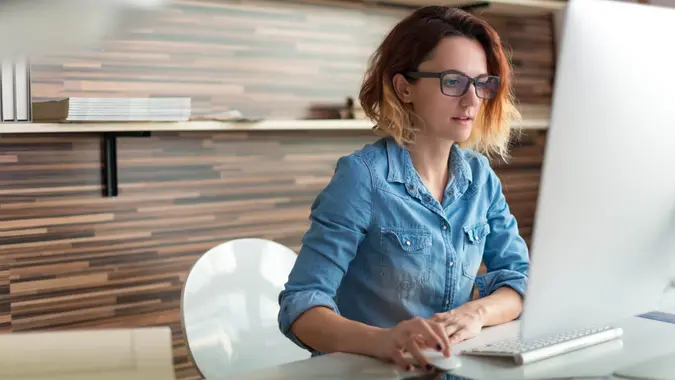 Georgijevic / iStock.com
What can we expect when it comes to banking trends in 2023? Some of these predictions usher in a unique era specific to the digital momentum in banking. Others reflect aspects of traditional financial institutions, especially emphasizing the customer experience, which continues to be a top priority no matter how you bank. 
See the List: GOBankingRates' Best Banks of 2023
Experts: Here's How Much You Should Have in Your Checking Account
Here are the top bank trends at the start of 2023.
Digital Banking > In-Person Banking Experience
In GOBankingRates' Best Banks 2023 survey polling 1,000 respondents, 59% of overall respondents said their preferred banking method is using their mobile app. Another 22% said they prefer to bank online using their web browser. 
The growing trend of using apps and technology to bank instead of visiting physical branches is likely to continue throughout 2023, said Chris Fraenza, SVP, sales and partnerships at SavvyMoney. This is part of the digital momentum in banking accelerated by the COVID-19 pandemic. 
Moving forward, Fraenza said banks and credit unions will invest in financial wellness products and other products that add value to their customers. However, they will proceed with caution and intention. Eighty percent of overall respondents surveyed by GOBankingRates said they are currently satisfied with the products offered by their banks and credit unions. Fraenza said these institutions will choose products that have a clear ROI and strengthen customer relationships.
Take Our Poll: How Big of a Sign-Up Bonus Would It Take for You To Change Banks?
Gen Z Will Continue To Invest In Cryptocurrency
Investing in cryptocurrency, particularly Bitcoin, will continue to be an ongoing trend among Gen Zers this year.
"Gen Z is far more likely to own and save in Bitcoin than older generations," said Steven Lubka, managing director at Swan Bitcoin. "They want investments which track their life experience, and their life experience is heavily online."
As Gen Zers continue investing in cryptocurrency, many may seek out financial institutions affiliated with a crypto exchange or platform. A bank being affiliated with a crypto exchange or platform has shown to be either very or somewhat important for 27% of overall Gen Z banking customers between the ages of 18 and 24 as surveyed by GOBankingRates.
Will Banks and Credit Unions Invest In Digital Channels?
There are two likely trends banks may follow throughout 2023 when it comes to their digital spending. Fraenza said the first likelihood is some banks and credit unions will be forced to scale back on spending and cut back on the digital space. 
However, Fraenza said it's also highly likely some banks and credit unions — particularly those that are innovative and forward-thinking — will bet on digital platforms, even in an uncertain economy. 
Some institutions may scale back while others will continue investing in these social media channels, but all institutions will continue to focus on the customer.
"In 2023, banks and credit unions will need to focus on getting the biggest bang for their buck, using their money to better drive value and increase benefits to their customers," Fraenza said.
Banks Will Help Customers Improve Their Finances
Aligning with Fraenza's prediction on financial institutions driving value to their customers, David Dowhan, chief product officer at SavvyMoney, said 2023 will be the year where banks help customers throughout their financial journey.
"The industry is shifting from helping consumers refinance debt to helping them improve and conserve their finances. This year, banks will focus on helping customers stretch their income and make the most of what they have," Dowhan said.
More From GOBankingRates
Methodology: GOBankingRates surveyed 1,000 Americans aged 18 and older from across the country on between December 7 and 12, 2022, asking nineteen different questions: (1) What category does your current financial institution fall under?; (2) Have you considered changing Banks within the past year?; (3) If you have considered changing banks in the past year, were any of the following factors? (select all that apply):; (4) Which feature, perk, or other offering is most important to you when opening an account with a new institution?; (5) Are you currently satisfied with all your banking products and services offered by your Bank/Credit Union?; (6) Would you ever have different types of accounts across multiple banks? (i.e. Checking at Chase, but Savings at TD Bank); (7) What is your most preferred method of banking?; (8) Which of the following is the biggest factor of you staying with your current bank?; (9) Which of the following bank accounts do you currently use/have open? (Select all that apply); (10) How much is the minimum balance you keep in your Checking Account?; (11) How much do you currently have in your Savings Account?; (12) What amount of a sign up bonus would make you consider switching banks?; (13) Have you considered using any app-only banking platforms (aka neobanks) in the past year (e.g. Current, Upgrade, Chime, Dave, etc.); (14) How important is it to you for your bank to be affiliated with a crypto exchange/platform?; (15) In the past year how often have you written a physical check?; (16) When was the last time you visited your bank in-person?; (17) Why would you choose to visit your bank in-person? (Select all that apply); (18) When you think about banking, do you think of it as something you need or don't need?; and (19) What services/products do you expect from your Bank and/or Credit Union? (Select all that apply). GOBankingRates used PureSpectrum's survey platform to conduct the poll.