The Top 6 Banking Mistakes That You're Making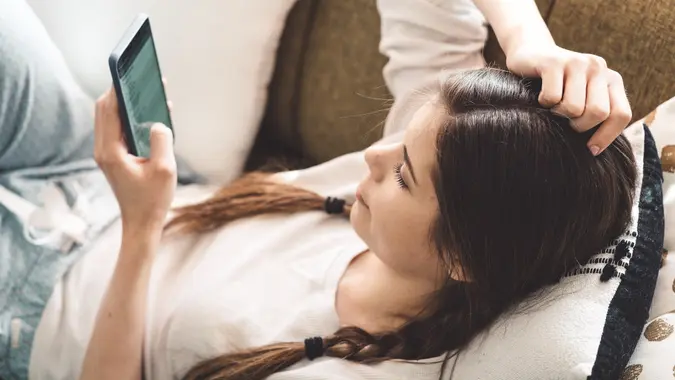 Ziga Plahutar / iStock.com
Mistakes happen to the best of us. Whether it's forgetting your toothbrush when you go on vacation or hurting your partner's feelings, we all have missteps every now and then. The best we can do is try to avoid making the same mistakes over and over. But that is easier said than done.
Some mistakes are easy to repeat, and many of us, unfortunately, end up repeating them. Others, though, can be more easily avoided with some small changes.
A great example? Banking mistakes. These mistakes can seriously hamper your finances. But the good news is that by setting things up the right way, you'll immediately set yourself on the right path financially. I asked the experts to detail the top banking mistakes people often make and detailed them here.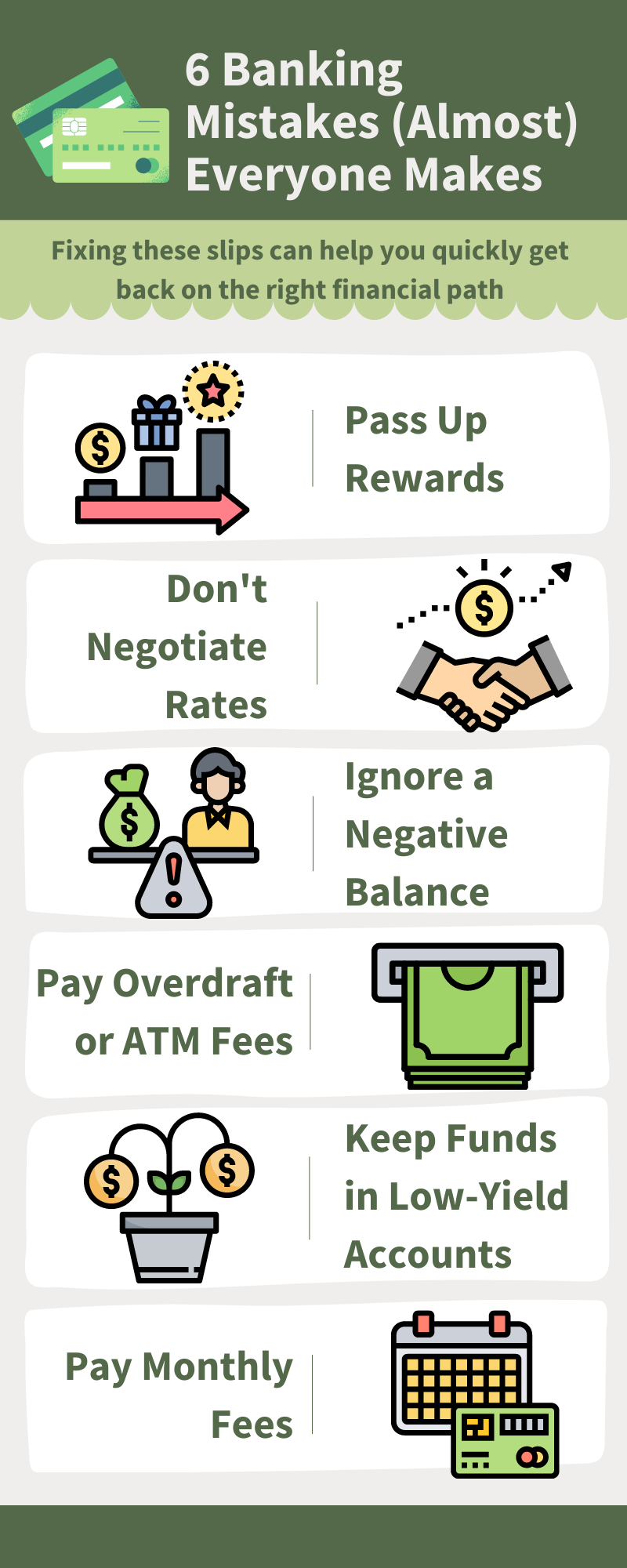 Paying Monthly Fees
There may have been a time when monthly fees were necessary to maintain bank accounts, but that is no longer the case. Things are more automated now thanks to technology, and banks make most of their money from interest on loans. Even if your bank normally charges a service fee, that isn't set in stone.
"By far, the biggest mistake is paying a monthly maintenance fee to have a bank account," said Vadim Verdyan, head of advice at Albert. There's always a way to waive that service fee. Usually, you can do it with one of the following: direct deposit from your employer, monthly debit card transactions, or monthly transfers between your accounts." Verdyan noted that if that is an issue, several banks offer no-fee checking accounts.
Leaving Money in Low-Yield Accounts
There are a lot of vehicles that allow you to earn a modest yield on your money these days. However, interest rates on traditional checking accounts are still quite low; the average APY is about 0.06%, Verdyan said. For perspective, that's 60 cents per year on a $1,000 balance. "There are many good free alternatives, like high-yield savings accounts, at financial institutions that specialize in them."
Verdyan noted that one of the downsides of this approach could be that you end up giving up the convenience of having all your accounts in one place. The bank that holds your primary checking account may not offer a high-yield savings account, leaving you to transfer money between financial institutions when needed.
Paying Overdraft and ATM Fees
Overdraft fees are one of those things that always make you feel a sense of regret afterward. But overdraft fees are avoidable even if you're low on cash. Normally, banks will allow transactions to go through even if they would overdraw your account, resulting in a nonsufficient funds (NSF) fee. But if money is tight, you may be better off without overdraft protection. "You can opt-out of overdraft protection service — many people don't know this," Verdyan said. "If you've opted out, a transaction will be declined if you don't have funds to pay for it, avoiding an overdraft charge altogether."
"When it comes to ATM fees, they can be avoided if you plan ahead since they're nothing but convenience charges," Verdyan said. "Some banks and financial institutions waive all ATM fees, too. And if you do get hit with these types of fees when your account is in good standing, contact your bank — they'll often waive them."
Charge-off for Negative Balances
If your account balance does go negative, you shouldn't ignore it, Verdyan said. "This process is called a charge-off and can happen for any unpaid debt, including credit cards. It usually happens when customers disagree over overdraft fees and refuse to pay them, forcing the bank to charge them off."
The problem, he said, is that a charge-off can negatively affect your credit score. "For example, you could end up paying thousands more in interest for a mortgage due to a lower credit score caused by a charge-off. So, a relatively small charge-off can cost a lot in the long run."
Not Negotiating Rates
You might think the rates quoted are what you are expected to pay. Whether it's a personal loan, mortgage or another type of loan, if you receive a quote, that is just one option and not the be-all-end-all. "If you find a lender with a better mortgage rate, ask your bank to match or beat it," Verdyan said. "Remember, they want your business, so don't be afraid to negotiate with them. This can work well for credit card rates, too!"
Missing Out on Rewards
Do you have a half dozen accounts between bank accounts, savings accounts, mortgages and so on? That could be a mistake, said John Sellers, rewards executive at Bank of America. Sellers said that some banks offer rewards for those who bring all of their accounts under one roof.
"By simplifying your banking relationship to a single financial institution, you can reduce the time you spend managing your money and investments. Plus, the balances you build across those accounts may help you qualify for a rewards program that can unlock a suite of perks and benefits such as credit card rewards bonuses, discounts on investing, home and auto loans, and no-fee banking services."
More From GOBankingRates