The Top 7 Reasons To Go Into Your Bank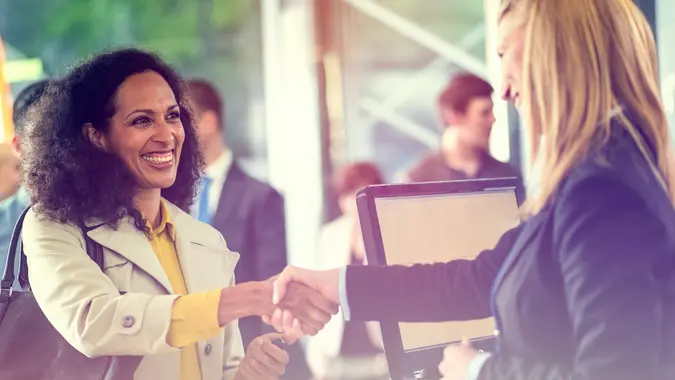 simonkr / Getty Images
Banking apps and websites have simplified transactions and given customers a lot of flexibility so they can meet most of their banking needs online. You might think there's no real need to even go inside a bank in 2022, especially since even ATMs are typically located outside of the bank. Contrary to popular belief, there are still some actions that need to be done inside the brick and mortar bank because they can't be done virtually.
Let's take a look at some reason you'll still need to go inside a bank.
See: GOBankingRates' Best Checking Accounts
Check Out: Best Online Banks of 2022
Withdraw a Large Amount of Cash
Most ATMs have a $1,000 per day withdrawal limit. If you're buying something from an online ad or going to a cash only business to make a big purchase, you might not have time to spread out your ATM withdrawals over several days. If you want to take out more than $1,000 in cash in a single day, you'll need to physically go inside of a bank and talk to a teller to secure the funds. 
Obtain a Cashier's Check
If someone is asking you for a cashier's check, those need to be obtained from a bank or credit union. Typically, you'll need a cashier's check to make a down payment on a home, or put a deposit on an apartment. You also might need one to pay the closing costs on a mortgage. Cashier's checks don't have an amount limit and are preferable for some merchants since the amount of the check actually comes out of your account and into the bank's account, fully guaranteeing the amount to the recipient. The amount of money is available to the payee typically within one business day. 
Helpful: 50 Easy Things You Should Do To Save Money
Exchange Currency
If you travel abroad and come back with foreign money, you can visit a bank to get it exchanged to American dollars. Though you can also do this at the airport, there are typically higher fees associated with doing it there. Your bank should be able to do it for a smaller fee. 
Purchase Traveler's Checks 
A traveler's check has an assigned amount that you decide, and can be used on international trips to shop or be exchanged for cash. The biggest advantage to a traveler's check is that it's not as risky as simply taking cash overseas. If you lose a traveler's check, it can be easily replaced, and the amount never expires. It's also not a huge issue if they get stolen, since the checks don't typically include any personal information. You have to visit your bank in order to obtain these checks, as they can't be ordered online. 
More Insight: 40% of Women Have Less Than $100 in Their Savings Accounts, New Survey Finds
Receive Financial Guidance
Most banks have advisors on staff who can help you with your finances, especially around crucial times, like buying a home, retirement or trying to come up with a plan to pay off debt. If you take out a loan, you'll most likely have to meet with a bank advisor to finalize the process. 
Get a Money Order
Money orders are another item that cannot be ordered online, so you would have to go inside a bank to purchase one. Money orders are just like regular checks, except the bank confirms you have the amount of money in your bank before making out the money order so the amount is guaranteed to the recipient. The recipient can cash the check at any bank or credit union without being charged a fee. Similar to traveler's checks, there isn't a lot of identifying information on these. Money orders can also be sent from one country to another. A personal check will have your bank account number and routing number, but money orders will not. One drawback to money orders is they can only be purchased for up to $1,000, so you'll have to get multiple money orders if you need more than that amount.
Make More Money: How To Compound Your Income in 2022 
Secure a Medallion Signature Guarantee
A medallion signature guarantee, or MSG, is a certified stamp that proves documents are authentic. An MSG is typically required to sell stocks or bonds that have a physical certificate. The MSG guarantees that your identity has been confirmed and that you do in fact own the stocks and bonds you want to sell. You must go into a bank to show your identification and get the MSG.
More From GOBankingRates