Trump Is Deregulating Banks — Here's What That Means for You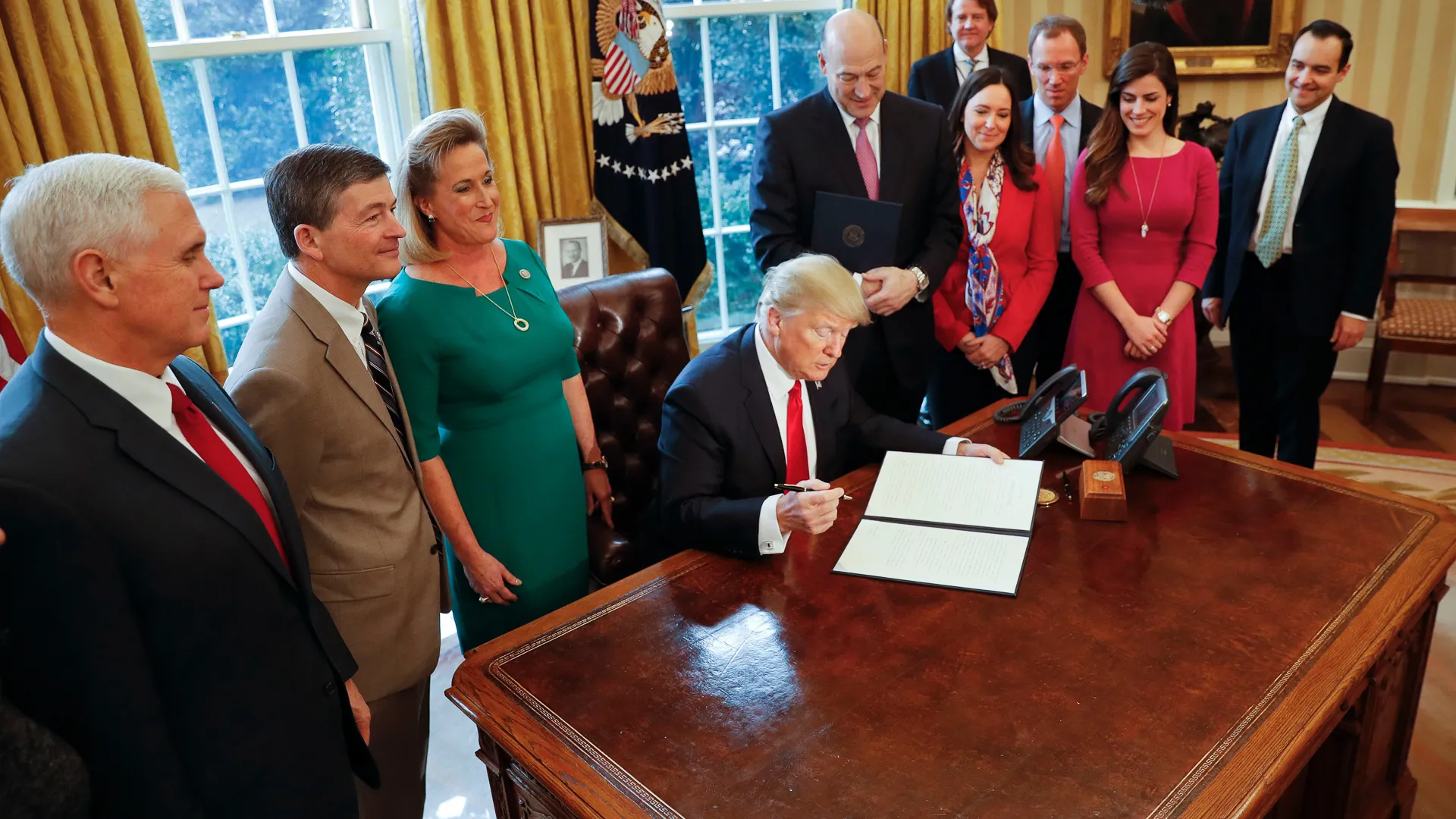 During his 2016 campaign, President Donald Trump promised to roll back the Dodd-Frank Wall Street Reform and Consumer Protection Act, which stiffened the regulations placed on banks in the aftermath of the financial crisis. Trump managed to get movement on that portion of his platform in 2018, signing into law a bill that loosened or got rid of some key regulations.
However, the deregulation of banks might raise red flags for many Americans, particularly those who remember the meltdown of financial markets that prompted the Dodd-Frank Act in the first place. Perhaps more importantly, plenty of Americans might be wondering what bank deregulation means for them and the U.S. economy, a decade after the Great Recession.
The Dodd-Frank Act of 2010 Regulated Banks
The Obama administration enacted the Dodd-Frank Act in 2010 to help avoid future meltdowns in financial markets — and the massive government bailouts that follow. Essentially, the law recognized that many banks are so important to the economy that they must be rescued from complete collapse in times of trouble.
Dodd-Frank identified certain banks as being systemically important financial institutions (SIFIs) that need to operate by certain rules to protect their assets. These rules prevent banks that take customer deposits from making risky bets on the financial markets, mandate the size of banks' capital reserves — or how much cash they have on hand — and require banks to perform routine "stress tests" that simulate a crisis to see if they can remain solvent.
Dodd-Frank Was an Unpopular Law
There's an old saying that a good compromise leaves everyone unhappy. By that standard, the Dodd-Frank Act might have been a master stroke. The law has been roundly criticized by the banking industry and many conservatives for over-restricting banks and making it harder to stimulate economic growth with more lending. At the same time, it has also been the target of ire from liberals who feel that Dodd-Frank didn't go nearly far enough in limiting banks from risky behavior.
Part of the problem is that — until there's another major crisis — it's difficult to know for sure whether the rules were too hard on banks, not hard enough or some sort of regulatory Goldilocks that was just right in fostering growth but also protecting the economy.
Trump Deregulates Banks in 2018
In May 2018, a rare bipartisan bargain resulted in the Economic Growth, Regulatory Relief and Consumer Protection Act getting signed into law by Trump. The final bank deregulation bill was a compromise — the previous version passed the House of Representatives in 2017, but it had to get rolled back to attract the support of moderate Democrats in the Senate.
The end result was a package of reforms meant to loosen up bank laws that stopped short of several major changes proposed in the original House bill.
What Has Changed Thanks to Trump?
The big change from the Economic Growth, Regulatory Relief and Consumer Protection Act was letting smaller banks off the hook on many of the regulations in Dodd-Frank. The original act applied its most stringent standards to any bank that had $50 billion in assets or more, whereas the 2018 law lifted that standard to $100 billion for 18 months and to $250 billion down the line for many banks.
The goal was to make it easier for small or midsize banks — which hypothetically wouldn't bring down the entire economy should they collapse — to do more lending and save money on stress testing. However, many of the important aspects of Dodd-Frank remain firmly in place, particularly for big banks with over $250 billion in assets.
1. Smaller Banks Don't Need to Perform Stress Tests
Stress testing is meant to ensure that banks are adequately prepared for unexpected downturns. It involves running a computer simulation of such an event and analyzing the impact on each bank's balance sheet. Not only did banks have to undergo an annual test conducted by the Federal Reserve, but they also had to conduct their own semiannual internal tests and report the results.
Under the new law, banks with less than $250 billion in assets are no longer subject to these regular stress tests.
2. Volcker Rule Doesn't Apply to the Smallest Banks
One of the important reforms in the Dodd-Frank Act was the Volcker Rule, named after former Fed Chairman Paul Volcker. Essentially, the rule banned banks from proprietary trading.
Investment banks primarily make money by facilitating trades for their clients, but in the past, banks also placed their own bets on the financial markets. In 2008, those bets blew up and created the financial crisis. To prevent another crisis from happening again, the Volcker Rule made it illegal for banks to place bets with money from deposits.
Trump's bank deregulation legislation exempts banks with less than $10 billion in assets from following the Volcker Rule, allowing smaller players to do more speculation.
3. Capital Requirements Eased for Some Banks
Dodd-Frank was instrumental in establishing strong capital requirements for banks. These financial institutions are required to hold back a certain amount of cash or bonds to ensure that they have a cushion of stable assets in place should the markets go into free fall.
Capital requirements remain unchanged for the largest banks. However, because banks with $50 billion to $250 billion in assets aren't considered SIFIs anymore, smaller or medium-size banks have loosened capital requirements, which free up money for these banks to lend out. But that might also mean smaller and medium-size banks now face greater risk of collapse if the worst happens.
What Does Bank Deregulation Mean for Me?
If you're confused by how bank deregulation impacts individual consumers, don't worry: You're not alone. Plenty of Americans struggle to understand these concepts in general, so it's even harder to comprehend how they might actually apply to you.
Although much will remain unchanged about how you do your banking, it's still worth understanding how the industry is changing so you can prepare for the next recession.
1. It Depends on Where You Bank
The first thing you should understand is that your bank might not be affected by deregulation at all. All told, there are now 12 banks that still qualify as a SIFIs, down from 38 previously. If you have accounts with Bank of America, Chase, Citibank or one of the other megabanks, almost nothing has changed about the way your bank is regulated — the biggest players are still under the same rules.
However, if you bank with smaller regional players like Comerica or Zions Bancorporation, your bank no longer has to follow the strict rules that apply to a SIFI.
2. Your Deposits Are Safe, Regardless
If you're with a smaller regional bank, rest assured that your money isn't at risk. Even if your bank goes on a wild binge of speculating in risky derivatives that's splashed across headlines for weeks, your deposits are insured by the Federal Deposit Insurance Corp. up to $250,000. No matter how reckless your bank is, the federal government has taken steps to ensure that your money is safe.
3. Your Bank Gets to Save a Buck
Now that your bank is deregulated, it will probably save a lot of money on stress testing and reporting the results to the Fed. What's more, thanks to lower capital reserve requirements, your bank might even boost profits by making more loans. After all, part of the goal of deregulation is to free up banks to do more business.
If it's feeling generous, your bank could share that windfall with you in the form of better interest rates on deposits. Of course, it could just as easily route that cash into executive bonuses or share buybacks, so don't hold your breath.
4. It Might Be Easier for You to Get a Mortgage
Another area that could potentially benefit consumers is the relaxation of rules around mortgages for the smallest banks. Dodd-Frank included rules about the types of mortgages that banks could offer, requiring that they stick to relatively safe "qualified mortgages." The 2018 law freed banks with $10 billion or less in assets from those requirements.
That means small regional banks and credit unions might be able to offer more mortgages, making it easier for consumers to get financing on their home purchase.
4. Freeze Your Credit for Free
One change folded into Trump's bank deregulation push is that you can now freeze your credit for free. Likely a reaction to the Equifax hack in 2017, that portion of the new law makes it easier to freeze your credit if you're concerned about having personal information stolen. However, some have argued that free credit freezes are actually a step back, as they might pre-empt stricter state laws.
Is Overall Safety Declining in the Bank Industry?
Although allowing small and midsize banks off the regulatory hook could help boost the economy, it might also be setting up the whole banking system for another disaster. Like most big questions about the economy, there's a lot of uncertainty at play.
However, for the short term, the most important thing to remember is that the money in your bank accounts is protected by the FDIC. Bank deregulation has important implications for the country and the economy, but it doesn't mean you have to worry about your savings account.
Click through to see if your state has recovered from the Great Recession.
More on Banks
We make money easy. Get weekly email updates, including expert advice to help you Live Richer™.