Here's Your UFCU Routing Number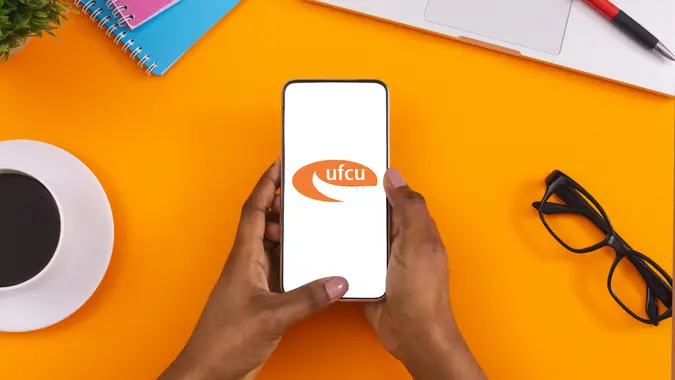 Prostock-Studio / Getty Images/iStockphoto
University Federal Credit Union provides members with a number of products and member services including UFCU online banking, UFCU mobile banking, credit cards, loans and insurance.
Routing numbers are used to identify banks when they need to connect or "talk" with other banks. If you're completing a task such as sending a wire transfer, signing up for automatic bill pay or arranging direct deposit, you'll need your bank's routing number. Keep reading to learn more about University Federal Credit Union's routing number.
What Is UFCU's Routing Number?
The routing number assigned to University Federal Credit Union is 314977405.
If you need to find your routing number, you can find it at the bottom of a personal or business check.
What Is a Routing Number?
Routing numbers — also known as ABA and transit numbers — are nine-digit identifying numbers that allow banks to communicate with each other. They essentially tell banks where they need to route funds to.
Each of these nine digits means something different.
The first two numbers identify the bank that's responsible for clearing the transaction.
The next two identify said bank's main processing center and where the bank is located.
The following four numbers identify your bank.
The last number is the check digit, which verifies that the routing number is true.
Some financial institutions have different routing numbers depending on the state in which you opened the account, but UFCU has one routing number for all account holders.
How Do You Find Your Bank's Routing Number Without a Check?
It's easy to find your bank's routing number, even without your trusty checkbook.
You can find your bank information on your account online, so if you have your cellphone with you just whip it out and find your personal information there. If you have your phone out, you can also just Google your bank's name and its routing number. Just make sure that the info you find is from a trusted source.
Lastly, your monthly statement will have your bank's routing number on it, so keep an eye out for that.
What Number To Use for Wire Transfers
Some institutions have a different number for receiving wire transfers, but UFCU uses the same routing number: 314977405.
This number can be used to receive domestic wire transfers, but UFCU members cannot accept direct international wire transfers. UFCU also does not offer outgoing international transfers.
Arielle Moscati contributed to the reporting for this article.
Editorial Note: This content is not provided by any entity covered in this article. Any opinions, analyses, reviews, ratings or recommendations expressed in this article are those of the author alone and have not been reviewed, approved or otherwise endorsed by any entity named in this article.
The article above was refined via automated technology and then fine-tuned and verified for accuracy by a member of our editorial team.