US Bank Near Me
Find the closest U.S. Bank locations to conveniently handle your financial business.
As the fifth largest commercial bank in America, U.S. Bank is able to serve customers at any of its 3,114 office branches or 4,826 ATMs. To give you an idea of how big the bank is, its parent company, Minneapolis-based U.S. Bancorp, reported an astounding $464 billion in assets as of June 2017.
If you're looking for a U.S. Bank near you, use your computer or phone to find one right away and start banking at one of the best national banks of 2017.
US Bank Services
As one of U.S. Bank's 18.6 million customers, you can choose from a line of checking accounts and credit cards that qualify for instant approval, as well as mortgage loans that can help you get a home.
Sponsors of
Customers can also open a savings account, invest in a certificate of deposit and get help with wealth management at U.S. Bank. If that isn't enough to win you over, you might find that the bank's auto loans, personal lines of credit or student banking options fit the bill.
Once you visit a local U.S. Bank branch to set up your account, you might never have to visit a branch again. You can use online banking or the U.S. Bank mobile app to check your balances, transfer funds and pay bills.
US Bank Branch Locator
Customers who live in one of the 26 states U.S. Bank serves can quickly find a bank branch by using the online branch locator.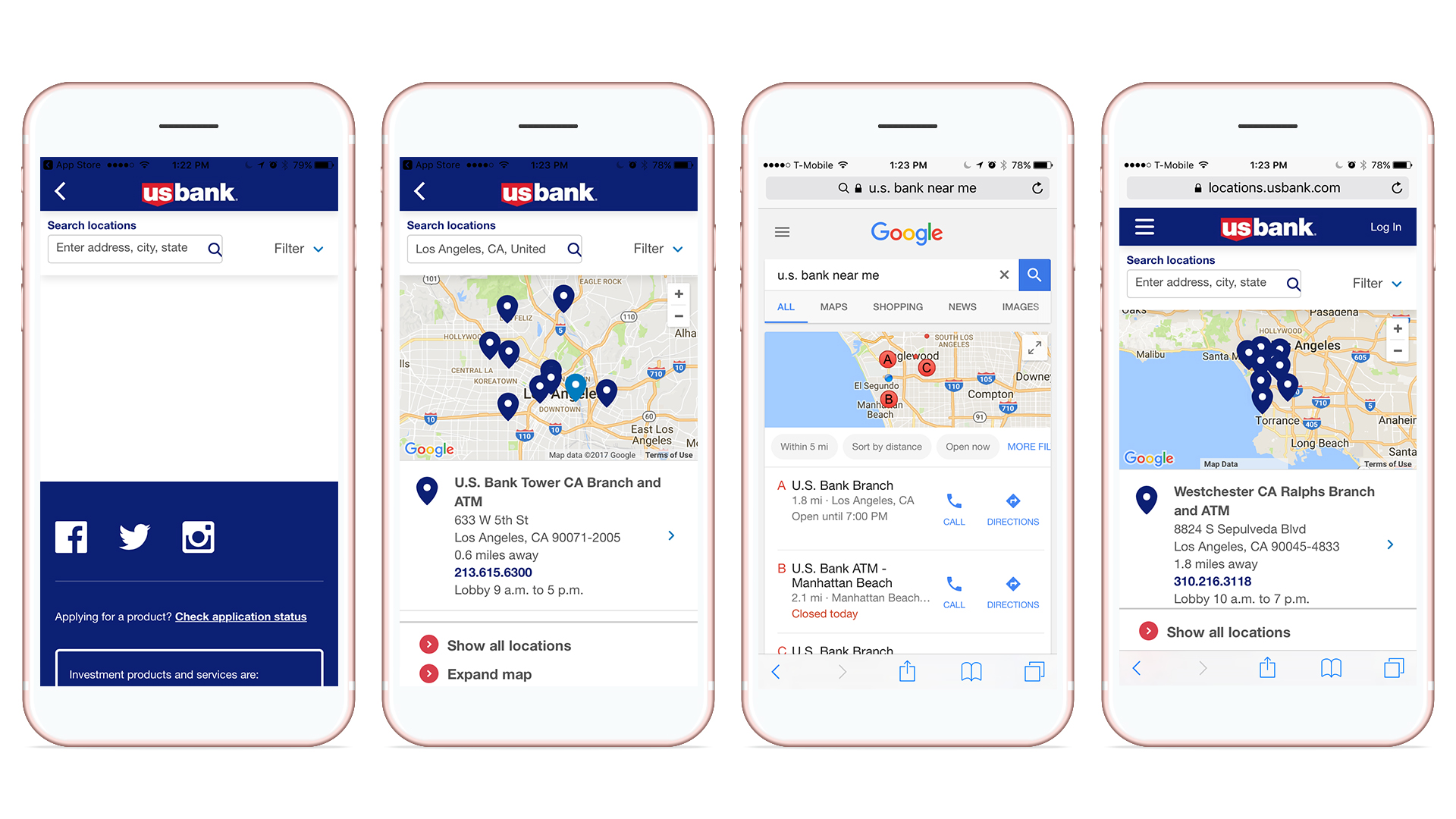 Here's how to do it:
Visit the U.S. Bank online locator tool.
Enter your ZIP Code or city and state in the text box.
Check the box next to "Branches."
Click on the magnifying glass next to your ZIP Code or city and state and you'll see all U.S. Banks within a 50-mile radius.
After you find the closest branch make sure you check U.S. Bank hours under the address. If you have any questions, you can call the U.S. Bank phone number that's listed in the search results.
Here's a chart that shows the 26 states U.S. Bank currently serves. In addition, you'll see the number of cities in each state in which the bank operates.
US Bank Locations
States With US Bank Locations
Number of Cities
Arizona
25
Arkansas
24
California
312
Colorado
58
Idaho
61
Illinois
136
Indiana
13
Iowa
55
Kansas
14
Kentucky
62
Minnesota
99
Missouri
117
Montana
14
Nebraska
17
Nevada
14
New Mexico
15
North Dakota
15
Ohio
146
Oregon
93
South Dakota
7
Tennessee
43
Texas
4
Utah
36
Washington
95
Wisconsin
80
Wyoming
14
Use Google to Find a US Bank Near You
Another way to find a U.S. Bank near you is simply to Google it. Follow these instructions to locate a U.S. Bank nearby:
Type "U.S. Bank near me" into Google using your smartphone, computer or tablet.
Google might ask to use your current location. It will give you the option to "Allow" or "Don't' Allow" it access to your location. Click "Allow."
A list of U.S. Bank locations in your area will appear. Click the location of your choice for more details including an address, phone number and more.
Competitive Promotional Rates: US Bank CD Rates Review
US Bank ATM Locator
When you search for bank locations you can also use the locator tool to find nearby ATMs. You can conduct a number of transactions from an ATM, such as making deposits, checking your balance and withdrawing cash. Here's how to find a close ATM:
Visit the U.S. Bank online locator tool.
Enter either your city and state or ZIP Code in the text box.
Check the box next to "ATMs."
Click the magnifying glass to get a list of every U.S. Bank ATM within a 50-mile radius.
Up Next: Here's Your US Bank Routing Number
More on US Bank
More on Finding Banking Locations