USAA Review: See the Wide Range of Products This Military Bank Offers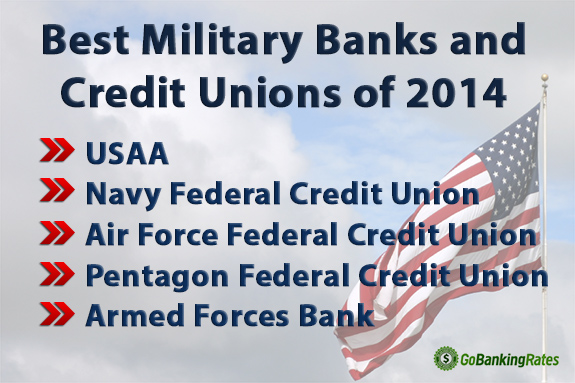 Serving the country has its rewards, such as educational support and retirement benefits for those who turn military service into a life-long career. With the economy in the process of recovery and in light of the uncertain fate of military pensions, service men and women must turn to financial institutions who are committed to helping bolster and support the armed forces community.
Banking products and services from the best military banks and credit unions in the United States allow families to thrive with accounts and services that are tailored to meet their unique needs. That said, sifting through the pros and cons of the countless military financial institutions can get more than confusing. GOBankingRates takes the guess work out of finding the best banks and credit unions that serve armed forces personnel with its list of the top five military banks and credit unions of the year.
1. USAA Bank


USAA Bank has had decades of experience when it comes to understanding the hopes and dreams of its customers. Since its inception in 1922, the bank has grown its customer base into the millions, offering banking solutions including deposit accounts, loans, health and auto insurance, as well as retirement planning services that help customers stay financially balanced even after they've served.
In particular, USAA Bank gives customers' deposits the edge they need to stay afloat, with no-fee savings and checking account options that offer as much as a 0.20% APY return. To make sure that USAA Bank plays a giving — not a taking — role, it provides nationwide ATM access. If another institution charges customers a surcharge, USAA Bank will issue the customer's account with an ATM rebate for the incurred fee.
Ryan Guina, USAF veteran and founder of The Military Wallet, spoke highly of his experience as a USAA customer.
"I became a USAA member over a decade ago, while I was serving in the USAF and living in England," Guina said. "Over time, they also became my primary bank. … There are two things that impress me about USAA: The first is their amazing customer service. I have never had a problem that couldn't be resolved with one or two phone calls. They are true professionals. The second, and more important thing, is USAA's dedication to serving military members and their families. It isn't lip service to say that everything they do is based on the core mission of serving their community of members."
Ryan Guina isn't the only one vouching for USAA as a stand-out military bank.
Hank Coleman, an Army Major with more than 11 years on active duty and two combat tours to Iraq, and the voice of Money Q&A, a resource offering both civilian and military members tips on saving, retirement and investing, said, "I'm not surprised one bit that [USAA] ranked No. 1 on the list. These institutions, like USAA, understand what it means to be in the military and the unique circumstances service members and their families deal with every day. They provide incredible advice tailored specifically for the military clientele that you simply won't receive with the same degree and depth from a traditional bank. I like USAA because they are caring. I'm not just a number to them."
The bank's commitment to helping veterans and transitioning service men and women into new employment opportunities was recently recognized by the U.S. Chamber of Commerce Foundation's Hiring Our Heroes program; the institution accepted the 2013 Lee Anderson Veteran and Military Spouse Employment Award in November.
"USAA Bank is honored to have been named the top military bank," said David Bohne, president of USAA Bank. "Serving the military is more than a focus area for USAA, it's our reason for existing. … To ensure our employees understand the unique lives of our members, we hire and train military veterans and spouses to serve our members. In 2013, 27 percent of USAA Bank's new employees were former military or military spouses and we seek to grow that number this year."
2. Navy Federal Credit Union


Not new to receiving recognition for its unyielding service to the military community is Navy Federal Credit Union. The nonprofit institution has rallied for members and staff of the armed forces as far back as 1933. Today, its membership has flourished to more than 4 million members thanks to its ongoing support of the military community.
The credit union receives high marks for its wide variety of financial product